The second year of the COVID-19 pandemic pushed the world into further unemployment and inequality. Reporting under the theme, 'Inequality – Threat to Lives and Livelihoods,' the journalists discussed how disadvantaged communities such as women, ethnic groups, religious and gender minorities, migrant and informal workers found themselves languishing in unemployment as a result of the pandemic. The journalists' articles were shared during the 2021-22 Journalism for an Equitable Asia Award. Watch the event here.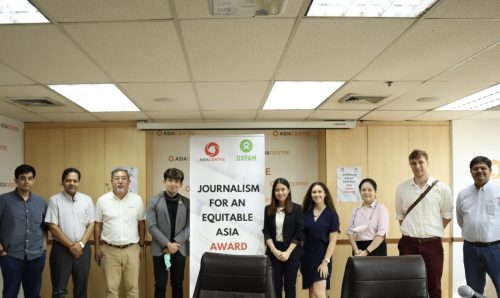 The top 10 finalists from Asia wrote about how COVID-19 impacted the lives and livelihoods of disadvantaged groups. These groups included minorities such as women, ethnic, gender and religious minorities, and migrant and informal workers. Lockdowns, unequal access to vaccines, and a greater risk of illness and death forced vulnerable groups into poverty and created greater inequality in Asia. 
Disadvantaged groups have difficulty adapting to the outcomes of the pandemic. With many living in close quarters, it is hard to quarantine and social distance. While wealthy elites are able to afford private healthcare, minorities have limited access to basic health care, soap, and clean water. These disadvantaged groups face discrimination that further prevent them from accessing health services. Vaccine inequality has led to some minorities still waiting to receive a vaccine, which ultimately slows down pandemic recovery of Asian countries. 
In its third year, the Award received over 150 nominations filed by journalists based in Bangladesh, Cambodia,  India, Indonesia, Malaysia, Myanmar, Nepal, Pakistan, Philippines, Singapore, Thailand, and Vietnam. The award is to recognise journalists whose articles highlight the issue of inequality among disadvantaged groups against the backdrop of the COVID-19 pandemic in Asia.
John Samuel, Regional Director in Asia, Oxfam in Asia, in his opening remark, recognized and appreciated the efforts of journalists to fight inequality and injustice. He described how the pandemic exacerbated inequality and injustice in Asia and globally, noting that 148 million people worldwide went into poverty. He discussed the importance of journalists writing for an equitable Asia in unprecedented times over the past two years through increasing poverty, inequality, authoritarianism, and crony journalism. He commented on the courageousness of journalists for standing up for an equitable Asia, and stated that he stands with them.
Dr. James Gomez, Regional Director, Asia Centre, in his opening remarks Dr. James Gomez, Regional Director, Asia Centre, in his opening remarks said that re-employment post COVID-19 would be key to Asia's vulnerable communities somewhat halting the ever increasing inequality gap.  The hard part would be after that, trying to close the income gap. Hence, as countries declare themselves endemic, they should also be announcing measures to support these vulnerable communities to get back on their feet and address the widening inequality in the community.
The top 3 prize winners and top 10 journalists received certificates.  The top three prize winners received $US 1,000 (1st Prize), $US 750 (2nd Prize), and $US 500 (3rd Prize) respectively. The top 11 to 15 finalists were given merit awards. 
The top 10 finalists of this year were announced by the Master of the Ceremony Nalinrat Tingoum. The finalists were: Kok Xinghui from Singapore with her article, "Coronavirus: why vaccine inequality in Asia threatens the world's recovery, Meg Adonis from the Philippines with her article, "Yet another challenging year for public school teachers," Poramet Tangsathaporn and Kornchanok Raksaseri from Thailand with their article, "Patpong 'on its last legs'," Lay Sopheavotey from Cambodia with her article, "Trade Unions: Women Workers Need Support During Pregnancy and Postpartum," Sanket Jain from India with his article, "Covid 19 and The Desperate Lives of India's Sugarcane Workers," Wanna Tamthong from Thailand with her article, "How to Make a Killing: Overpriced Covid-19 Tests for migrant labourers," and Geela Garcia from the Philippines with her article, "Who peels your garlic: Inside Manila's informal economy." Shiza Malik announced the top three winners of the Journalism for an Equitable Asia Award.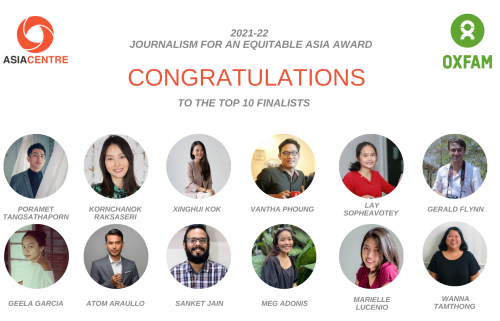 Atom Araullo from the Philippines won the first prize for his article, "The Hunger Pandemic." The article explains how the COVID-19 pandemic has contributed to increasing hunger and food insecurity in the area of Manila, the nation's capital. Araullo begins by writing about the stories of those who rely on pagpag, which are food scraps, to feed themselves. Lockdowns have led to high unemployment rates and an increasing struggle for those in impoverished communities to feed themselves and their families. Government cash aid in response to the pandemic was not enough to help these vulnerable groups. Araullo discusses the works of international non-governmental organisations and Filipino citizens to try and aid the fight against poverty and hunger throughout the pandemic. 
Marielle Lucieno from the Philippines secured the second prize for her article, "The gold trap: COVID-19 is pushing more Filipino children into hazardous work." The COVID-19 pandemic has reversed efforts to eliminate child labour made by the government and non-government organisations. Lucieno writes about children in the village of Malaya, who were freed from child labour in 2017, but many children were forced back into work during the pandemic to help their struggling families. The Philippine government had committed to remove 2 million children from child labour by 2022 and end child labour by 2025, but COVID-19 will prevent the attainment of these goals.
Vantha Phoung, Lay Sopheavotey and Gerald Flynn from Cambodia obtained the third prize for their article, "Locked Down and Out of Work: Desperation Sets in among Garment Workers." Inequalities that garment workers face such as unequal access to sanitation services and clean water led to many COVID-19 outbreaks in factories. The writers describe how garment factory owners did not have any obligation to provide support to their employees during the COVID-19 lockdown. Many factories refused to pay their workers severance pay, resulting in garment workers facing poverty and debt throughout the pandemic. The writers acknowledged that NGOs, CSOs and unions called on the government to introduce a social protection system to protect garment workers from further wage stealing and inequalities. 
Shiza Malik, Regional Communications and Media Lead in Asia of Oxfam International, announced the top 5 merit awards. They went to Raka Ibrahim from Indonesia with his article, "Alcohol on an open wound: Transgender Indonesians struggle through pandemic," Rafiqul Islam from Bangladesh with his article, "COVID-19 Pandemic Exacerbates Domestic Workers' Plight in Bangladesh," Nguyen Huong from Vietnam with her article, "Inequality changes forcing fresh gender-related policy," Puja Changoiwala from India with her article, "Mysterious Deaths of Mother, Daughter Expose India's Neglect of Rural Healthcare," and Aarefa Johari from India with her article, "The migrant workers who never went back."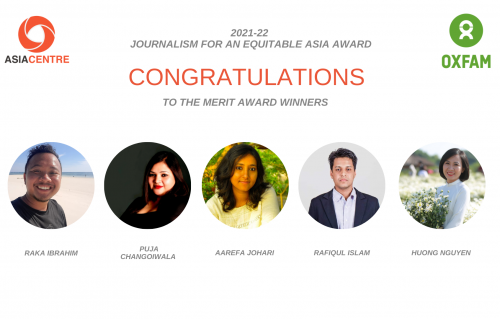 In closing, Dr. Robin Ramcharan, Executive Director of Asia Centre, congratulated the finalists and praised all journalists who highlight the issue of inequality in their work. He said that as countries turn to an endemic stage, special attention should be paid to the pace of re-employment of vulnerable communities as well as their wage levels. Dr. Ramcharan said the work of journalists reporting on how governments respond to this issue would be important in the months ahead.
To know about the previous 2020-2021 Journalism for an Equitable Asia Award, watch it here and read about it here.
To know about the 2019-2020 Journalism for an Equitable Asia Award, watch it here and read about it here. 
The Award ceremony, which was held both in-person and live-streamed over social media on 15 March 2022,  was attended by journalists, media academics, civil society actors, and others from Asia and beyond.