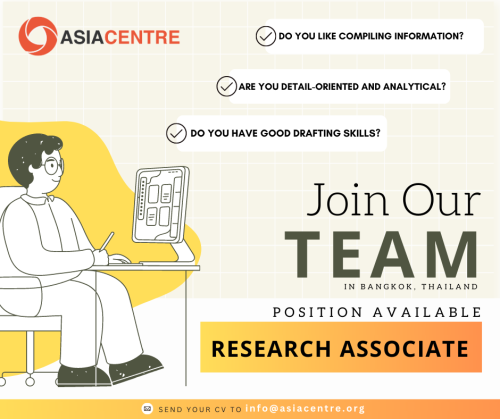 Highlights
Compile and organise information
Conduct interviews and group discussions
Analyse and draft research findings
About the Role
The Research Associate (RA), who is fluent in written and spoken English, supports the work of all research activities undertaken by Asia Centre. Key duties include contributing to research conceptualisation and design, drafting research proposals, conducting online research, compiling data into tables and infographics, implementing surveys, undertaking interviews and focus group discussions, analysing information, preparing presentations, drafting, editing and referencing research proposals, baseline studies, commentaries, narrative reports, policy briefs, book chapters and books.
Key Responsibilities
Undertake online and offline research, review and analyse documents, summarise findings
Compile data into tables and infographics, prepare presentations
Design and administer online questionnaires, coordinate interviews and focus group discussion
Contribute to drafting baseline studies, commentaries, website articles, narrative reports, policy briefs, book chapters
Liaise with donors of research projects, publishers, external researchers, speakers of research-related events such as conferences and seminars
Support in the day-to-day administration and reporting of the Centre's research projects
Minimum Qualifications
Bachelor's degree or higher in human rights or related subjects such as law, politics, social sciences, international relations, development studies or Asia/ASEAN studies
Minimum one to three years of relevant research work experience
Excellent oral, written and public presentation skills in English
Advance research skills and the ability to critically analyse and organise diverse information from various sources
Strong technical skills, including expertise with MS Office tools, familiarity with CANVA, WordPress and other relevant software
Self-motivated and able to work under pressure and manage competing deadlines
Application Procedure
This position is only open to Thai nationals. Interested applicants are requested to send (1) their CV together with (2) a self-introduction letter and a (3) two sample pieces of writing (4) expected salary to info@asiacentre.org.
Shortlisted candidates will be invited for an interview. Following the interview, a timed, written assessment will be issued as part of a proficiency test. A further interview and final selection will be made thereafter.
If interested, please fill in our application form and Research Questionnaire 
Asia Centre Job Application Form: https://forms.gle/m5iEdQPK2SjCBSyWA
Research Questionnaire: https://forms.gle/M54S2kc1Nn7S9bre6
Communications Questionnaire: https://forms.gle/o69wSSgoLVWd71wV7
For more information, contact@asiacentre.org.
Look forward to seeing you!