WHAT WE OFFER?
Asia Centre's Internship Programme offers a well-rounded experience in a not-for-profit organization. The programme gives interns the opportunity to work in a dynamic and international team, where you will gain real work experience in preparation for a future job. Interns are assured of excellent mentorship from our directors and staff on the implementation of projects. They are also exposed to various tasks in communications, partnership development and research, thereby giving them a strong professional foundation and an integrated experience.
WHY ASIA CENTRE?
Receive active mentoring and coaching from our team

Gain valuable hands-on working experience on real projects

Gain broad human rights related knowledge from all over the region

Expand your network

Good location, we are based in the city centre of Bangkok
WHAT WE WANT?
We are looking for individuals who:
Are passionate about civil society, democracy and human rights in Asia

Understand volunteerism and are committed, reliable and willing to accept project management challenges 

Are pro-active, who are able to problem solve issues and engage in self-learning

Are team-players, who support others and are willing to contribute to the Centre's projects and its long-term institutional growth

Have good English language research and drafting skills, social media management ability, experienced in design, photography and video editing
WHAT YOU DO?
In general, our interns support all aspects of Asia Centre's activities. However, they often have a specific area of responsibility as well. This internship programme has 5 focus areas. Although interns will be exposed to all of the Centre's activities, as an intern you will typically work in 2 or 3 of those focus areas, based on your skills and preferences. You can let us know your preferences in the application form and we will discuss these in the interview and during the onboarding process. The 5 focus areas are the following:
1. Communications and Media
Interns will upload information onto the Centre's website, social media platforms, maintain an active mailing list and administer surveys. They will also draft and send out media advisories, press releases and liaise with journalists.
2. Digital Design
Interns will be involved in digital design where they will create concepts and layouts for online and offline promotional materials and publications. Interns will design the branding material for the Centre's events, publications and social media content.
3. Event Promotion and Management
Interns will assist in implementing the Centre's many events, this involves enumerating the tasks, determining priorities and executing them. Interns will also develop a communications action plan to ensure smooth communication between the Centre and its project partners when implementing the events.
4. Research and Drafting
Interns will undertake research, conduct interviews and surveys, draft notes and reference content. Interns will also compile and draft information for book manuscripts, baseline studies, reports, project proposals, media commentaries and website write-ups.
5. Partnership Development
Asia Centre collaborates with many different organizations such as civil society groups, government agencies, embassies, international organisations, research centers and universities to undertake research and convene events. Interns will support in reaching out to new partners and work with the Centre's current partners.
HOW TO APPLY?
APPLICATION PROCEDURE
1. Fill out:
2. Submit all to info@asiacentre.org with email subject title
"Intern Application_(Your Name)"
DURATION
The Centre accepts interns for a period of 3 to 6 months. Priority is given to those who apply for 6 months and/or exclusively to Asia Centre.
GENERAL CONDITIONS
The internship is non-remunerated. The application has to ensure he or she has sufficient funds and support for travel, accommodation, and daily living expenses.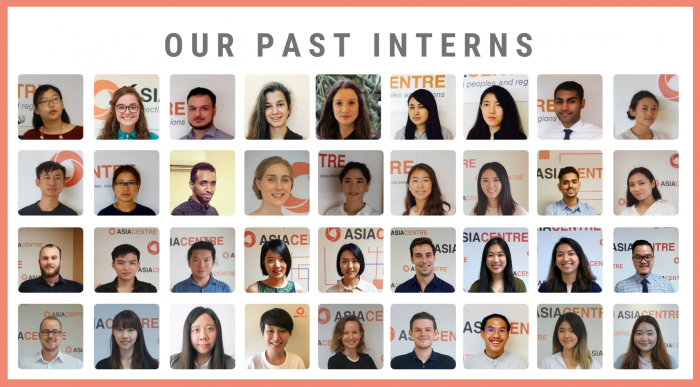 "Asia Centre allowed me to partake in various projects and undertake challenging roles to improve my self-growth"
"During my time, I was given the opportunity to improve my research and writing skills for the Centre's publications"