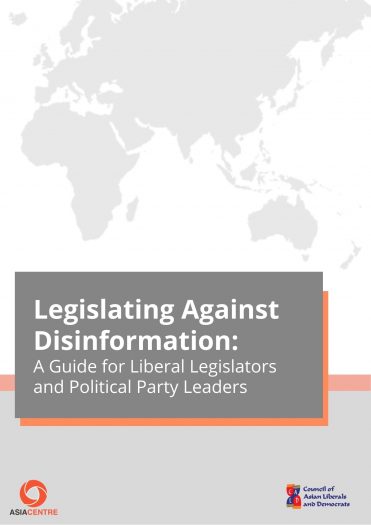 Legislating Against Disinformation: A Guide for Liberal Legislators and Political Party Leaders
Asia Centre's fourth baseline study examines the, existing and recently enacted, laws and policies in East and Southeast Asia which govern disinformation with the aim of empowering legislators, political party leaders, academics, civil society activists, journalists to protect freedom of expression. This report compares the impact of legislation in countries with multiparty legislatures and independent government institutions, and countries with one dominant political force and an absence of independent national institutions. It finds that in the former countries, provisions are included to safeguard human rights and democratic practices, in particular freedom of expression, whilst international conventions are adhered to and aligned with human rights principles. Whilst the latter countries, in contrast, place the authority of the state at the centre of disinformation laws, and their interpretation thereof, in which the description of what constitutes fake news is often vaguely-worded. It further emphasises the questionable introduction of superfluous 'fake news' dedicated legislation since 2017. A set of recommendations are prescribed to governments int he region. 
This report is currently under review and set to release in February 2021.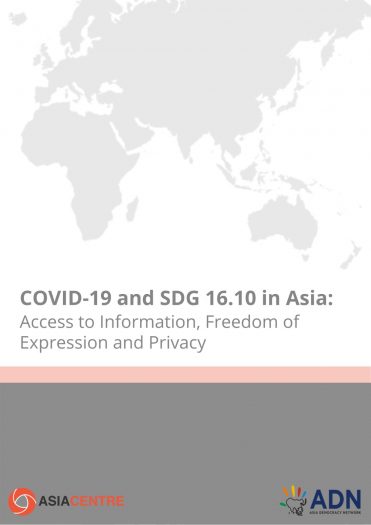 COVID-19 and SDG16.10 in Asia: Access to Information, Freedom of Expression and Privacy
Asia Centre's third baseline study examines the role of COVID-19 in the accelerated regression of the Sustainable Development Goals, more specifically, SDG16.10 and consequently SDG9.C to meet the 2030 goals. The report shows how governments in Northeast-, Central-, South- and Southeast Asia have, in addition to responding to the COVID-19's infodemic, used existing and temporary legislation to suppress and silence criticism of incumbent's handling of the health crisis. Their citizens and residents, civil society, the media, and their political opponent's Freedoms of Information, Expression, Opinion and Privacy have been taken aback by government measures to deter disinformation arising from COVID-19. The combination of existing legislation,'fake news' dedicated legislation and COVID-19 temporary laws and regulations, are further noted for their impact on the progress made towards establishing, legally protected, 'digital rights'. Following the review, a set of recommendations are given to governments, technology companies, international organisations and donors.
This report is currently under review and set to release in December 2020.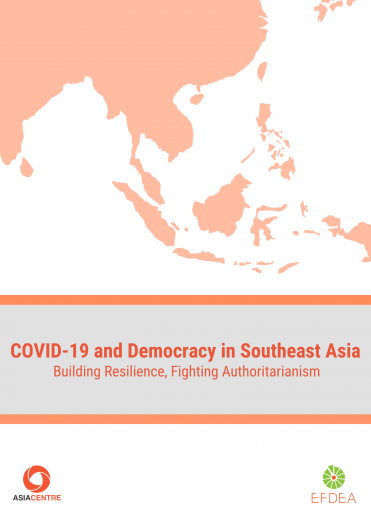 COVID-19 and Democracy in Southeast Asia: Building Resilience, Fighting Authoritarianism
Asia Centre's second baseline study examines trends under which Southeast Asian governments have used crises as opportunities for their political advantage. This report, centred around the Coronavirus Disease 2019 (COVID-19), highlights the routine response from governments with the announcement of emergency decrees and laws, suspension of civil freedoms, corruption of electoral democracy, censorship, digital surveillance measures, and framing human rights activists as national security threats. Post-crises, governments then enact long term laws and policies that effectively shrink civic space. Their methods also include limiting media and journalists' watchdog activities through fake news and defamation labels, whilst substantially contributing to the dwindling civil society funding. A set of recommendations are also prescribed for the United Nations, governments, donors, and civil society.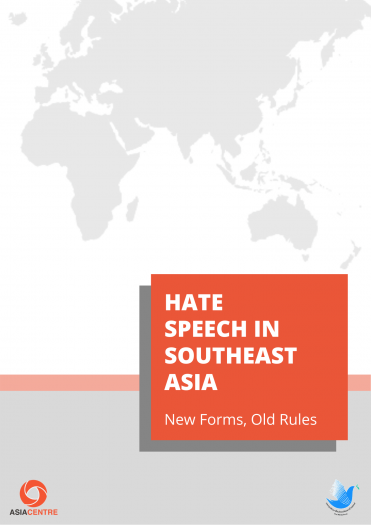 Hate Speech in Southeast Asia: New Forms, Old Rules
Hate speech, often disseminated online, is increasingly a problem in Southeast Asia with consequences of violence and communal strife. As a result, several countries in Southeast Asia such as Singapore, Malaysia, Myanmar and Thailand have introduced or are revising bills aimed at securing social, racial or religious harmony. Non-legal measures to foster social cohesion, interfaith dialogues and social harmony activities have also been used to address hate speech and promote cross-communal understandings. A majority of states in Southeast Asia have also signed the International Convention on the Elimination of All Forms of Racial Discrimination (ICERD) to signal their committment to to the elimination of racial discrimination and the promotion of understanding among all races. This report recommends a range of measures to alleviate these concerns. Among them, is a primary recommendation to officially recognise newer forms of hate speech and a set of secondary recommendations to promote understanding and diversity. All which should not result in any discrimination or infringement of rights.