ADMINISTRATION
OFFICER
About the Role
The Administration Officer (AO) supports the administrative and financial tasks undertaken at Asia Centre and assists in office management. Key duties include general administrative tasks, preparation of accounting and financial documents, recruitment of staff and interns, management of the Centre's offices and properties, and assisting in the activities of the Centre.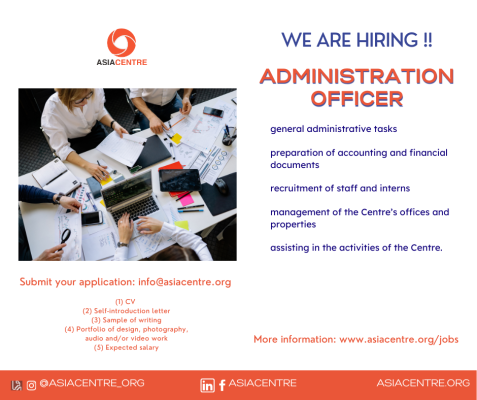 Key Duties
Undertake general administrative tasks, schedule appointments, maintain the online and offline filing system & databases, coordinate mail and courier services, obtain quotes from vendors, etc.
Coordinate with the accountant for the timely preparation of financial statements and all accounting-related matters, and prepare invoices and receipts.
Monitor and purchase office supplies, liaise with suppliers for design and printing, coordinate the maintenance of the offices, equipment, furniture, and liaise with hotels and catering companies.
Responsible for a full cycle of staff and intern recruitment from preparing job descriptions, advertising, setting up interviews,  contracts and communicating outcomes.
Support the event management of the Centre's activities, invite participants, and organise event equipment and logistics.
Communicate via phone, email, internet, social media, and messaging apps with partners, participants, and media.
Assist in the Centre's staff travel arrangements such as flight and hotel bookings, visa and work permit applications. 
Qualifications and Skills
Bachelor's degree or higher in business administration, communications, finance and accounting, liberal arts or any other related fields.
Minimum one-year work experience or fresh graduates with relevant administrative, financial and office management experience.
Excellent oral, written and public presentation skills in English.
Advance organisational and management skills and the ability to critically solve problems.
Strong technical skills, including expertise with social media platforms, Google Workplace, MS Office tools, accounting templates, familiarity with CANVA, WordPress and other relevant software.
Self-motivated and able to work under pressure and manage competing deadlines.
Application Procedure
This position is only open to Thai nationals. Interested applicants are requested to send (1) their CV together with (2) a self-introduction letter and a (3) sample of writing (4) a portfolio of their design, photography, audio and/or video work (5) expected salary to info@asiacentre.org 
Shortlisted candidates will be invited to complete an online questionnaire followed by an interview. Following the interview, a timed assessment will be issued as part of a proficiency test. A final selection will be made thereafter. Candidates without 1-year work experience, have the option of a 3-month internship before starting the job full-time.