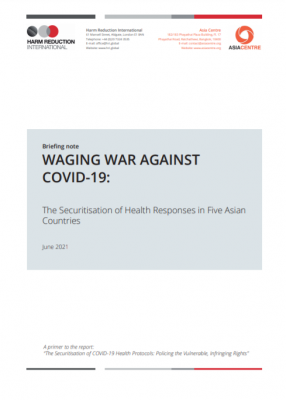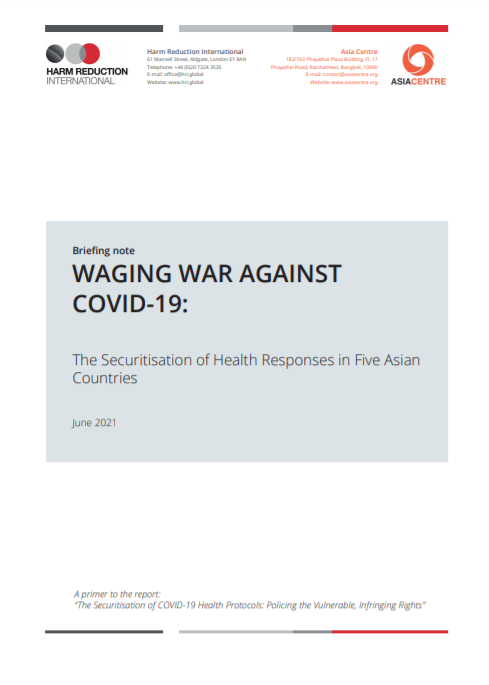 Waging War Against COVID-19
The Securitisation of the Health Response in Five Asian Countries evaluates the various health responses enacted by Indonesia, Malaysia, the Philippines, Singapore and Sri Lanka. This briefing note categories the health responses as blended civil, securitised or militarised. Such an approach shows that authorities in the region, tackling the COVID-19 situation, primarily approach it as public security rather than a public health threat. This briefing note is a prelude to the full report The Securitisation of COVID-19 Health Protocols: Policing the Vulnerable, Infringing their Rights.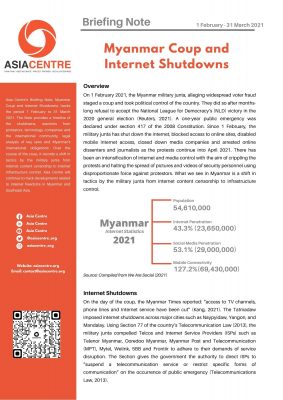 Myanmar Coup and Internet Shutdowns
Asia Centre's Briefing Note, Myanmar Coup and Internet Shutdowns, tracks the period 1 February to 31 March 2021. The Note provides a timeline of the shutdowns, reactions from protestors, technology companies and the international community, legal analysis of key laws and Myanmar's international obligations. Over the course of the coup, it records a shift in tactics by the military junta from internet content censorship to infrastructure control. Asia Centre will continue to track developments related to internet freedoms in Myanmar and Southeast Asia.
View an earlier edition of the note, tracking the period from 1 to 15 February 2021, here.