Report Launch: Defending Freedom of Expression
25 February 2021 @ 2:00 pm

-

3:30 pm

BMT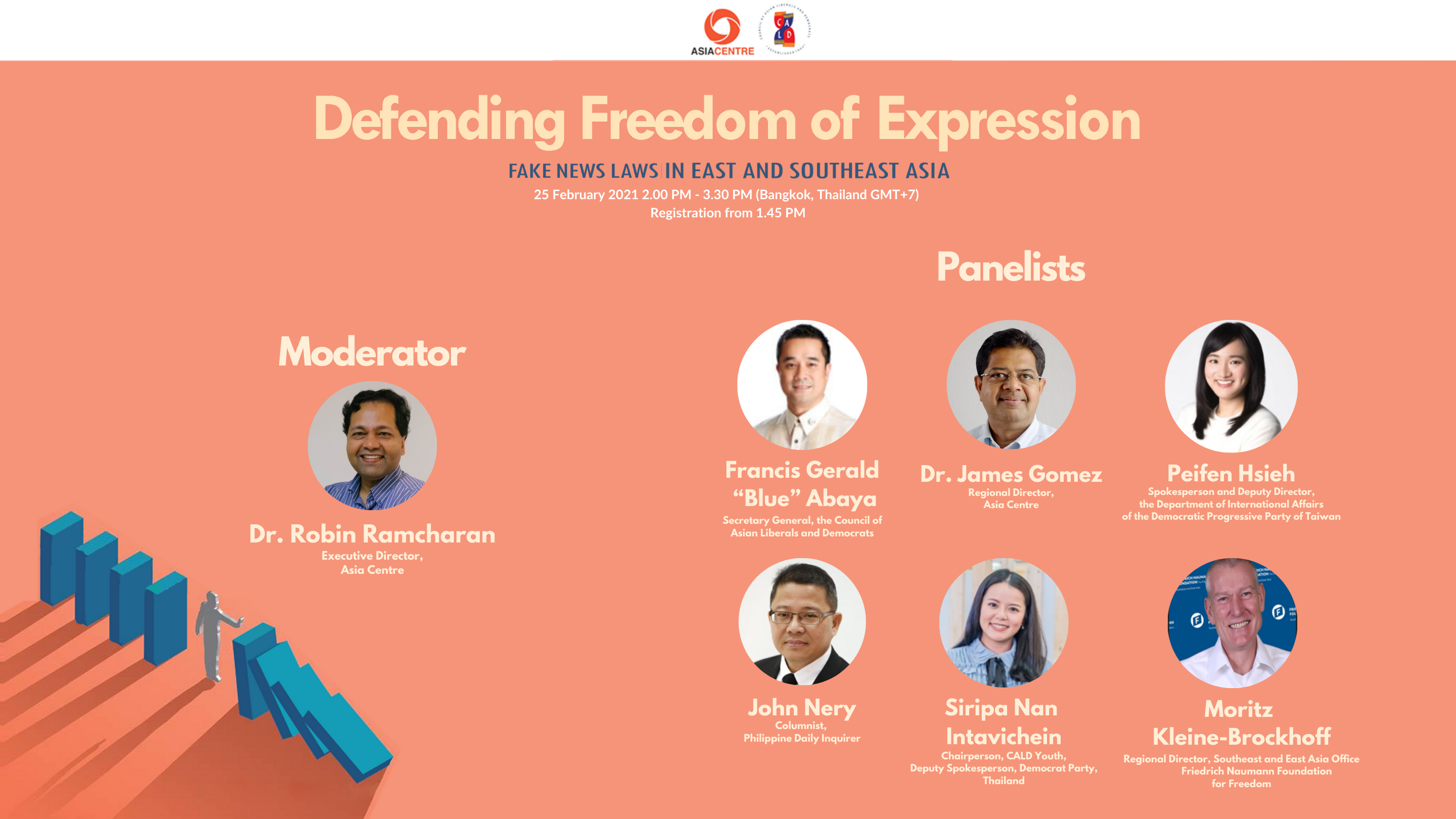 Abstract
Defending Freedom of Expression: Fake News Laws in East and Southeast Asia published by Asia Centre and the Council of Asia Liberals and Democrats (CALD) examines the existing and recently enacted laws and policies in the region which govern disinformation. The aim of the report is to provide a policy tool of ideas to empower legislators, political party leaders, academics, civil society activists, journalists to protect freedom of expression. This report compares the impact of legislation in countries with multiparty legislatures and independent government institutions, and countries with one dominant political force and an absence of independent national institutions. It finds that in the former countries, provisions are included to safeguard human rights and democratic practices and international conventions are adhered to and aligned with human rights principles. In contrast, in the latter countries, the authority of the state is placed at the centre of disinformation laws, and their interpretation thereof, in which the description of what constitutes fake news is often vaguely-worded. To address the human rights and democratic gaps in these countries, a set of recommendations are prescribed to governments to meet their international human rights obligations, establish independent institutions, work with technology companies and collaborate with stakeholders when implementing national legislation and policies to address fake news.
Date: 25 February 2021
Time: 2 PM – 3.30 PM (Bangkok, Thailand GMT+7)
Registration from 1.45 PM
Panelists
Francis Gerald "Blue" Abaya, Secretary General, the Council of Asian Liberals and Democrats
Dr. James Gomez, Regional Director, Asia Centre
Peifen Hsieh, Spokesperson and Deputy Director, the Department of International Affairs of the Democratic Progressive Party of Taiwan
John Nery, Columnist, Philippine Daily Inquirer
Siripa Nan Intavichein, Chairperson, CALD Youth Deputy and Spokesperson, Democrat Party, Thailand
Moritz Kleine-Brockhoff, Regional Director, Southeast and East Asia Office Friedrich Naumann Foundation for Freedom

Moderator
Dr. Robin Ramcharan, Executive Director, Asia Centre
Conveners:
Asia Centre is a not-for-profit social enterprise that seeks to create human rights impact in Southeast Asia. The Centre achieves this by undertaking evidence-based research on critical human rights challenges and develops knowledge toolkits, such as books, reports, baseline studies, policy briefs, commentaries which are used for advocacy purposes to promote and protect democracy and human rights.
The Council of Asian Liberals and Democrats (CALD) was inaugurated in Bangkok, Thailand in 1993. CALD positioned itself as a unique platform for dialogue and cooperation through which political parties, groups, and individuals can have an open discussion on the developments in the region. The aim is to assess the possibilities for liberal solutions to problems facing Asian democracies. CALD is the only regional alliance of liberal and democratic political parties in Asia.
Sign Up: http://bit.ly/2MtmM5G
Contact: comms@asiacentre.org; info@cald.org
Website: http://asiacentre.org/; http://cald.org/
Facebook: https://www.facebook.com/asiacentre.org/; https://www.facebook.com/asianliberals