Law and Lawlessness: Myanmar Coup and Human Rights
11 March 2021 @ 9:30 am

-

11:00 am

BMT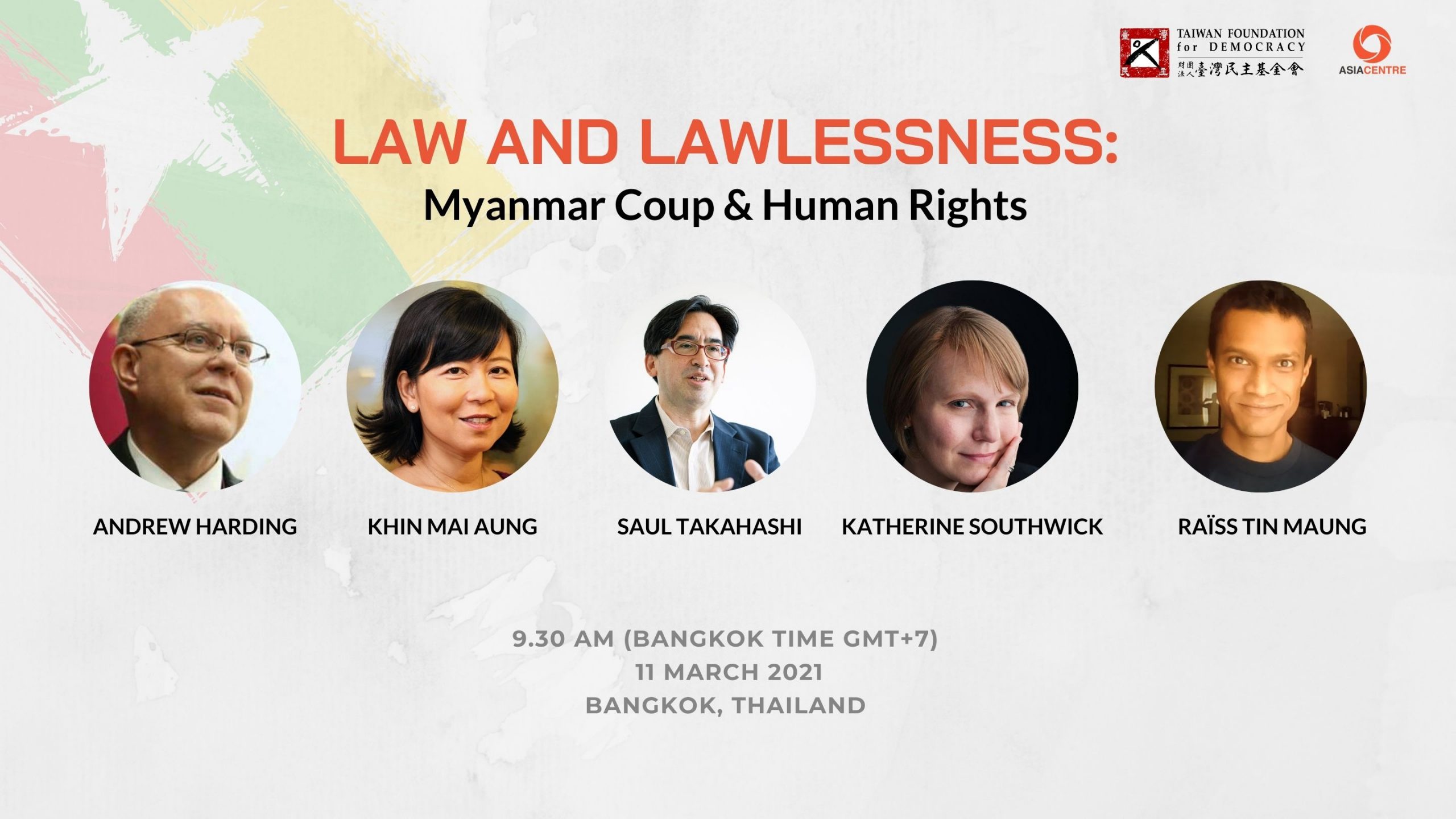 Law and Lawlessness: Myanmar Coup and Human Rights
The February 2021 military coup in Myanmar, which sought to overturn the November 2021 free and fair election, flew in the face of the country's own Constitutional provisions regarding public emergencies and respect for international human rights standards. The coup in Myanmar clearly defies constitutional commitments and international obligations.
Asia Centre will bring together an international panel of lawyers and experts to examine this developing issue.
The discussion will examine these key questions:
– How can Myanmar's military junta be held accountable for its illegal actions?
– What is the role of the international community, including ASEAN, in bringing Myanmar back to a position of respect for the rule of law and human rights?
– What is the role of civil society in restoring a legitimate, constitutional order?

Date: 11 March 2021
Time: 9.30 AM (Bangkok, Thailand GMT+7) Registration from 9.00 AM
Speakers
Andrew Harding, Constitutional Law Expert, National University of Singapore
Khin Mai Aung, Asia Centre Associate and Member of Free Rohingya Coalition
Saul Takahashi, Professor of Human Rights and Peace Studies, Osaka Jogakuin University
Katherine Southwick, Atrocity Prevention Advisor, Independent Contractor at the United States Holocaust Memorial Museum
Raïss Tin Maung, Founder and board chair, Rohingya Human Rights Network
Sign up: http://bit.ly/3pvUyVg
READ: Asia Centre's Briefing Note: Myanmar Coup and Internet Shutdowns https://bit.ly/3prl3LD