COVID-19 in Asia: Communication, Nationalism and Technology
8 September 2021 @ 8:30 am

-

10 September 2021 @ 9:30 pm

BMT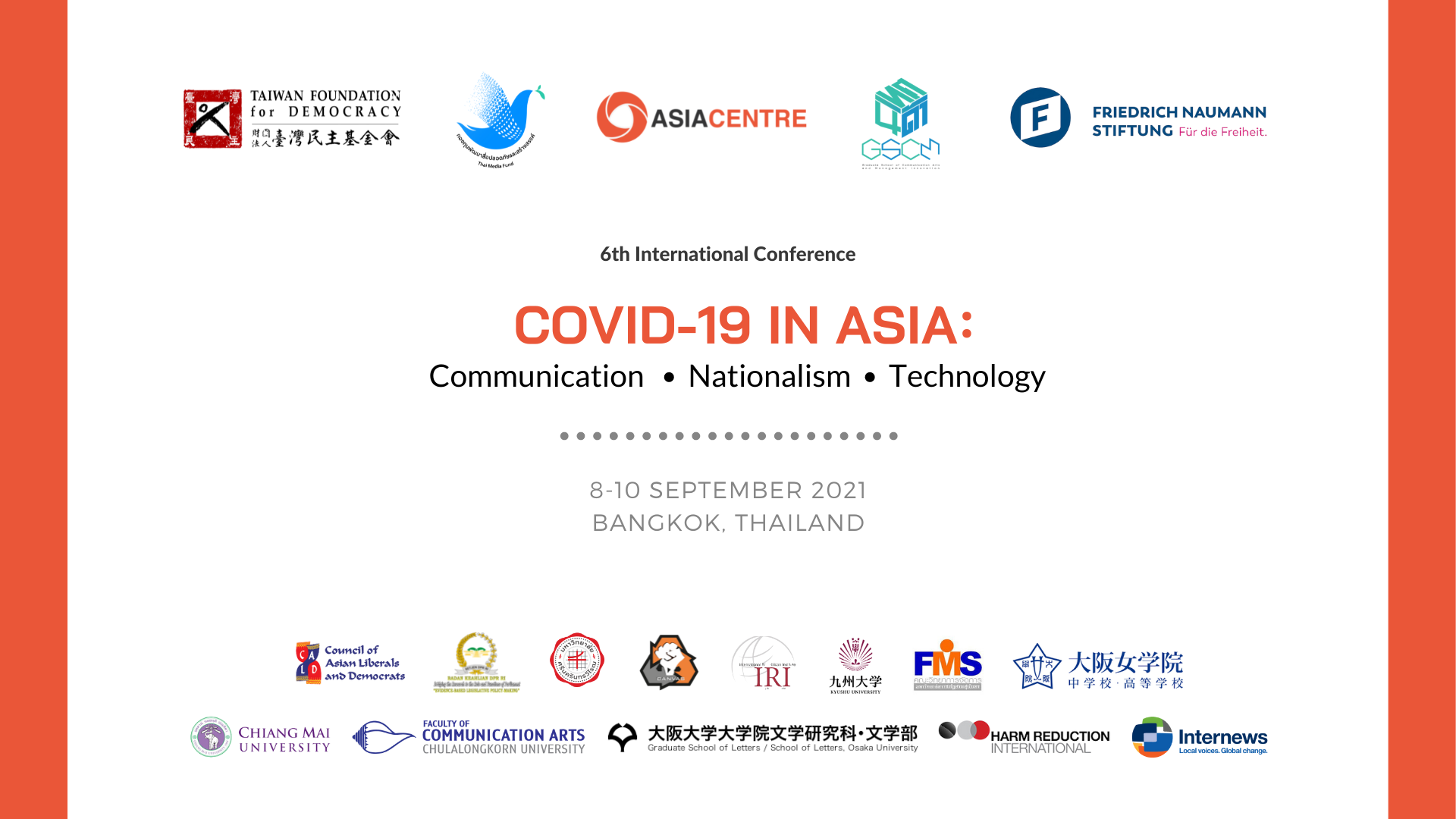 Overview
COVID-19 was declared a global pandemic in March 2020, following the first infections detected in Wuhan, China in December 2019. Since then, the number of infected cases and death rates have increased exponentially. Governments have introduced emergency and temporary laws, placed their citizens and residents within their jurisdictions under lockdowns, implemented stay-at-home orders, enforced social distancing and closed their borders. The COVID-19 pandemic, in addition to interrupting global and national economic activities and halting cross-border movements, has exposed the weakness of global health monitoring systems and put pressure on national public health infrastructures.
In this environment, the difficulties in tackling disinformation and misinformation – including about the virus and responses to it –  have been compounded by the inordinate amount of online communication. Contact tracing, digital identification technology and surveillance have led to concerns about privacy. The pandemic has also generated inward-looking nationalism as countries, including big powers, increasingly look within for independent sustainability.  'Vaccine nationalism' has reared its ugly head as countries race to demonstrate their technological prowess by being the first to develop one, to manage the resulting intellectual property rights and to acquire enough stocks for their own populations.  It has fostered unprecedented online interactions leading to changes in ways of working, business transactions and spurred innovations in the digital space.  
By late 2020, countries were experiencing second or third waves of infection and deaths as resumption of some business activity and relaxing of border restrictions became necessary to revive faltering economies. As the COVID-19 pandemic lives on into 2021 and beyond, it is important to understand its impacts – economic, political, social – upon national and international society. In particular, if the pandemic has contributed to accelerating us towards the 5th industrial revolution and its likely impact on politics and society. This conference, taking place one year after the start of the pandemic, seeks to identify these impacts and to search for practical solutions to challenges, which include shrinking democratic space and regression in rights in Asia.
Themes
The impact of the pandemic on the following areas will be examined:
Online disinformation, fake news and hate speech during the pandemic; 

Contact tracing, digital identity recognition, surveillance and privacy;

Digital, health and media literacy;

Nationalism, multilateral collaboration and geopolitical shifts;

Impact on democracy and rights;

Digital platforms, remote communications, online services;  

AI, data analytics, machine learning; 

Any other relevant themes
Objectives
The conference aims to assesses the overall impact of COVID-19 in the following areas:
Disinformation, literary programmes, contact tracing and privacy

Political participation, nationalism and multilateralism

Use of digital tools and technological innovations for business and work
Conference Structure
The conference will consist of short remarks, keynote speeches and plenary and breakout sessions made of thematic panels and country-specific discussions.
Conference Participants
Registration is open to all presenters and participants from academic institutions, businesses, national and regional civil society organisations, international NGOs, political parties and intergovernmental organisations to facilitate knowledge sharing and networking.
Conference Publications
Following the international conference, Asia Centre will undertake following publishing efforts:
Conference Proceedings
Publish a set of peer-reviewed Conference Proceedings. Guidelines for the conference proceedings can be found here. Style sheet guidelines can be found here.
Book Project
Asia Centre will invite selected authors and presenters (10-12) to participate in book proposal to Palgrave Macmillan (International Edition) and Gerakbudaya (Regional Edition). See guidelines here.
Special Issue Journal
Asia Centre will also assemble a small number of papers (5-6) for submission as a special issue to a journal drawn from its pool of partners' publication. Guidelines will be updated later.
Programme Outline
8 September 2021

8:30-19.30 | Morning and Afternoon Panels, Welcome Dinner

9 September 2021

09:00-16:00 | Morning and Afternoon Panels

10 September 2021

098.00-21:30 | Morning and Afternoon Panels
Submission Guidelines
Paper Presentations and Speeches
Researchers and practitioners wishing to present papers or share their experiences are invited to submit a title, an abstract in English of 300-350 words along with a biographical paragraph of 100 words here. For those submitting papers, full papers should be 5000 words.
Poster Presentations
Limited space is available for 4 to 5 poster presentations. Your presentation may be submitted in word / pdf format to the Asia Centre for consideration. A 60×80 cm poster will be printed and displayed during the conference.
Key Dates
Accepting abstracts now (on a rolling basis until 15 August 2021)
Full papers (deadline 30 August 2021)
Panel Partnerships
Asia Centre welcomes organisations and individuals to be panel partners by convening a panel or by sponsoring speakers and participants. This will provide partners an opportunity to network and forge linkages with academia, businesses, civil society, governments and international organisations in the region; and can promote their organisation and activities.
Partner Benefits
Logo on all publicity materials online and at conference venue.
Social media and mailing list promotion through Asia Centre's networks.
Display and distribute promotional materials from partner organisation to participants.
Develop expertise on the issues covered by the conference themes.
Partner Requirements
Market the conference within their networks.
Conveners: Asia Centre, GSCM (NIDA)
Asia Centre, 128/183 Phayathai Plaza Building (17th Floor), Phayathai Road, Thung-Phayathai, Rachatewi Bangkok 10400 Thailand.
Registration and Inquiries
Enquiries: research@asiacentre.org