Report Launch – Internet Freedoms in Cambodia: A Gateway to Control
1 September 2021 @ 10:00 am

-

11:30 am

BMT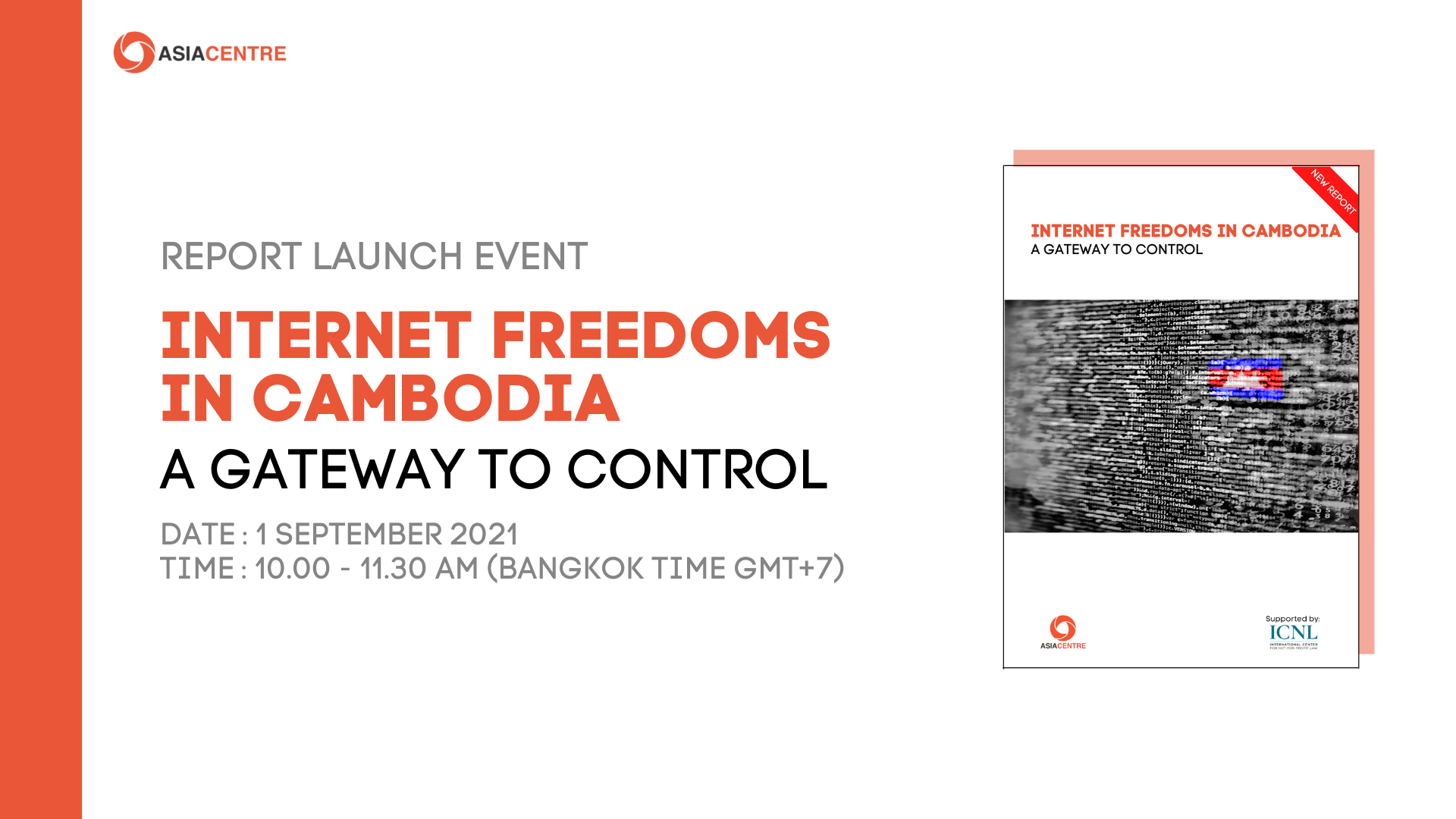 Abstract
Cambodia's plan for a "National Internet Gateway" (NIG) in 2021, is the apex of internet censorship legislation. It is a "firewall" that observes internet traffic nationwide. The NIG would provide the government with the ability to effectively monitor and control all domestic information and communications in the nation through a single choke-point. Over the recent years, Cambodia has developed an arsenal of censorship legislation aimed at the internet in parallel with it's growing telecommunications infrastructure, increasing internet penetration and rising social media usage. The result, is a highly surveilled digital landscape near void of dissenting voices, with those activists that remain, often subject to harassment and other malicious activities such as electricity cut-offs and bandwidth throttling. Fundamental democratic mechanisms are significantly hampered through "internet blackouts", where the government blocks certain independent news outlets prior to and during election periods. These legislative measures, combined with harassment, have led to endemic self-censorship throughout Cambodia's digital landscape. 
Date: 1 September 2021
Time: 10.00 – 11.30 AM (Bangkok, Thailand/Phnom Penh, Cambodia GMT+7)
Registration from 9.45 AM
Welcome Remarks
Vitit Muntarbhorn, Professor Emeritus of Law at Chulalongkorn University and International Human Rights Expert
Presenter
Dr. James Gomez, Regional Director, Asia Centre
Discussants
Sokunthea Chhan, Media Development Director, The Cambodian Center for Independent Media (CCIM)
Him Khortieth, Research & Advocacy Manager, Cambodian Journalists Alliance Association (CamboJA)
Khoy Soung, Child and Youth Empowerment Coordinator, the Child Rights Coalition Cambodia 
Convener
Asia Centre is a not-for-profit social enterprise that seeks to create human rights impact in Southeast Asia. The Centre achieves this by undertaking evidence-based research on critical human rights challenges and develops knowledge toolkits, such as books, reports, baseline studies, policy briefs, commentaries which are used for advocacy purposes to promote and protect democracy and human rights.
SIGN UP HERE
Contact: research@asiacentre.org