Media Ethics and Journalism in Malaysia
12 October 2021 @ 1:00 pm

-

2:30 pm

BMT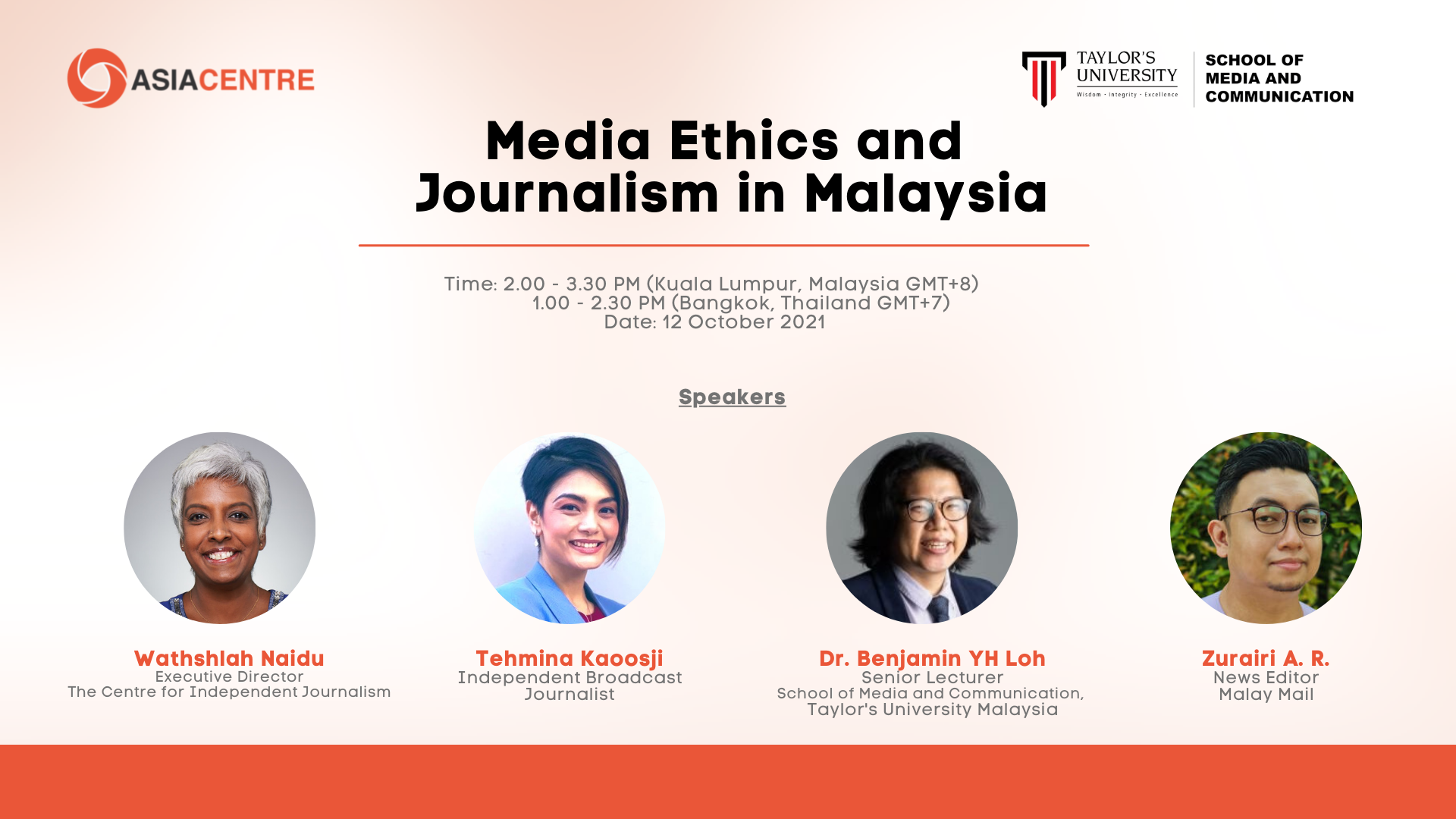 Abstract
On 31st of July, following the LAWAN demonstration held in Kuala Lumpur, Malaysia, the police released a series of photos asking the public to share any information they had on these individuals in the pictures. One veteran journalist who worked the crime desk of a prominent local daily participated in sharing that information. The journalist was heavily criticized for what amounted to putting peaceful demonstrators in harm's way and cited his lack of ethics in being a journalist. This is not the first time a journalist or a media outlet has engaged in unethical behaviour. There have been numerous other infractions such as the unfiltered sharing of private information of victims of crimes, callous headlines that reinforce stereotypes (racial and gender-based) and reports that lack rigour and basic fact checking.
The term "journalism ethics" is very vague in Malaysia as the journalism industry, while long established, has always been forced to operate under oppressive regulations where there is overt political interference, through ownership and influence, in media operations. Since the 14th General Election in 2018 and the political change thereafter, there has been a corresponding change in media regulations that still is in flux. A key gap that remains is the huge void in media oversight in Malaysia. Lacking a standardized set of ethics in the country, different media outlets adopt different practices and in general have caused an erosion in trust and public faith in journalism. 
Without a state governing body or media council to self-regulate the media, it befalls upon developing a strong core set of ethics that ensure that journalists are aware of what are the best practices to engage in journalism and what are their roles and responsibilities to the general public vis-a-vis political actors. This seminar will convene key voices from the country's media landscape to discuss how to empower Malaysian journalism to improve its quality and return public confidence to this battered field.
Welcome remarks
Dr. Charmnan Ngammaneeudom, Advisor, Thai Media Fund
Philip Gan Chee Keat, Programme Director, School of Media & Communication, Taylor University, Malaysia.
Speakers
Dr. Benjamin YH Loh, Senior Lecturer, the School of Media and Communication, Taylor's University Malaysia
Wathshlah Naidu, Executive Director, Centre for Independent Journalism (CIJ)
Tehmina Kaoosji, Independent Broadcast Journalist
Zurairi A. R., Journalist and Editor, Malay Mail
Convener
Asia Centre is a not-for-profit social enterprise that seeks to create human rights impact in Southeast Asia. The Centre achieves this by undertaking evidence-based research on critical human rights challenges and develops knowledge toolkits, such as books, reports, baseline studies, policy briefs, commentaries which are used for advocacy purposes to promote and protect democracy and human rights.
Date : 12 October 2021
Time : 2.00 – 3.30 PM (Kuala Lumpur, Malaysia GMT+8)
1.00 – 2.30 PM (Bangkok, Thailand GMT+7)
Registration from 1.45 PM (Kuala Lumpur, Malaysia GMT+8)
12.45 PM (Bangkok, Thailand GMT+7)
SIGN UP HERE