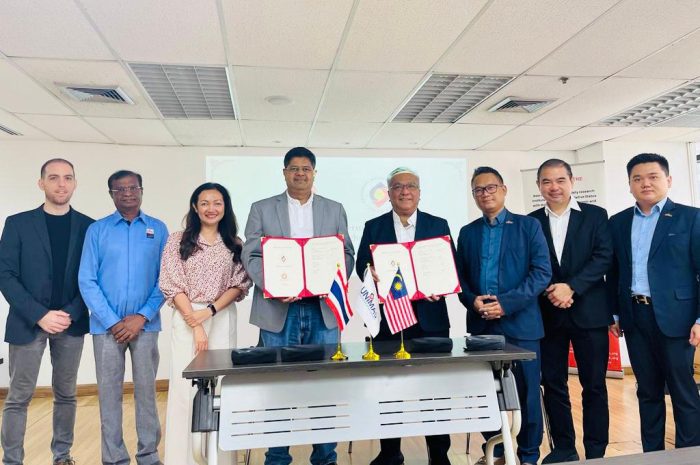 On 20 October 2023, Asia Centre and Universiti Malaysia Sarawak (UNIMAS) signed a Memorandum of Understanding (MoU) to strengthen their existing cooperation and explore opportunities for future collaboration in media and communications-related activities, research and training developments. The signatories were Dr James Gomez, Regional Director of Asia Centre, and Professor Datuk Dr Mohamad Kadim Suaidi, Vice Chancellor of Universiti Malaysia Sarawak.
The MoU signing ceremony included an introduction to Asia Centre, and an overview of Asia Centre covering its scope, programme areas, and partners, which were presented by Dr. James Gomez and Dr. Marc Piñol Rovira. Professor Datuk Dr Mohamad Kadim Suaidi, Vice Chancellor of Universiti Malaysia Sarawak, who represented UNIMAS, gave a brief introduction to the university and the faculty of Education, Language and Communication.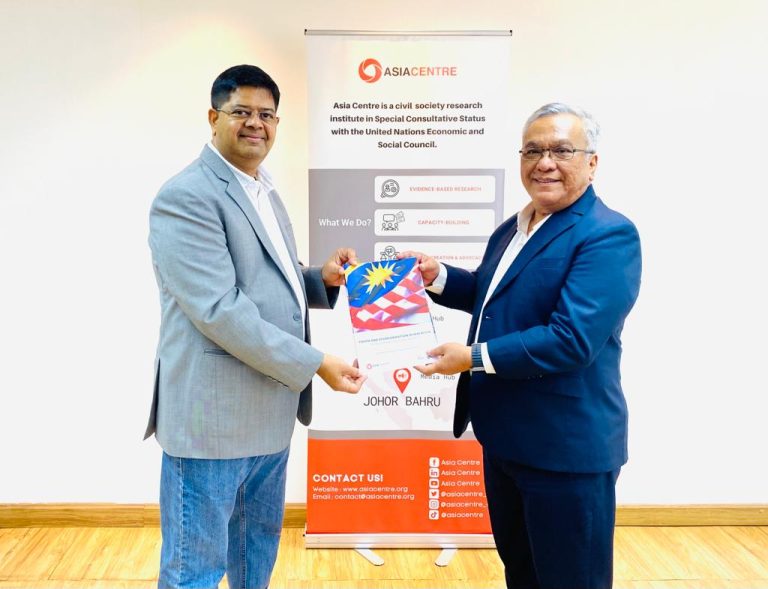 The Memorandum of Understanding is the outcome of a positive partnership between Asia Centre and the Faculty for the ASEAN Digital Literacy Programme (ADLP) Training of Trainers, which took place this year on 11 March 2023 at the Faculty's premises. This programme is supported by Google and, in partnership with the ASEAN Foundation, is implemented to promote Media Information Literacy (ToT) training for trainers in Malaysia. This training aims to produce competent trainers on digital and media literacy by providing them with resources on information disorders and tools to combat disinformation. 
Under the supervision and support of the faculty's Dean, Prof. Dr Ambigapathy Pandian, the ADLP training of Trainers with UNIMAS has successfully produced 15 trainers eligible to become master trainers for the programme, who, in turn, trained more than 2,000 End Beneficiaries this year. 
The Asia Centre-UNIMAS MOU is part of the Centre's continuous engagement with Malaysia. Since 2016, the Centre has collaborated with many local universities in Malaysia, as well as academics and human rights activists, to organise roundtable discussions and seminars on Malaysian affairs.
A roundtable discussion was held in June 2018 on that year's general elections in Malaysia, an event that was supported by the Taiwan Foundation for Democracy. In April 2019, Asia Centre jointly organised a seminar "Fake News Industry: Developments in SEA & Malaysia", with the University of Nottingham Malaysia and Gerakbudaya Bookshop. In December of the same year, Asia Centre and Oxfam in Asia held the Malaysia launch of the Journalism for an Equitable Asia Award, supported by local partners Gerakbudaya and Orchan Consulting Asia.  
In October 2021, the Centre co-convened with the School of Media and Communication of Taylor's University Malaysia a webinar on "Media Ethics and Journalism in Malaysia", supported by the Taiwan Foundation for Democracy. 
In 2022, following the release of Asia Centre's and Google's report Youth and Disinformation in Malaysia: Strengthening Electoral Integrity, the Centre signed a Memorandum of Understanding (MoU) with Taylor's University Malaysia's Faculty of Sciences & Leisure Management in September. This was the first MoU with a Malaysian tertiary institution, and was signed prior to the launch of the Youth and Disinformation in Malaysia report, hosted by the university's School of Media and Communications. The event attracted over 100 attendees.  
In March 2023, Asia Centre held a few activities to launch its latest Malaysia report, Internet Freedoms in Malaysia: Regulating Online Discourse on Race, Religion, and Royalty. First released online to the public and media in January, it was covered by several media publications and accompanied by an op-ed by Dr, James Gomez, and two podcasts. 
In addition, the Centre has held consultations and presentations related to Malaysia. In 2017, 11 country reports, including one for Malaysia, were jointly produced with the International Panel of Parliamentarians for Freedom of Religion or Belief (IPPFoRB). They were released at the IPPFoRB conference for ASEAN Parliamentarians in Bangkok, Thailand in October 2017.  
The baseline study Harmony Laws in Southeast Asia: Majority Dominance, Minority Repression was released online in November 2021 as part of the 7th annual Southeast Asian Freedom of Religious Belief (SEAFoRB) Conference. This study reviewed how "harmony" and similar laws in Malaysia and three other Southeast Asian states have limited freedom of religion or beliefs, and also accentuated racial discrimination.
Asia Centre's studies on Malaysia have also been featured in Malaysian and other media such as Malaysiakini, Mashable SE Asia, and the Malay Mail; op-eds by Dr. James Gomez in theVibes.com and the Malay Mail; and podcasts such as on BFM 89.9.
Catch the highlights of the ADLP training with UNIMAS in this TikTok video at our Asia Centre TikTok page.
If you are interested in collaborating with the Asia Centre, do send an email to contact@asiacentre.org.