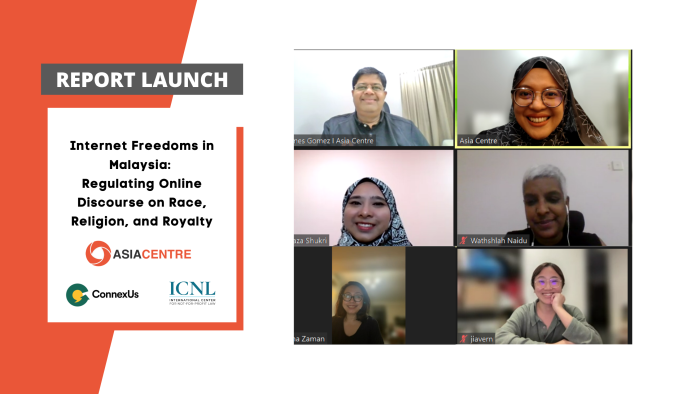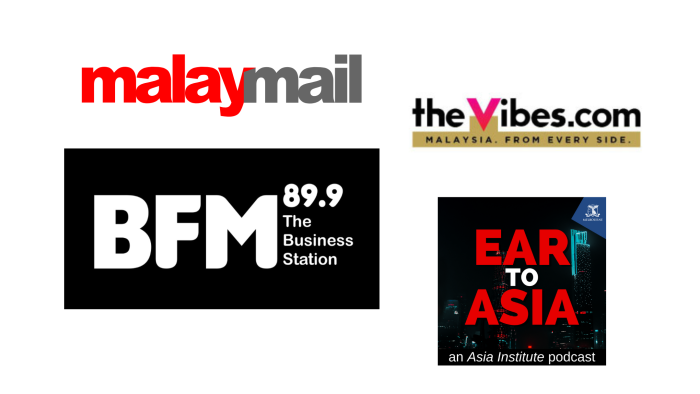 The report was first released online to the public and the media on 16 January 2023. The next day, the Malay Mail published an article, Study: 'Ultranationalist' groups gaining traction in Malaysian online space following Umno's defeat in 2018 polls | Malay Mail by Keertan Ayamany. In the afternoon, it also published an opinion piece, Internet freedom, an essential human right — James Gomez | Malay Mail by Dr James Gomez. The Vibes, published another opinion piece, Race, religion, and royalty to shape M'sian politics – James Gomez | Opinion | The Vibes also by Dr James Gomez.
There were also two podcasts on the report. On 25 January 2023, Dr Gomez recorded a podcast discussion with Dina Zaman (a Malaysian commentator) moderated by ABC News journalist Ali Moore. The podcast was for a programme, Ear to Asia, produced by the Asia Institute, Melbourne University, that is also syndicated to the Jakarta Post. Similarly, on questions related to the findings of the report, on 28 January 2023, Dr. Gomez recorded a podcast interview with journalist Philip See for BFM's podcast Pressing Matters: BFM: The Business Station – Podcast How Has Online Discourse Shaped Conversation On Sensitive Topics In Malaysia? that was published on 30 January 2023. 

The key research findings were additionally promoted via an online campaign with infographics posted on Asia Centre's social media platforms, Facebook, Linkedin, Instagram, and Tiktok. This included an animated infographic video summarising the key arguments and recommendations of the report, and it was premiered during the report launch.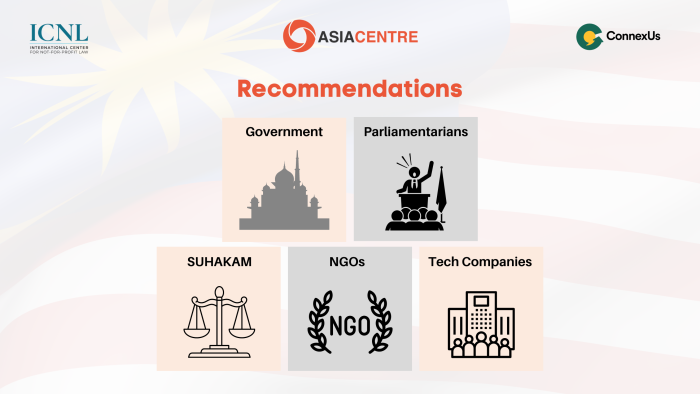 When presenting the report during the launch, Dr. Gomez outlined Asia Centre's recommendations that can be adopted by relevant government agencies, parliamentarians, the Human Rights Commission of Malaysia and NGOs, as well as tech companies to mitigate the obstruction of internet freedoms in Malaysia. 
While the government is strongly urged to review, repeal and amend laws that are detrimental to internet freedoms, parliamentarians, human rights advocates and NGOs have an active role to monitor and report the infringement of rights by the state. Tech companies are also urged to increase their transparency in dealing with the state to mitigate the biased removal of content on their platforms.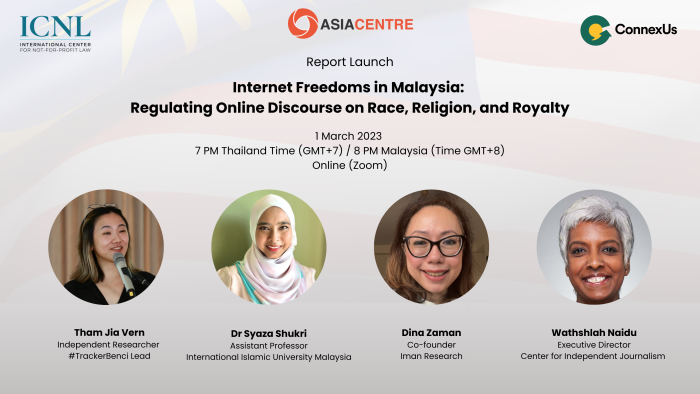 Following the presentation during the report launch, the findings were discussed by Tham Jia Vern, Independent Researcher, #TrackerBenci Lead, Dr Syaza Shukri, Assistant Professor, IIUM, Dina Zaman, Co-founder, Iman Research, and Wathshlah Naidu, Executive Director, Center for Independent Journalism. The panel was moderated by Lina Sakina Salim, the centre coordinator of Asia Centre Malaysia.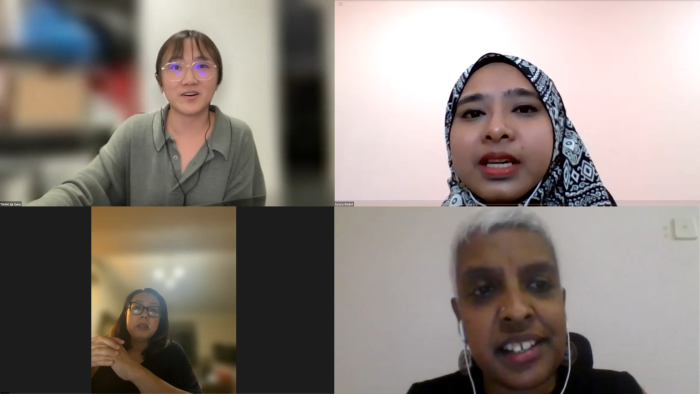 Tham Jia Vern discussed how approaches towards curbing hate speech online should be diversified beyond activating legal measures. By introducing her work in developing #trackerbenci, an AI-driven tracker identifying hate speech on Twitter, Jia Vern shared how technologies can be used positively to counter dangerous narratives online.
Next, Dr Syaza elaborated on how GE15 was impacted by the different ideological views held by the Malays, namely – conservatism and populist Islam. She further added that while freedom of expression in the country has progressed over decades after Malaysia's independence, it does not guarantee internet freedom for all. 
In her elaboration, Dina Zaman provided insights towards understanding the voting patterns of the majority Malays. Although social media has both negatively and positively mobilised the community during the election period, she opinionated that curbing dissenting voices through legal mechanisms may pose more significant harm than good.
Sharing the results of CIJ's social media monitoring of GE15, Wathshlah Naidu, showcased how hate speech and disinformation can be manifested in various forms online and addressed the need to provide better digital literacy which is accessible by all members of society.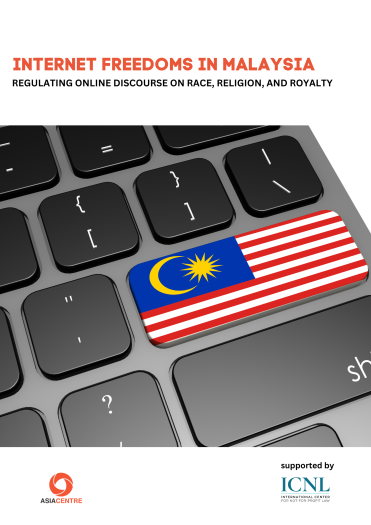 The report, in partnership with International Center for Not-for-Profit Law (ICNL), aims to provide a baseline study on the state of internet freedoms in Malaysia, and how socio-political developments related to race, religion and royalty has impacted the freedom of expression of its citizens.
Read the full report here. Watch the Zoom recording of the event on our YouTube channel here.
Asia Centre is a civil society research institute in Special Consultative Status with the United Nations Economic and Social Council. It serves as a knowledge partner and undertakes evidence-based research as well as provides capacity-building training for end beneficiaries. If you would like to collaborate with the Centre, please send an expression of interest to contact@asiacentre.org.