On 27 September 2019, Asia Centre signed an MOU with the Faculty of Law, Thammasat University. Dean, Faculty of Law, Munin Pongsapan and Asia Centre's Executive Director Dr. Robin Ramcharan inked the agreement to cement their co-convening of Asia Centre's 5th International conference on Hate Speech in Asia: Challenges and Solutions 8-10 July 2020. The MOU signing, witnessed by Asia Centre's advisor Dr. Andrew Harding, builds on the Centre's working relationship with the Faculty of Law since the last 2 years. For instance, on 30 October 2017, the Centre hosted the Faculty of Law's students and Professor Thitirat Thipsamritkul at the International Conference on Youth Engagement and Human Rights. In June 2019, Chen Xiangyi a business law student at the Faculty of Law undertook her internship at Asia Centre.
Starting 2019, Asia Centre began to sign Memorandums of Understanding (MOUs) with partners with whom it has established a working relationship. Areas of collaboration delineated in the MOUs include co-convening activities such as conferences, seminars and workshops; collaborating on research; organising study trips and facilitating internships. Having focused on consolidating its organizational structure and running a suite of activities in Bangkok, Thailand over the past 4 years, the MOUs help pivot Asia Centre externally towards the region and beyond. Collectively, the MOUs also allow Asia Centre and its partners to extend the geographical reach of their activities.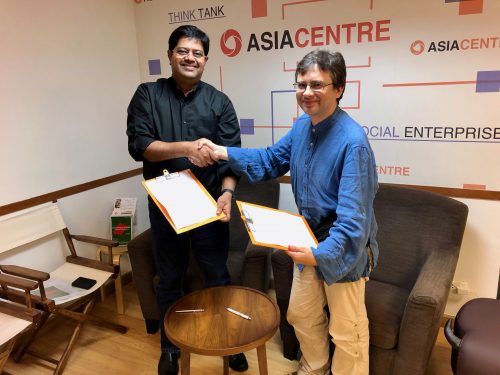 On 23 September 2019, Dr. Rafal Pankowski from Poland-based Never Again Association signed an MOU with Asia Centre's Dr. James Gomez. In line with Never Again Association's goals to tackle racial and ethnic prejudice, the Association will also be forming a panel at the 2020 Hate Speech Conference to expound further on these topics. This cooperation marks Asia Centre's first MOU with a European partner.
In the same month on 9 September 2019, Asia Centre signed an MOU with the University of New South Wales to specifically collaborate with its Australian Institute for Human Rights. It is expected that the MOU will lead to a panel partnership during Asia Centre's 5th International conference on Hate Speech in Asia: Challenges and Solutions 8-10 July 2020, hosting of New Colombo Plan Scholars at Asia Centre and explore collaboration around the Dignity in Design project which looks at human rights issues in the urban environment.
Earlier in the year on 12 May 2019, Asia Centre signed an MOU with another human rights institution. This time it was with Chang Fo Chuan, Centre for the Study of Human Rights, Soochow University in Taipei, Taiwan. This MOU cemented the close working relationship Asia Centre has had with Soochow University starting from 2018 when Dr. James Gomez presented at a roundtable discussion the findings from the Centre's book "The UPR of Southeast Asia: Civil Society Perspectives" on 8 November 2018. The next year, Asia Centre's Dr James Gomez and Yawee Butrkrawee, Programme Coordinator attended the Workshop of Advocacy for Asian Human Rights Court at Soochow University from 9-12 May 2019 during which time, the MOU was signed. Asia Centre's Advisory Board Member Nukila Evanty furthered this collaboration with Soochow University by speaking at their Gender and Business and Human Rights Workshop on 13 July 2019 also organised by the Chang Fo Chuan, Centre for the Study of Human Rights, Soochow University .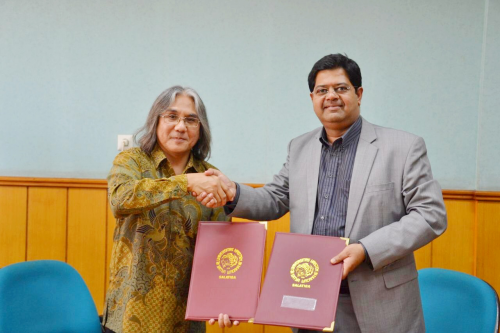 2 months before on 5 March 2019, Asia Centre's Dr. James Gomez and Professor Neil Semuel Rupidara, Rector, Satya Wacana Christian University (UKSW) signed an MOU in Semarang, Indonesia. The partnership was signed following the two entities' first joint general studies panel. Entitled "Religion, Media and Politics in Southeast Asia", the event was organised in collaboration with the Faculty of Social Science and Communications, Faculty of Theology and the Centre for the Study of Religion, Pluralism and Democracy. Following the MOU signing, Asia Centre has since hosted 2 study visits of 30 students each. The visit on 8 May 2019 focused on discussions over the use of fake news during the Indonesian presidential elections. The visit on 16 September 2019 focused on the unrest in West Papua over the Papuan Independence movement.  
In line with India's Act East policy, Asia Centre has also fostered close relations and signed MOUs with 3 institutions in Kolkata — Calcutta University, NSHM Knowledge Campus and Observer Research Foundation (ORF). The MOUs follow Asia Centre's Dr. James Gomez's previous visits to the region in 2018, where he laid the foundation for collaborations with these institutions.
On 8 February 2019,  Asia Centre's Dr. James Gomez and Professor Sonali Chakravarti Banerjee, Vice Chancellor, Calcutta University signed an MOU. This event was also witnessed by Kolkata's Chief Minister, Mamata Banarjee as part of the Government of West Bengal's push for its universities to collaborate with knowledge partners abroad. Dr. Gomez was previously a Visiting Fellow at the Department of South and Southeast Asian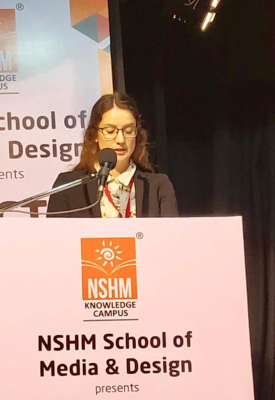 Studies, University of Calcutta – College Street Campus from 26 to 30 November 2018. 
The second MOU was signed with Cecil Anthony, Chief Mentor, NSHM Knowledge Campus during NSHM Knowledge Campus's International Conference on Media and Society on 8 March 2019. During which, Asia Centre's Research and Grants Officer, Tessa Allebas spoke on trends in manufactured opinions over social media. In November 2018, Dr. Gomez had visited the media department of the NSHM Knowledge Campus and was also interviewed over 91.2 Y-FM NSHM Community Radio. Besides fostering close relations between both parties, the MOU also helps NSHM Knowledge Campus extend its reach to the Southeast Asia region.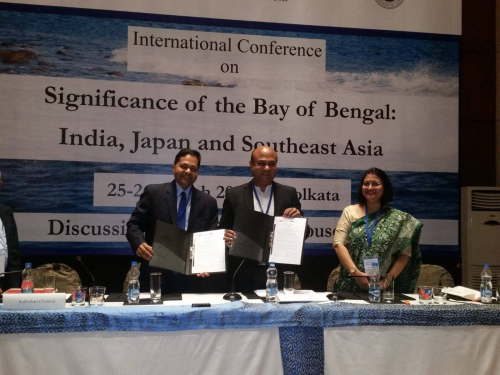 On 25 March 2019, Dr. Robin Ramcharan and ORF's Director Dr. Nilanan Ghosh, signed an MOU during ORF's opening ceremony of its two-day conference on the "Significance of the Bay of Bengal: India, Japan and Southeast Asia". Specifically, the MOU pledges future collaboration on policy-oriented research that seeks to create social impact. As a follow up, Dr. Robin Ramcharan has been invited to and will be speaking at the Media Workshop, 'Reimagining BIMSTEC' hosted by ORF on 27-28 November 2019 in Kolkata, India.

Within the South Asian region, Asia Centre was invited by the Centre for Enterprise and Society, University of Liberal Arts Bangladesh (ULAB) to co-convene the Global Tolerance Conference 2020: Critical Perspectives on Diversity, Tolerance and Pluralism mid-2020 in Dhaka, Bangladesh. In which, Asia Centre will organize a panel on "The Role of Education in Promoting Tolerance. To cement this partnership, an MOU was signed with Sajit Amit, Associate Professor at ULAB and Director, Center for Enterprise and Society on 4 September 2019. Building on the Global Tolerance Conference, the MOU sees a panel partnership at Asia Centre's Hate Speech Conference in 2020 and further involvement of the Centre in Dhaka.
By September 2019, Asia Centre had signed a total of 9 MOUs with its working partners. Moving forward, there are more MOUs in the pipeline as Asia Centre looks to further build partnerships globally, focusing on collaborations related to issues concerning Southeast Asia.
If you are interested to explore partnership or sign an MOU please email contact@asiacentre.org