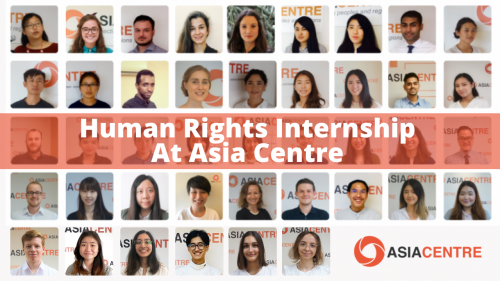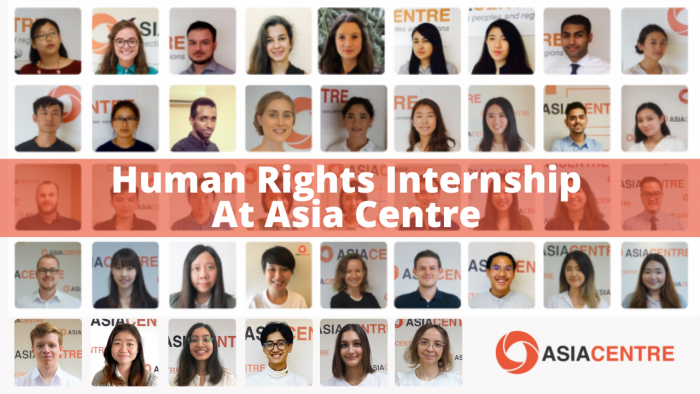 From 2016 to August 2021, Asia Centre's Internship Programme has hosted 38 interns, with a 2:3 male to female ratio for a total of 155 months. The interns were either undergraduates or postgraduates enrolled at universities in Australia, East Africa, East Asia, Europe, Southeast Asia, South Asia, Southern Africa and the USA.
Interns applying to Asia Centre begin the process by filling in the online Google application form on the website and attaching copies of a CV, an official letter of university enrollment and photo page of passport or ID (for Thai applicants only). Following a review of the submitted documents, shortlisted applicants will be invited for up to two rounds of interviews and successful applicants will sign a letter of agreement.

Internships are full-time, onsite and for a minimum period of 3 months. Prospective interns who apply for a 6 months period as well as those who apply exclusively only to Asia Centre are prioritised in the selection process. Successful applicants are expected to be onsite, available full-time, not engaged in other activities and committed to the entire duration of the internship period. Once the start and end dates are agreed upon, the duration of the internship is non-negotiable.

Foreign students enrolled in Thailand-based universities, who are on a Education Visa, have to ensure that their visa covers the duration of the internship. Foreign students who are studying abroad need to acquire an Education Visa prior to being able to undertake an internship at Asia Centre in Bangkok, Thailand. Hence, successful applicants will receive a letter of appointment. This letter can be used by non-Thai nationals based and enrolled at universities overseas to apply for an Education Visa from the Thai embassy or consular office nearest to them.
When interns arrive at Asia Centre, they will begin their internship with an orientation of the office and a detailed onboarding process. The onboarding process involves induction conversations with key staff, reading and understanding the details of a number of important Asia Centre working documents. The documents to be reviewed are: Induction Guide, Internship Guidelines, Asia Centre Standards, and Workflow Procedures. Interns will also be given handover notes to settle into and to take over assigned tasks.

Following the onboarding, interns will undertake tasks that cover communications, partnership development and research. These tasks are connected to the implementation of ongoing projects such as events, publications, media and social media engagements, and partnerships between external organisations and the Centre.
Due to the dynamic nature of the projects, interns must be able to adapt and be flexible in their assigned tasks and responsibilities. In turn, interns have the opportunity to be involved in a number of ongoing real-time projects and through it all, interns will be mentored and coached on the execution of tasks.
During the internship, interns will undergo evaluations of their performance. These will be the form of performance review discussions that will involve feedback from supervisors. The aim is to help interns identify areas of behaviours and skills that need improvement and strengthening.

Interns will go through an exit process towards the end of their internship. A good exit process is important to ensure the smooth and efficient completion and handover of tasks. Abrupt and sudden departures put projects at risk and must be avoided. If such departures occur, the Centre reserves the right to annul the internship, the ED Visa, and levy an administrative fee.
In normal circumstances, the exit process begins with writing up a handover document, a final interview, completing any required documentation and returning of properties. The final interview with the supervisor/s involves reflections from the interns' experience at the Centre and their main learning points. The handover document's purpose is to capture ongoing tasks to ensure a smooth transition and continuity across all Asia Centre projects. Any documentation needed by an intern's university will also be discussed and addressed during this period.

Asia Centre's Internship Programme offers a well-rounded experience in human rights. Interns are assured of good mentorship and guidance in the implementation of projects and exposed to diverse tasks in communication, marketing, research and partnership development thereby giving them a strong professional foundation.
The Centre's location at the city-centre of Bangkok and being next to the BTS Phaya Thai Station and the Airport Link offer convenient transportation links. There are plenty of eateries and accommodation within walking distance. The office is professionally set up with the latest IT equipment, modern furnishings and good ambience.
Applicants who have good English language research and drafting skills, social media management ability, are experienced in design, photography and video editing are more than welcome to apply.
We are looking for individuals who are committed, understand volunteerism, dedicated to human rights work, willing to accept project management challenges, and will adhere to their signed agreement with Asia Centre. If you fit the bill, apply for an internship at Asia Centre. Visit our page for the application details: https://www.asiacentre.org/internship-programme/