Impact of COVID-19 on Human Rights
9 December 2021 @ 2:00 pm

-

3:30 pm

BMT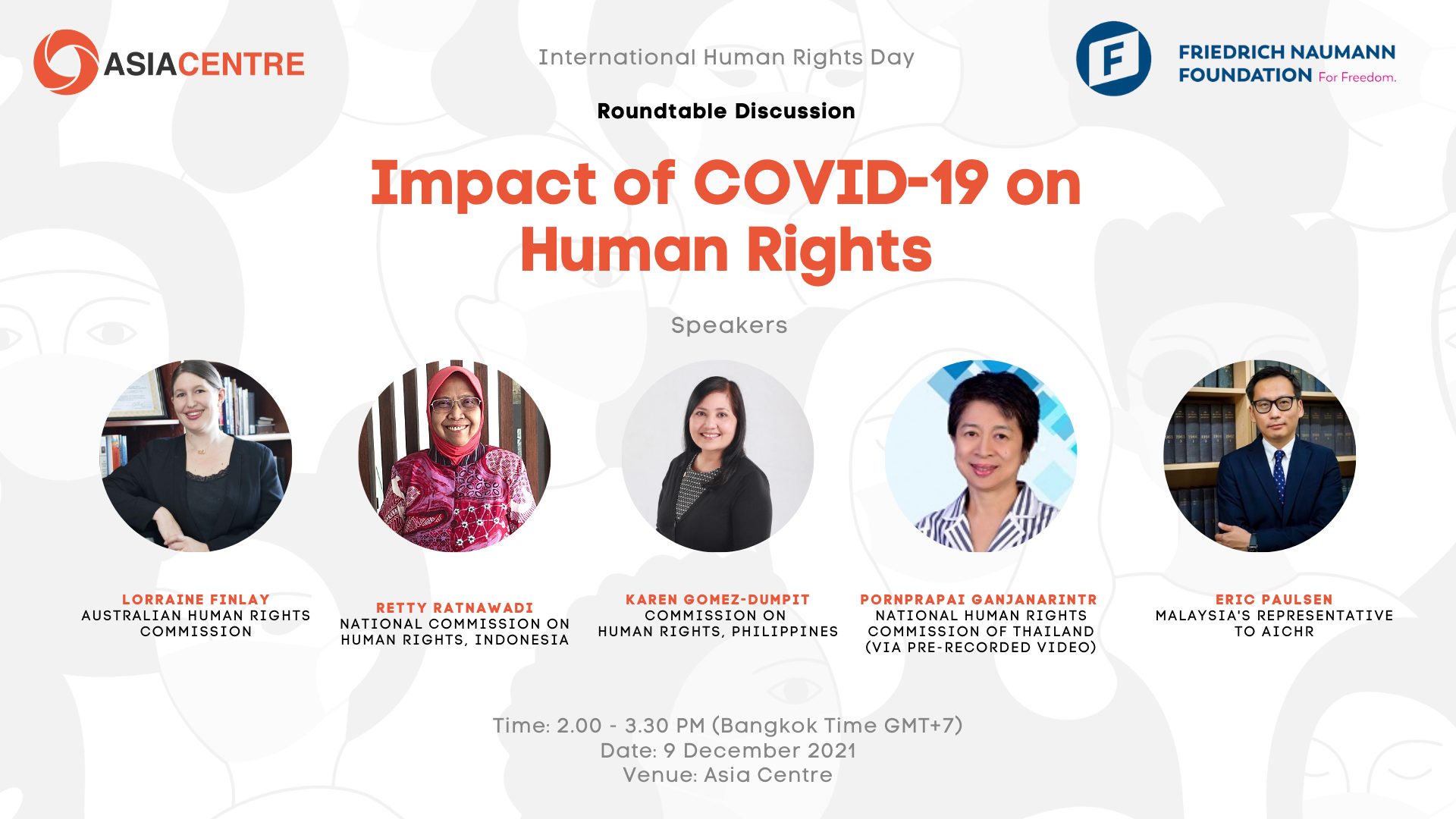 Overview
Human Rights Day is observed every year on 10 December, as the date marks the adoption of the Universal Declaration of Human Rights (UNDH) in 1948. The UNDR stipulates a certain set of basic human rights for all people to be protected and promoted. These rights are as relevant to us today as they were in 1948. However, the COVID-19 pandemic has severely affected the exercise of fundamental human rights, namely freedom of expression, assembly and association. Even before the pandemic, a number of countries in Southeast Asia have already experienced democratic backsliding. Popular and nationalistic leaders use hate speech to divide communities. Critical reporting by journalists is branded as fake news and thus criminalized by a number of anti-fake news legislation. Online discussion and communication is disrupted as governments impose internet shutdowns or suspend telecommunication connectivity. In commemorating the Human Rights Day, Asia Centre and its partners take stock of the latest developments in the region, raise awareness of rights violations during the COVID-19 pandemic, and advocate for human rights promotion and protection for all.
Register
Fill in the Google Form
Welcome Remarks
Frederic Spohr Head of the Friedrich Naumann Foundation for Freedom, Thailand
Dr. Robin Ramcharan Executive Director, Asia Centre
Speakers 
Lorraine Finlay, Commissioner, Australian Human Rights Commission
Retty Ratnawati, National Commission on Human Rights, Indonesia
Karen Gomez Dumpit, Commissioner, Commission on Human Rights, Philippines
Pornprapai Ganjanarintr, Chairperson, National Human Rights Commission of Thailand
Eric Paulsen, Representative for Malaysia, ASEAN Intergovernmental Commission on Human Rights (AICHR)
Contact Details
Address: 128/183, Phayathai Plaza Building, Fl. 17, Phayathai Road, Ratchathewi, Bangkok 10400, Thailand.
Tel: +66 2 129 3773
Email: contact@asiacentre.org
Website: http://asiacentre.org/
Facebook: https://www.facebook.com/asiacentre.org/