Vaccine Inequality and Worsening Inequalities in Asia
24 November 2021 @ 3:00 pm

-

4:30 pm

BMT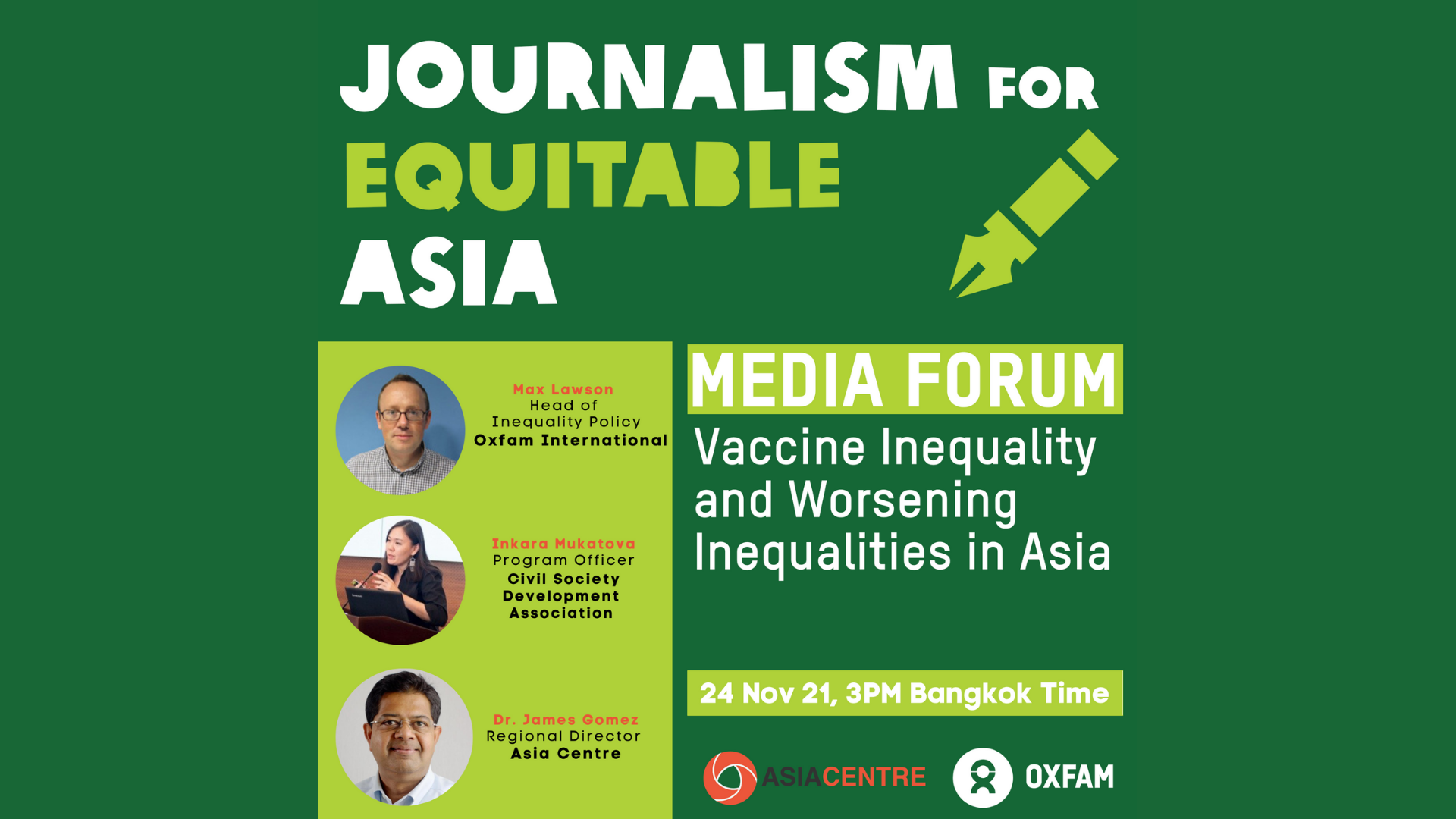 About the Event:
Oxfam International and Asia Centre are bringing together experts from Asia and elsewhere to explore how vaccine inequality is worsening and fuelling other forms of inequality in Asia. The webinar is part of Oxfam International and Asia Centre's Journalism for an Equitable Asia project, which aims to increase public awareness and support and encourage reporting on inequality in Asia.
Register
Fill in the Google Form
Background:
As millions of doses of the COVID-19 vaccine are administered each day, nearly half of the world's population has received at least one shot of the vaccine. However, most of those who are fully vaccinated against the Coronavirus live in rich, developed countries and our world continues to be marred by staggering vaccine inequality. While some countries have vaccinated nearly half of all adults, in low income countries, less than 3 percent of the population has received a dose.
In places grappling with conflict, such as Afghanistan, less than a million people have received a single dose of the vaccine. Moreover, vaccine inequality does not just exist between countries but also within countries, with certain regions and groups faring worse than others. Vulnerable and disadvantaged groups such as rural communities, indigenous groups, migrants, refugees and LGBTQI individuals are far less likely to have access to the vaccine.
In Asia, the massive impact of vaccine inequality has been visible in an increasing number of cases and resulting lockdowns and restrictions. For poor Asians, 1.2 billion of whom were already struggling in or on the brink of poverty before the pandemic hit, the resulting economic fallout is nothing short of a death-sentence. COVID-19 has widened the cracks in this unequal system, fuelling a pernicious cycle of poverty and economic inequality. While wealthy elites have been able to protect their health and wealth, the poorest people and minorities have faced a greater risk of illness, death, and economic destitution. In 2020, lockdowns and economic stagnation destroyed the livelihoods of many poor and 'just managing' families, while the wealthiest recovered and even increased their fortunes.
Poor people, among them a large number of women and migrants, predominate in low-paid informal work. In the first month of the pandemic, the income of informal workers in Asia Pacific fell by an estimated 21.6 percent, and these people are more likely to have suffered long-term job losses and reduced incomes. At the same time, coronavirus has increased the amount of unpaid care work, especially for women and girls.
While developed nations are beginning to see their economies bounce back, Asian countries will once again fail to achieve targeted growth, with their poorest bearing the brunt in the form of reduced social spending and job cuts. In November 2020, the World Bank estimated that a combination of coronavirus and increased economic inequality, pushed between 107 and 114 million more people into extreme poverty ($1.90) in Asia. Wealthy nations are quickly moving towards the target of complete vaccination of all adults against the coronavirus, while preventing most people in developing and low-income countries from vaccinating their citizens. In this way, vaccine inequality is exacerbating and fuelling other forms of inequalities already persistent across Asia.
Speakers: 
Max Lawson, Head of Inequality Policy, Oxfam International
Inkara Mukatova, Program officer, Civil Society Development Association
Dr.James Gomez, Regional Director, Asia Centre
Moderator:
Shiza Malik, Regional Communications and Media Leads – Asia, Oxfam International