Asia Centre has built good relations with Bangkok-based diplomatic missions by attending embassy functions, meeting with embassy officials and hosting discussions with ambassadors. These embassy engagements are part of the Centre's efforts to seek connections to overseas partners and broaden its global network. The bulk of engagements with diplomatic missions usually occur when Asia Centre's representatives attend independence or national day celebrations organised by the embassies. In 2019, Asia Centre received an increased number of invites to embassy functions. 
On 10 Oct 2019, Dr. James Gomez and Johnny Hoang Nguyen attended the 108th National Day of the Republic of China (Taiwan) at the invitation of H.E. Dr. Tung Chen-Yuan. Participation at this function follows an earlier visit by Dr. Gomez and Asia Centre's Taiwanese intern Wei-Wen Wang to the Taipei Economic and Cultural Office on 26 June 2019; where they discussed connecting to Taiwanese institutions. As part of the Centre's engagement with East Asian diplomatic missions, during the Centre's 1st Japan-ASEAN Roundtable on Business and Human Rights on 18 August 2017, the Centre also hosted Mr. Shutaro Omura — the Minister of Political Affairs from the Japanese embassy in Bangkok.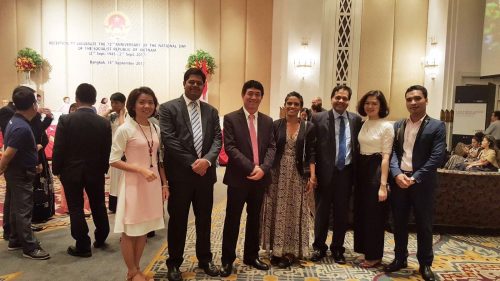 The Centre also engages with Southeast Asian diplomatic missions through Indonesia and Vietnam. On 20 August 2019, Dr. James Gomez and Dr. Robin Ramcharan attended the 74th Anniversary of Indonesia's Independence Day as part of Asia Centre's continued efforts to develop activities and networks in Indonesia. Earlier on 29 April 2019, the Indonesian Embassy's Education and Cultural Attaché, Prof. Dr. Mustari M.Pd also visited the Centre together with the students and staff from Satya Wacana Christian University. Asia Centre's Dr. Robin Ramcharan, Dr. James Gomez and Michelle D'Cruz also attended a Vietnamese National Day celebration on 15 September 2017. They met with Vietnamese ambassador H.E. Nguyen Hai Bang and also corresponded with Indonesian embassy officials and the East Timor ambassador H.E. Joaquim Amaral, thereby extending Asia Centre's network to Southeast Asian diplomatic missions.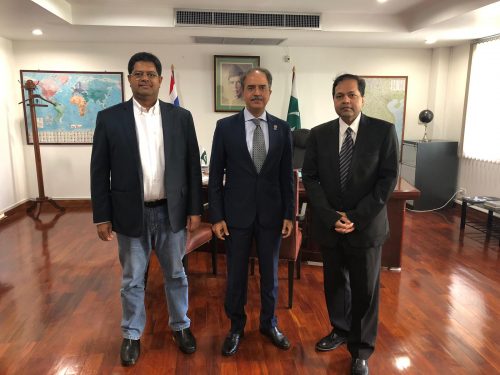 Adding to the Centre's engagements in Southeast Asia, 2019 has seen Asia Centre actively build networks with South Asian missions. On 31 July 2019, Dr. James Gomez and Dr. Robin Ramcharan met with Pakistani Ambassador to Thailand, H.E. Asim Iftikhar Ahmad. During the meeting, they discussed connecting with universities in Pakistan and his participation in Asia Centre's conference on Hate Speech from 8-10 July 2020. The Centre has also twice hosted Bangladeshi Ambassador H.E. Saida Muna Tasneem, when she spoke on the Rohingya refugee crisis at the "International Conference on Youth Engagement and Human Rights" in October 2017, and on women's power in Asia during the "Third Annual Benedict Anderson Memorial Roundtable" in January 2018.
Asia Centre has also increasingly made headways in its engagement with African missions. On 8 October 2019, Dr. James Gomez, Dr. Robin Ramcharan, Teo Gin Na and Charlotte Chua attended Nigeria's 59th Independence Anniversary celebrations. This follows the previous meeting with the Nigerian Ambassador H.E. Mr. Ahmed Nuhu Bamalli at the embassy on 25 July 2019 to discuss Asia Centre's engagement with Nigerian universities and a possible visit to Lagos. In line with Asia Centre's engagement with Africa, Asia Centre representatives attended the Moroccan embassy function for "Throne Day" on the 30th of July 2019. Likewise, on 27 May 2019, Dr. James Gomez and Tessa Alleblas also represented the Centre at Africa Day where African states came together to host the event. Asia Centre's formal engagement with an African state was first made in 2017 when the Centre hosted South African Ambassador to Thailand H.E. Geoff Doidge in the October 2017 roundtable event "Bandung Revisited: Africa-Asia Relations in the 21st Century". Since then, Asia Centre's network with African states continues to grow. 
As part of Asia Centre's strategy of global engagement, the Centre also works with embassies in the Americas — Peru, Canada and the United States of America (USA). Asia Centre often extends the invite to the interns as well. As such, the Asia Centre team and their interns attended a Peruvian Embassy function in celebration of the "198th Anniversary of the Independence of the Republic of Peru" on 7 August 2019. During which, they engaged with their South American counterparts and discussed the possibilities of future partnerships with Peruvian organisations.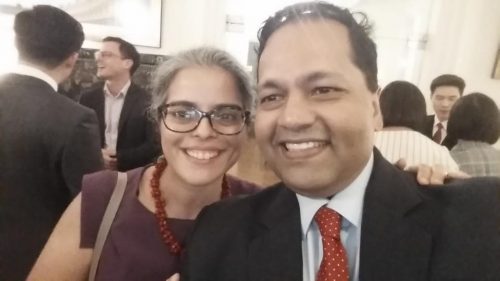 On the 1st of July 2019, Canada Day, Asia Centre's Dr. Robin Ramcharan attended the Canada-United Kingdom reception to support and promote press freedom in Thailand. During which, valuable discussions were had with Ayesha Rekhi, Canadian Chargé d'affaires a.i and other attendees, including those from the United Kingdom delegation. This follows an earlier meeting between Dr. Ramcharan and the Canadian ambassador to Thailand, H.E. Donica Pottie in November 2018. The month prior, the Canadian ambassador also participated in the Centre's "Rice Before Rights" event. On 27 June 2019, Dr. James Gomez also attended a US embassy function in celebration of their Independence ahead of the actual commemoration on the 4th of July. US embassy officials – Thomas R. A Montgomery and Worawan Thanamongkol – then also participated in the Centre's Fake News and Elections Conference held 2 weeks later on 10-12 July 2019, continuing the bilateral engagement. As with many of the other embassy engagements, Dr. Gomez's engagement with the US embassy in Bangkok helped to lay the groundwork for furthering partnerships – in particular Dr. Gomez's networking trip to Washington D.C. and New York in October 2019.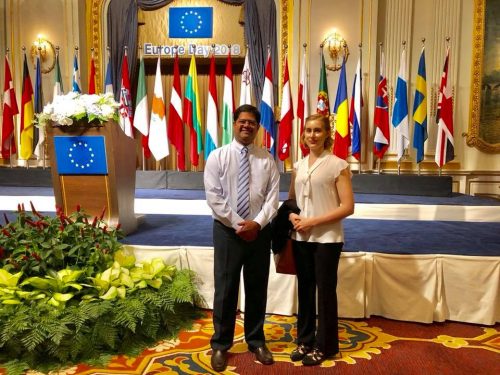 Asia Centre also engages with countries from Europe — to date connecting with the Luxembourg, the European Union (EU) and Russian missions. In celebration of the National Day of the Grand Duchy of Luxembourg, on 21 June 2019, the Asia Centre team was invited and engaged with the many guests and ambassadors on Asia Centre's activities in the region. The year prior, on 22 November 2018, Dr. Robin Ramcharan and Tessa Alleblas attended an EU delegation grant application briefing session aimed at supporting capacity building of civil society organisations (CSOs). Asia Centre's Dr. James Gomez and Elise Schuster also attended earlier that year in May 2018, Europe Day. 
The Centre has also attended two Russian national day celebrations. One on 13 July 2018, the "Day of Russia" and another the year prior. Following Asia Centre at its first Russia Day event, in March 2017 Russian Ambassador, H.E. Kirill Barsky spoke on the "Russian Grand Strategy & the Asia Pacific: What Role for Asean?" at the Asia Centre. This started the Centre's practice, since 2017, of hosting ambassadors to speak at the Centre's events. 
Moving forward, it is expected that Asia Centre will continue to engage with diplomatic missions in Bangkok with a view of extending its network beyond Thailand.