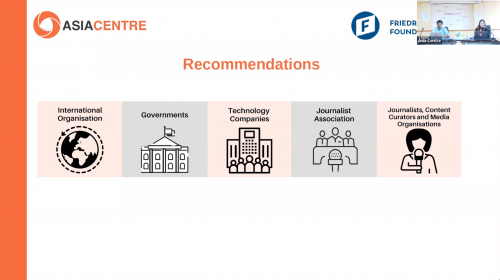 As the majority of news production and consumption shifts to social media so has government control. "Media Freedom in Southeast Asia: Repeal Restrictive Laws, Strengthen Quality Journalism," outlines how fake news legislation is used to silence media organisations and journalists who produce and disseminate critical content online.
Launched by Asia Centre and the Friedrich Naumann's Foundation on 15 March 2022, the report recommends that governments focus on strengthening media organisations rather than silencing them. Through these efforts journalists can counterbalance online disinformation through verified information and quality journalism. Tech companies can help by not feeding hate and using algorithms to spread fake news.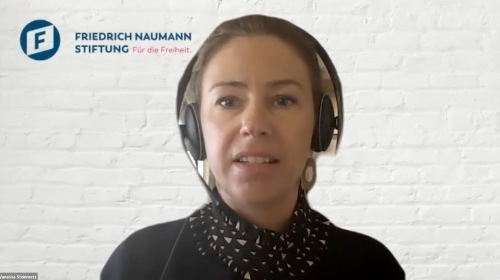 Discussing the impact digitalisation has on journalists, Vanessa Steinmetz, Regional Project Coordinator of the Friedrich Naumann Foundation, began the report launch by explaining how online disinformation makes it hard for journalists to express freely. She believes the report is a starting point of a bigger discussion to overcome problems for journalists to work in more free conditions.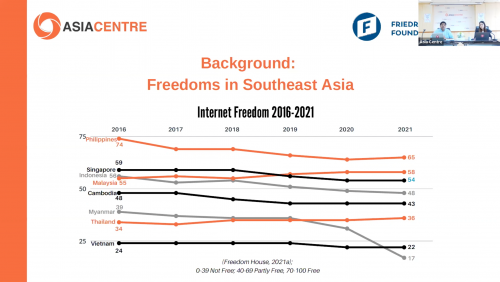 Explaining different types of disinformation, Dr. James Gomez, Regional Director of Asia Centre, explained that governments are using anti-fake news laws to punish media organisations and journalists who critically call out bad government policies. He shared statistics, such as increasing Press Freedom Censorship scores and dropping Internet Freedom rankings across Southeast Asia to drive home the message.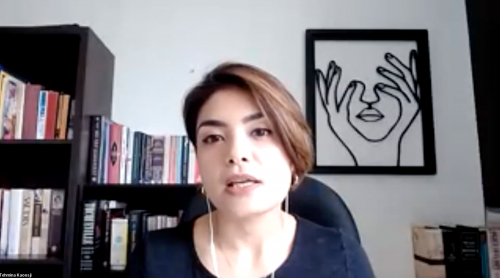 Pointing to the need for civil society and awareness organisations to lead the charge for media freedom, Tehmina Kaoosji, an Independent Broadcast Journalist, said that all of the report outcomes resonate deeply with the type of actions around media restrictions. She explained how the collapse of the democratically elected government early in the pandemic in Malaysia resulted in the increase of anti-fake news laws and restrictions for media broadcasters and journalists.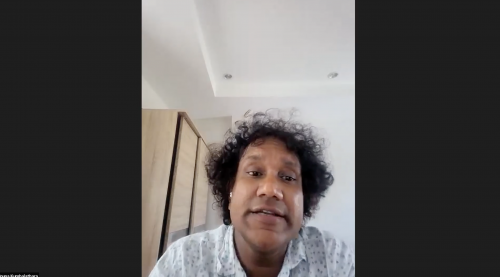 Nipuna Kumbalathara, Communications Expert at EarthRights, highlighted the oxymoron of how national security is used as an excuse to repress media freedoms and freedom of expression. Instead of repressing the media and activism, he suggested governments should invest in encouraging free and open discussions around issues such as political corruption and the climate crisis. He stressed the need for future discussions on how to involve people beyond civil society organisations in these discussions.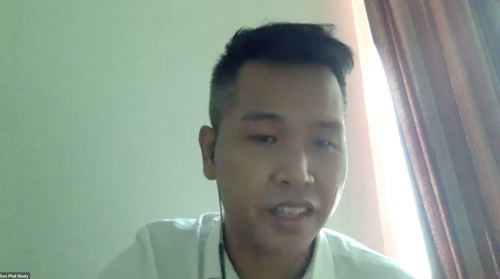 Stating the report is essential in highlighting key issues of media and press freedoms, Sao Phal Niseiy, Editor in Chief of Cambodianess, pointed out the importance of fighting the decline of quality journalism and ensuring that rights and freedoms of journalists are not taken away. He said a broader discussion on how to tackle media freedom challenges and make a better future for journalists is needed.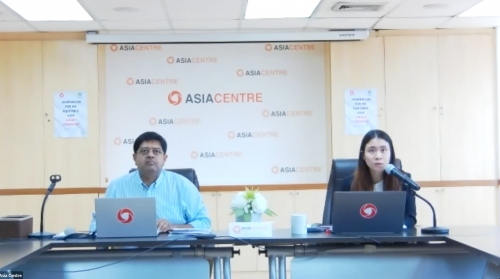 The report launch was concluded by Nalinrat Tingoum, Programme Coordinator of Asia Centre by highlighting that the report is available for download on the website. Asia Centre and the Friedrich Naumann Foundation will begin the promotion of their report through social media posts, podcasts, infographics and videos. Stay tuned to our social media for the updates. 
Watch the report launch here.
Download the report here.