IDRC, as title partner for Asia Centre's 8th International Conference "Democracy and Elections in Asia" from 23 to 25 August 2023, called for greater inclusivity and the strengthening of research capacity in Asia. IDRC made these calls through the two panels it convened at the three-day conference, in which speakers discussed the key challenges women in Asian countries face to engage in politics and how researching democracies can be improved.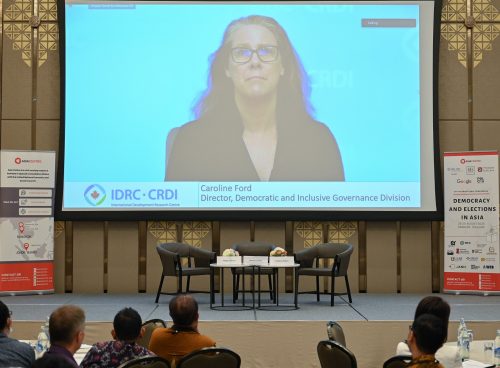 These calls were framed by the opening remarks of Caroline Ford, Director for Democratic and Inclusive Governance at IDRC, who said that civic spaces serve as a vital platform for representing communities and marginalised groups but are vulnerable to challenges like misinformation. Thus, safeguarding civic spaces is essential for upholding democratic legitimacy and preventing violence, particularly in post-conflict settings such as Myanmar and Afghanistan. Within this framework, democracy is perceived as a value system grounded in a peaceful, inclusive, and dynamic civic context, closely interconnected with values like inclusion, justice, human rights, equality, and equity. Ms. Ford emphasised IDRC's support for Asia Centre's conference on democracy and elections, which aligns with their broader mission to strengthen civic spaces, promote democratic knowledge, and foster collaboration among research communities.
On 24 August, in the first of the two panels, titled "Women and Political Participation in Asia," the plenary session featured three speakers: Saumya Surbhi, Youth Environmental Human Rights Defenders Protection Coordinator at the UNDP Bangkok Regional Hub; Viyanga Gunasekera, a PhD candidate at the Australian National University and a researcher at the International Centre for Ethnic Studies in Sri Lanka; and Dr Philippe Doneys, Associate Professor in Gender and Development Studies at the Asian Institute of Technology in Thailand. 
Moderated by Kundan Mishra, Senior Program Officer at IDRC, the session was a platform to underscore the intricate challenges impeding women's engagement in politics across distinct contexts. Viyanga Gunasekera and Dr Philippe Doneys outlined how the convergence of identities becomes a barrier, particularly for women from ethnic minorities, in participating in political spheres within post-conflict societies like Sri Lanka and Myanmar. Building on this, Saumya Surbhi stressed the need for capacity building for young women in the context of climate protests, given the lack of inclusion of this group in traditional decision-making processes.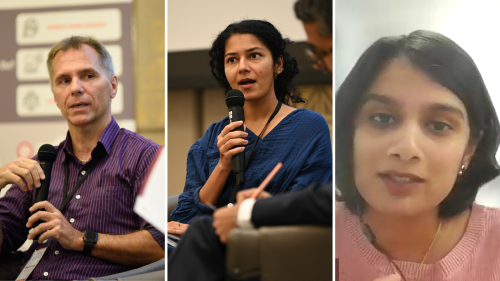 After the input shared by all three speakers and insights provided by the moderator, panel attendees raised questions and articulated their views. The questions covered a range of topics and delved into various key factors that hinder women's participation in politics and how to overcome them. A key point that was discussed during the interaction between panelists and participants was that Active political participation by women is an enduring concern within the political landscapes of Asia, underscoring the fact that politics continues to be predominantly male-dominated. This dynamic, panelists explained, significantly undermines democratic governance and requires urgent attention. To address the problems undermining the role of democratic governance, speakers highlighted the importance of developing political communication strategies at the grassroots level, conducting more research to understand and compare the challenges faced by women at national and local levels, the necessity of parliamentary quotas, and the establishment of solidarity networks to empower women.
Finally, despite the likelihood of persisting challenges, the panelists emphasised the importance of providing appropriate educational tools to enhance awareness and foster more inclusive political spaces, enabling equal participation.
On 25 August, the second panel organised by IDRC, titled "Researching Democracies" featured three presenters: Joel Mark Baysa-Barredo, Strengthening Human Rights and Peace Research and Education in Southeast Asia (SHAPE-SEA); Prof Puja Kapai Paryani, Hong Kong University; and Rahul Verma, Centre for Policy Research in India. The panel was moderated by IDRC's Kundan Mishra.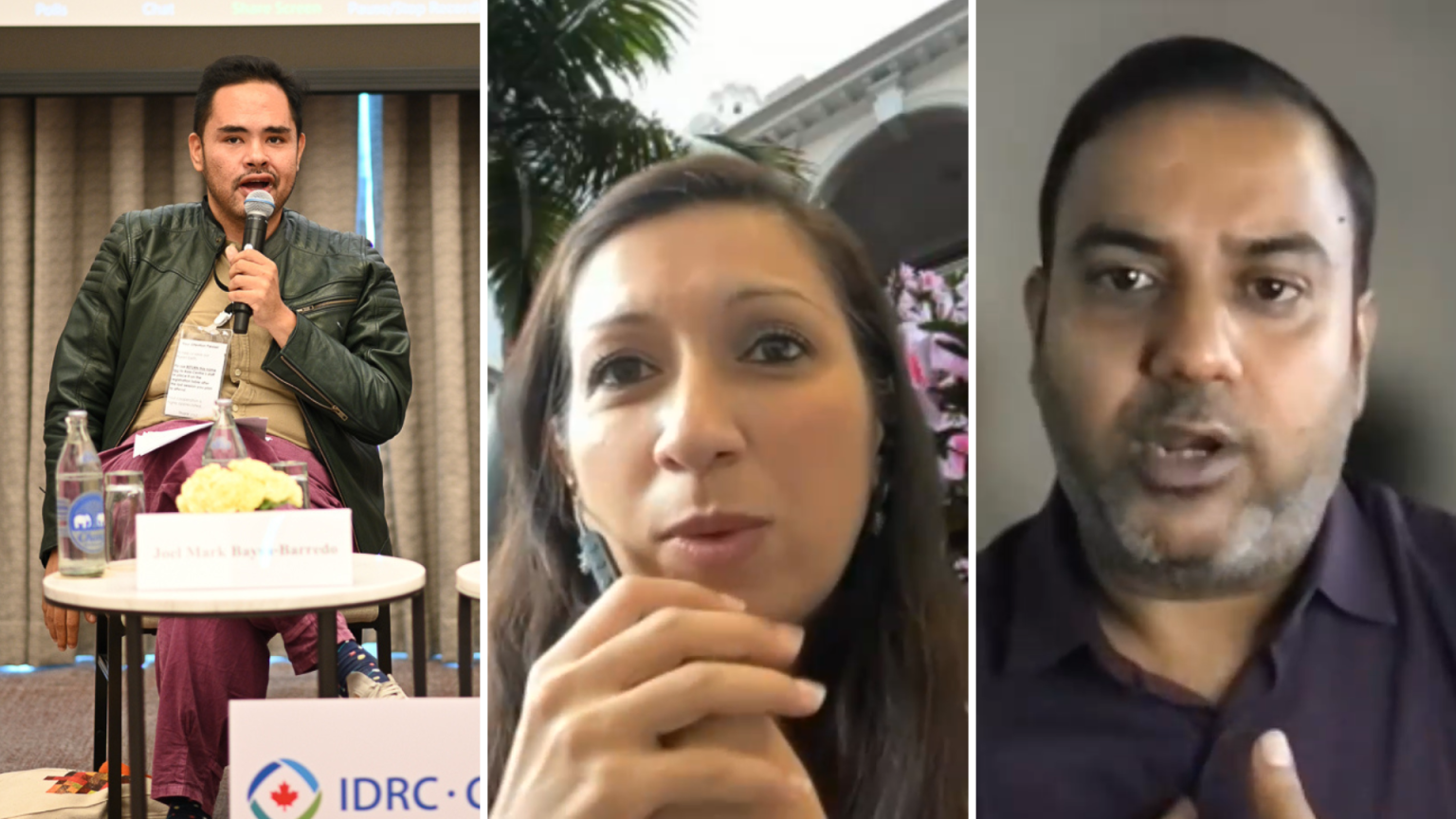 During this session, the speakers delved into the intricacies of democracy research beneficiaries. They distinguished between those who possess the capacity to actively apply research findings to the democratic process and those who merely exhibit a passive interest. This differentiation shed light on the existing power asymmetries within the realm of democracy, underscoring the unequal distribution of influence and resources among participants. These insights underscored the challenges in translating research into actionable democratic practices and highlighted the need for more equitable access to research-driven tools and knowledge for a more inclusive and effective democratic engagement.
The speakers also explored the nuanced challenge of adapting international recommendations for democracy enhancement to fit local contexts. They emphasised the importance of ensuring that these recommendations are not only applicable but also sensitive to the unique needs and dynamics of specific regions. Additionally, there was a critical examination of the "foreign interference" narrative, with speakers pointing out its shortcomings in adequately representing minority interests. This perspective sheds light on the complexities of balancing the implementation of global recommendations with the imperative to maintain inclusivity and prioritise the concerns of marginalised groups within the democratic framework,  underscoring the need for more context-aware and inclusive approaches to democracy promotion.
In this context, the panellists put forward several recommendations aimed at strengthening democratic governance. They stressed the need to translate research into actionable steps to ensure that voices from all social groups are heard and that the political landscape becomes more inclusive. Furthermore, they highlighted the importance of developing specific, context-tailored indigenous frameworks for each country. This approach was seen as crucial for understanding democracy in ways that align with national needs, advocating for a departure from uniform approaches in favour of nuanced, localised perspectives. The speakers also underscored the significance of creating deliberative democratic platforms to engage various segments of society, including women and youth. The panel concluded with a question-and-answer session in which participants sought further clarification on the insights shared by the panellists.
IDRC's participation at Asia Centre's 8th International Conference is its second showing. In 2022, at the Centre's 7th International Conference, IDRC convened the panel "Knowledge Systems and Fragility in South and Southeast Asia – The Faraway Future" to discuss the unique challenges faced by knowledge systems and scientific research in South and Southeast Asia, particularly in fragile contexts. Currently, Asia Centre and IDRC are working together to develop further evidence-based research projects and advocacy in light of shrinking civic spaces in Asia.   
To view the main conference article, articles on individual title partners who convened panels, as well as the TikTok videos and photo album, go to the main conference piece here.
The International Conference is Asia Centre's annual event where it brings together its partners to share the outcomes of their programmes and network for future collaborations. Over the years, the conference has become a platform for a range of actors to meet and discuss key human rights issues. If you would like to become a Conference partner for Asia Centre's 9th International Conference "Civic Space in Asia: Stories of Resistance and Pushback" or explore other collaboration opportunities, email us at contact@asiacentre.org.
For more information on the 9th Conference, click here.