Hate speech in society towards vulnerable communities often reflects the discriminatory and prejudicial language by government officials and political leaders. In Southeast Asia, the spike in hate speech against migrant workers, refugees, undocumented workers, ethnic minorities and the homeless can be attributed to this trend. This was the analysis offered by speakers at Asia Centre's webinar on COVID-19 and Vulnerable Communities on 24 June 2020. (watch it here) 
The webinar attended by over 114 attendees of 380 registrants, offered a thorough discussion on hate speech arising from government and political speak. The event follows an earlier webinar on COVID-19 and Hate Speech held on 27 May, 2020, both partnered with the Thai Media Fund (watch it here) and read the article here. 
Four speakers addressed the webinar, Ms. Khin Mai Aung from Doa-A-Yae: Coalition for Human Rights in Burma and an Asia Centre Associate (USA) via vodcast (due to the US time difference), Prof. Jude William R. Genilo from the University of Liberal Arts Bangladesh, Mr. Lutfi Hakim as an independent communications professional and Asia Centre's Associate (Malaysia) and Dr. Chanansara Oranop na Ayutthaya from the National Institute of Development Administration.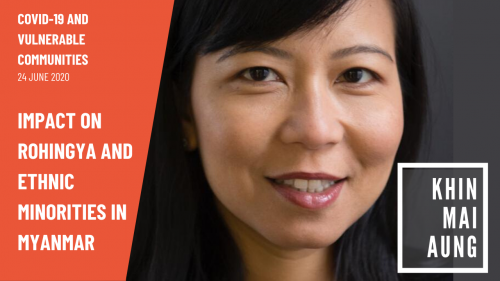 Focusing on the Rohingya minority and other religious and ethnic groups, Ms. Khin Mai Aung  pointed out that there is unequal government enforcement of social distancing and quarantine measures of minority communities in Myanmar. Laws and policies aimed at protecting the vulnerable in Myanmar are used as tools of oppression and social control. For instance, the pandemic has provided the government a convenient excuse to enforce emergency laws especially in conflict areas where minorities are under siege. The COVID-19 spurred governmental suppression of minorities and other vulnerable groups is fueling hate speech among Buddhist extremists. Watch her vodcast here.
Also addressing the situation among the Rohingya refugees, Prof. Jude William R. Genilo highlighted the inevitable impact of hate speech that originates from state authorities in Bangladesh. He also noted that government inaction is occurring and giving rise to governmental discourse that the Rohingya community have become a burden. This has led to negative perceptions of the refugees as news circulates about delayed repatriation, overpopulation, alleged drugs networks, environmental destruction and their reluctance to move to another location. This negativity arising from government discourse about the Rohingyas is causing hate speech to take root. 
Mr. Lutfi Hakim noted the importance of the language used by state officials, which sets a tone for how the media and wider population view vulnerable communities. He examined the plight of undocumented workers and migrants in general, especially their dehumaniztion through prejudicial language used by authorities. The fear of the 'other' – migrants as a security threat – has led the authorities to securitize the 'threat' from migrants. He recommended that it is important to identify the causes of insecurities and re-anchor the narrative so that it clarifies the policies and power structures that allow for these insecurities to fester.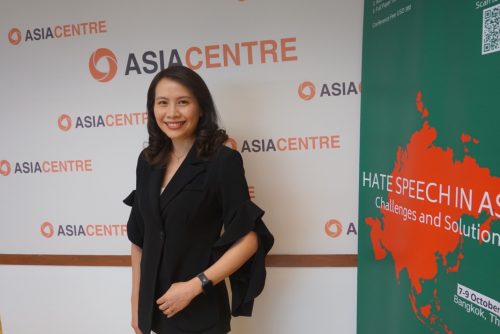 In Thailand, said Dr. Chanansara Oranop na Ayutthaya, the pandemic can trigger an outburst of discrimination and hate speech against vulnerable groups on social media. She highlighted one incident of Thai returnees, during the height of the pandemic, that refused to self-isolate citing excuses that they were not informed when they landed in Thailand. When government officials announced that they had their personal information to track them down and pursue legal action, personal details of these returnees were anonymously leaked over social media giving rise to hate speech against this group.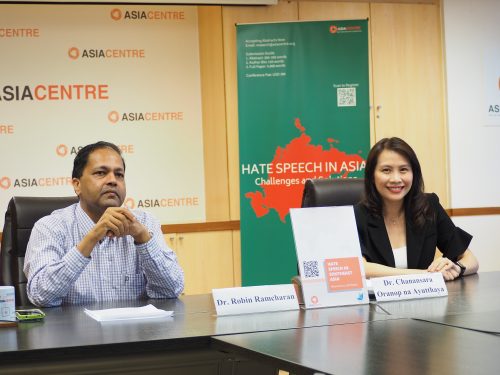 In the Q&A section, participants engaged with the speakers over details of their presentations and expertise related to incidents of violence against the Rohingya and how the community can engage on the Internet in countering hate speech against them,  inter-communal tensions in South Thailand and regional sensibilities regarding the alleged "China virus" that has spread globally. 
With the webinar concluded, attention now turns to the launch of Asia Centre's report, " Hate Speech in Southeast Asia: New Forms, Old Rules", a collaborative study with the Thai Media Fund, scheduled for 22 July, 2020. You can register here.
The report will be presented at Asia Centre's International Conference on Hate Speech in Asia; Challenges and Solutions from 7-9 October 2020 and registration for the event is still open. The event has 11 international partners confirmed and will be held in collaboration with the Thai Media Fund, Faculty of Law, Thammasat University, Friedrich Nauman Stiftung and the Taiwan Foundation for Democracy. 
For more information contact: research@asiacentre.org.