Social Innovation in Action: Southeast Asian Perspective
2 December 2018 @ 4:30 pm

-

6:30 pm

BMT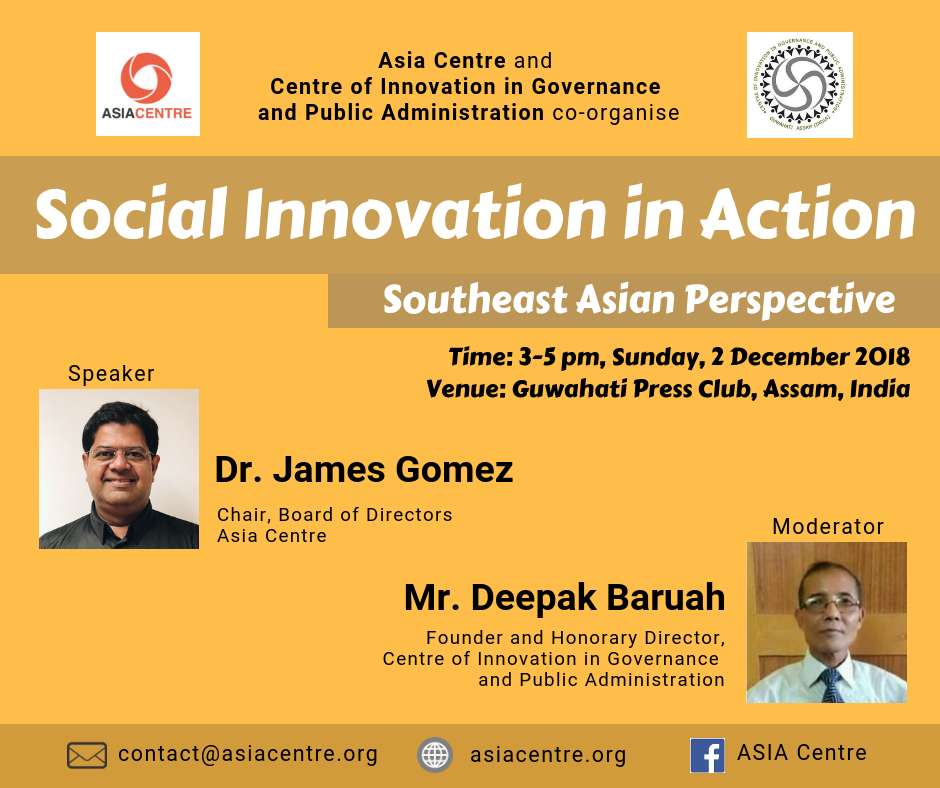 Abstract
In an environment where development aid and grant based funding models are changing, social initiatives are struggling to seek out resources to sustain their work. Presently, competition for resources is fierce and donors increasingly only fund select activities-based projects without support for staff and infrastructure costs. Given this funding climate, alternative options open to social initiatives include the social enterprise and social business models, but these have their own challenges. Asia Centre is a not-for-profit organisation based in Bangkok, Thailand that employs a mixed financial model – which includes philanthropy, grants, self-funding and revenue generation- to resource its activities to create human rights impact in the region. Founded in July 2015, Asia Centre began its start-up operations through an initial endowment to secure its premises, fittings and equipment, and a two-year operational fund. Thereafter, the Centre finances its programmes through a mix of revenue generating and fundraising activities. In 2018, the Asia Centre announced the establishment of a second branch in Johor Bahru, Malaysia. This presentation on the Asia Centre is a case study on social innovation. It provides some practical insights into the changing world of social initiatives and the challenges of funding sustainable activities aimed to create human rights impact.
Keywords: Asia Centre, Development Aid, Grants, Philanthropy, Social Innovation
Speaker
Dr. James Gomez is Chair, Board of Directors of Asia Centre a not-for-profit organisation that seeks to create human rights impact in the region. He provides strategic oversight for the development and regionalization of the Centre. Dr. Gomez currently oversees its operations in both Thailand and Malaysia and is leading the partnerships for the Centre's many activities in other parts of the region. He represents the Centre in media and public speaking engagements and builds relationships with key stakeholders around the world. Dr. Gomez brings to Asia Centre over 25 years of international and regional experience in leadership roles at universities, think-tanks, inter-governmental agencies and non-governmental organisations. He is the convener of Asia Centre's upcoming international conference on Fake News and Elections in Asia, 10-12 July, Bangkok, Thailand. For more information about the conference email: contact@asiacentre.org
Moderator
Mr. Deepak Kumar Baruah is Founder and Honorary Director of the Centre of Innovation in Governance and Public Administration (CIGPA), based in Guwahati, Assam, India. He earned Master of Arts (Public Administration) from IGNOU, New Delhi, and was a Vice-Chancellor's International Postgraduate Scholar in 2011 at the University of Brighton, United Kingdom. Recently, Mr. Baruah has been shortlisted for the prestigious "DIGITAL INDIA E-GOVERNANCE FELLOWSHIP", under the Ministry of Electronic and Communication, Government of India. He founded the CIGPA as a not-for-profit trust registered under Indian Trust Act since 3 August 2007. It is the only independent think tank
and research centre of its kind, in the North East of India; for finding innovative solutions on
issues of governance, public administration and policy, through study & research. Mr. Baruah's present research interest is on Digital Society, Digital Inclusion, Green Governance, and Public
Services Delivery using ICT, and Digital Government. He has been teaching at Guwahati Study
Centre of Indira Gandhi National Open University (New Delhi), since the year 2012 to 2015 and
guided successfully more than 10 (Ten) MPA dissertations. In addition, he conducted a number of researches, trainings, lectures, and seminars across Asia and beyond.