4th Benedict Anderson Memorial Roundtable: Chinese Nationalism and its Impact on Southeast Asia
18 January 2019 @ 5:30 pm

-

8:00 pm

BMT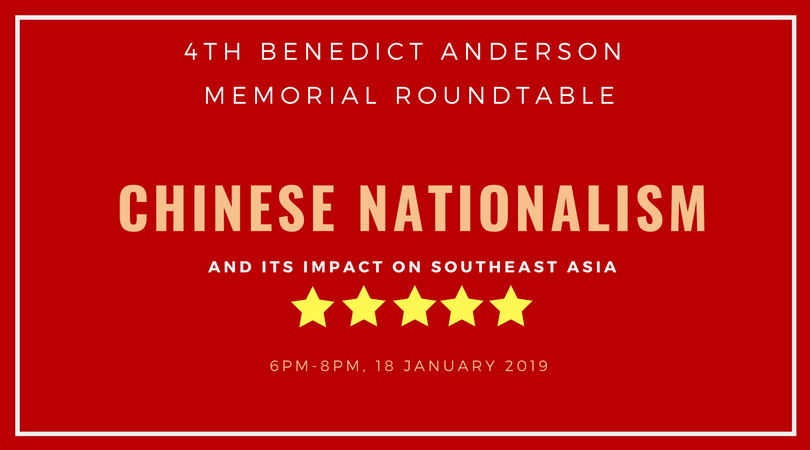 Asia Centre will hold its 4th Ben Anderson Memorial Roundtable on nationalism in China and its impact on Southeast Asia.  The roundtable will assess trends in democracy and human rights protection in Southeast Asia in light of China's rise.
Since China and ASEAN entered into a formal dialogue relationship at the ASEAN Summit in Kuala Lumpur in July 1991, the relationship between the two has become far deeper and more complex. China is an aspiring global player, on par with the United States whose economic, military and political prowess is increasingly felt by ASEAN members. The latter must navigate China's strong economic clout, its efforts to shape global opinion, its great power ambitions in the South China Sea and a global competition with the United States, as well as with Japan and a rising India. How can a seemingly disunited ASEAN resist an increasingly assertive China? To what extent is China's foreign policy driven by nationalism in China and Chinese exceptionalism? In what ways is the influx of a large Chinese diaspora shaping the cultures and values of people in the region? What impact do all these developments have on democracy and human rights in the region, as Beijing seeks to re-shape global human rights dialogue, institutions and processes?
An examination of this important, strategic relationship is timely and necessary as the multipolar Asia-Pacific century unfolds where China, India, Japan, Russia and the United States are competing for influence. China-ASEAN relations have developed dynamically, to encompass cultural, economic, political and security dimensions as well. China must also  respond to rapidly changing economic, normative, political and social contexts in the ASEAN space as well as the growing presence and influence of India.
Expert commentators at Asia Centre 4th Annual Benedict Anderson Memorial Roundtable will dissect the complexities of nationalism in China's regional engagement with Southeast Asia. The annual Memorial Roundtable continues to honour the significance of the late Professor Anderson's contribution to studies of nationalism and South-East Asia.
Registration: https://goo.gl/forms/akAmylHrsDYDRnOh1
Inquiry: contact@asiacentre.org