Rice Before Rights: Challenges of Advancing Human Rights in Asia
24 October 2018 @ 6:00 pm

-

8:00 pm

BMT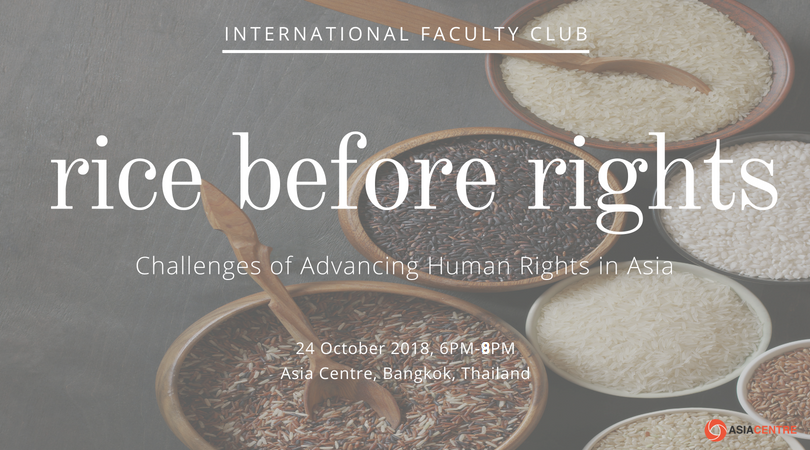 Asia Centre's International Faculty Club (IFC) will convene on United Nations (UN) Day 2018. While celebrating the UN and its many achievements in the area of human rights, the IFC will also hold an informal intellectual exchange on the challenges of defending and advancing human rights in the current geopolitical environment in Asia.  In today's global order, China is pursuing its own agenda on human rights – 'rice before rights' – that challenges the universality and indivisibility of international human rights, Southeast Asian states appear to be rolling back liberal democratic progress to date and the United States and Europe are bogged down in their respective internal populist politics. The UN's ability to advance human rights, a key pillar of its work (along with peace and security and development), is seriously affected by its recently adopted reform agenda that seems not to place human rights in a central role and is virtually crippled by great power gridlock. Can traditional 'middle powers', such as Australia, Canada and the Nordic countries, find innovative pathways to keep rights alive? Are emerging powers capable and willing to pick up the human rights mantle? Can civil society adapt and find innovative ways of engaging with human rights work as donor funds decline?  What role can higher education institutions and think tanks play in promoting and protecting rights as freedom of expression declines across the world? What is the role of business organizations? The IFC's informal intellectual exchange will feature expert commentators from academia, civil society, international organizations, the and the public sector to dissect these critical issues on UN Day.
Venue: Asia Centre, Phayathai Plaza
Time: 6 to 8 pm
Admission: Entry by donation (suggested amount 150 baht)
Registration: https://goo.gl/cLThPW
About the IFC
The IFC, launched in 2017, brings together academics, researchers and graduate students living, researching, studying, working, or passing through Bangkok, Thailand. The Club brings scholars from all disciplines together in order to share their research interests, explore avenues for partnering on projects, facilitate fieldwork, circulate information on jobs, grants and scholarship opportunities, share conference and publication calls, introduce promising faculty and graduate students, exchange views on challenges to higher education, and other relevant topics of interest. The IFC meets quarterly and has no formal agenda. Scholars may wish to request short presentations (10-15 minutes max) on their current research or projects. Each meeting of the Club is convened by the Centre and a member of the Club. During IFC meetings, complimentary light beverages and snacks will be provided.