Rohingya Crisis: Is Human Rights Advocacy Working?
31 October 2018 @ 1:00 pm

-

2:00 pm

BMT

Free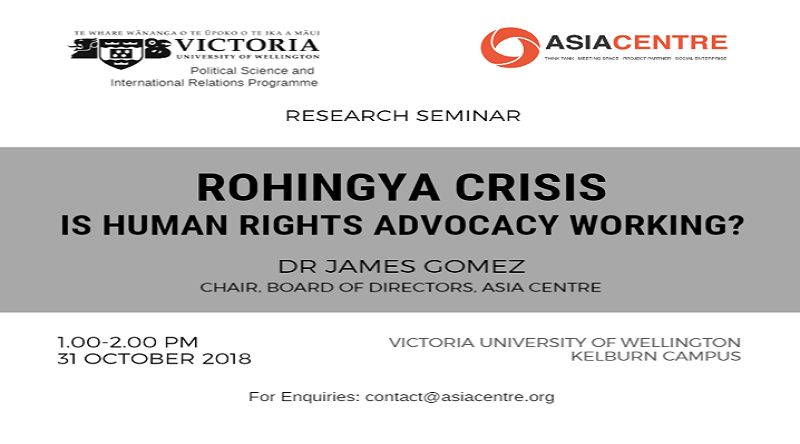 Dr. James Gomez will be speaking at the research seminar co-hosted by Asia Centre with Victoria University of Wellington's Political Science and International Relations Programme on "Rohingya Crisis: Is Human Rights Advocacy Working?" at 1-2 pm on 31 October at VUW Kelburn Campus. For inquiries, contact@asiacentre.org
Abstract
In spite of the United Nations (UN) Fact Finding Commission's indictment on 28 August 2018, recommending Myanmar's military officials "be investigated and prosecuted" for "genocidal intent" and crimes against humanity against the Rohingya and other minority groups in Myanmar, the pursuit of justice for the victims and accountability for crimes perpetrated continues to be hard to achieve. At the regional level, ASEAN continues to provide Myanmar protective cover through the bloc's non-interference policy while China, India and Japan prioritise wooing Myanmar for their strategic interests. "Constructive engagement" and behind the scene conversations with Myanmar has to date proven ineffective in either preventing human rights violations and providing security and justice for Rohingyas and other minorities in the country. In this context, what has been the role and effectiveness of human rights groups in advocating for Rohingya justice via the international community, the UN and other international mechanisms? What impact are civil society groups having in advocating for human rights issues in general in Asia? Is there a need for a new approach?