International Conference on Business and Human Rights: Holding Governments Accountable in Asia
12 July 2018 @ 9:00 am

-

13 July 2018 @ 6:00 pm

BMT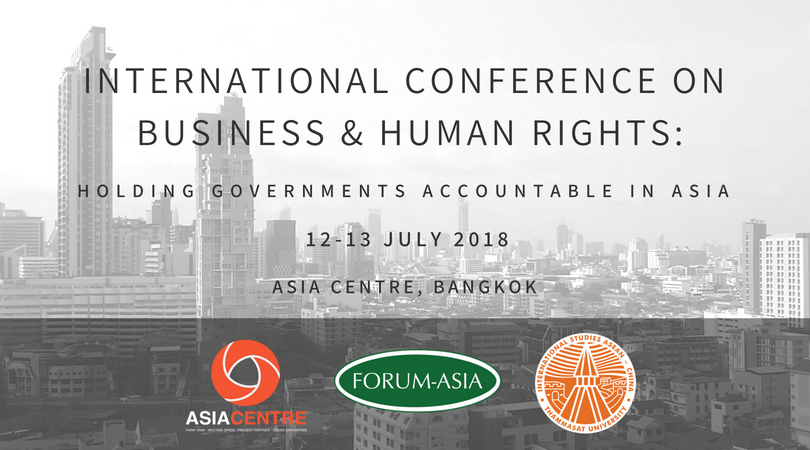 With increasing attention to business and human rights, this conference takes a critical look at the standards and practices on business and human rights in Asia. In particular it seeks to examine if this current interest in business and human rights conveniently ignores the civil and political violations by the State and its responsibility to guarantee human rights protection. This dimension is critical in the context of a region that seems giddy with numerous business and human rights initiatives undertaken by governments, who themselves are human rights violators, and human rights organisations and others that find it easy to engage with businesses rather than 
governments. While many businesses have begun to speak to the UN Guiding Principles on Business and Human Rights, endorsed by the Human Rights Council in 2011, the larger concern is whether the focus on business and human rights removes the spotlight from the State. Hence the conference seeks to examine these key questions:
What are the human rights duties of business entities, both domestically and when engaged in business activities abroad?

Is the voluntary adoption of human rights standards through corporate social responsibility for branding purposes enough?

In a world where business organizations now rival the power of many states as actors in international relations, should such entities have obligations under international human rights law?

Is the increasing attention to business and human rights merely a facade for governments to gain protective cover or is there a genuine desire to regulate business entities from a rights perspective?
Themes
The key themes that will be examined are as follows:
Application of international standards on business and human rights in Asia

Capacity of national and regional institutions to address  business and human rights concerns in Asia

Challenges faced by business entities in meeting human rights standards

Role civil society organisations in advocating for business and human rights issues in Asia

Other related themes
Objectives
The conference aims to achieve the following objectives:
Convene members of academia, civil society and businesses working on human rights in Asia

Exchange information and best practices for human rights standards in Asia

Disseminate the findings through online and offline channels

Contribute to advocacy for the protection of human rights in Asia
Conference Structure
The conference will consist of thematic panels, country-specific discussions and a final plenary session which will be open to civil society groups, international organisations, government officials and the academic community to facilitate knowledge sharing and networking opportunities.


Conference Fee – Presenters
This is a self-funded conference, hence a fee of USD$250 that will be charged to all keynote, paper and poster presenters. This will go towards covering the cost of the venue, equipment and logistics, coffee breaks on all days, certificates for participants, and conference communications. Students will be charged a flat fee of USD$180.
Conference Fee – General Attendance
The general attendance fee for two day includes attendance to the welcome dinner. Single day attendance rates do not include attendance to the welcome dinner.
*Please be aware that all conference fees are not refundable.
**All costs regarding the transfer of the registration fee (Transfer fees) are to be covered by the applicant.
Submission Guidelines
Researchers wishing to present papers are invited to submit an abstract in English of 300-350 words along with a short biographical paragraph of 100 words to contact@asiacentre.co.th Full papers should be 5000 words.
Poster Presentations
Limited space is available for 4 to 5 poster presentations. Your presentation may be submitted in word / pdf format to the Asia Centre for consideration. A 60×80 cm poster will be printed and displayed during the conference. Full conference fees apply.
Online Participation
We welcome presentations and participation via Skype. Full conference fees apply.
Registration Form
All keynote speakers, paper and poster presenters and participants are required to complete the Conference Registration Form at the time of abstract submission and/or application to participate.
Target Audience
The conference is open to participants from academic institutions, businesses, national and regional civil society organisations, international NGOs and intergovernmental organisations to facilitate knowledge sharing and networking opportunities.
Deadlines
Abstract Submission: Accepting on a rolling basis
Abstract Acceptance: notification within three days of submission
Payment of conference fees: upon acceptance of abstract
Full paper submission: latest 30 June 2018 (please contact the Events Coordinator at research@asiacentre.co.th if you need an extension or are not able to produce a full paper in time for the conference)

Programme Outline – Draft programme will be released 15 June
Day 1 (12 July 2018): 9am to 5pm (Paper Presentations)
Day 2 (13 July 2018): 9am to 5pm (Paper Presentations)
Conference Partnership
Asia Centre invites expressions of interests for partnerships to convene the 2018 International Conference on Business and Human Rights:  Holding Governments Accountable in Asia. More details here.
Convener: Asia Centre
128/183 Phayathai Plaza Building (17th Floor), Phayathai Road, Thung-Phayathai, Rachatewi Bangkok 10400 Thailand.
Contact: Elise Schuster, Events Coordinator
Conference Poster available for download here.