The Rohingya Crisis: A Multidimensional Tragedy
24 August 2018 @ 9:00 am

-

5:00 pm

BMT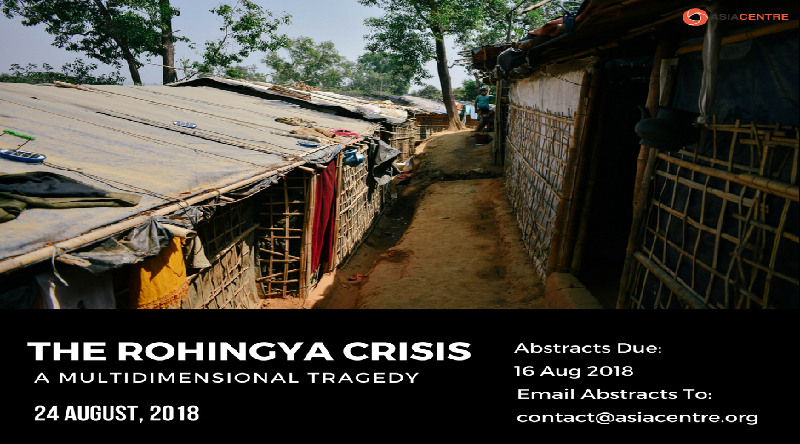 The Rohingya Crisis sparked by the 25 August 2017 attacks on Government forces by Arakan Rohingya Salvation Army (ARSA) in Rakhine State, Myanmar, triggered one of the worst humanitarian crises in contemporary history – "a textbook case of ethnic cleansing". In a matter of a few months over 750,000 Rohingya people, mostly women and children, fled to Bangladesh. Five months later, as of 23 January 2018, the Rohingya were subjected to a repatriation agreement between Bangladesh and Myanmar that was postponed. The current human rights discourse centers on pointing out the discrimination practices against the Rohingyas, the failure of moral leadership previously embodied in Aung San Suu Kyi, the impotence of ASEAN, the need for accountability for atrocities committed by the Myanmar military and the determination of voluntariness when the Rohingya refugees are repatriated. This call invites contributions that go beyond and delve deeper into this multidimensional tragedy. It is an opportunity for researchers who have been investigating different aspects of the crisis to highlight their work.  Researchers of selected papers will be invited to participate in a 1 day conference in Bangkok, to mark the anniversary of one of the largest humanitarian catastrophes in Southeast Asia. Selected papers will be compiled and published as an edited volume.
Key Themes
Papers will address critical issues spanning the following themes:
ARSA

: Unpack ARSA's role in the crisis

Development

: Evaluate economic growth's role for values change

Elites

: Dissect the elites' conflicting interests

Fake News

: Examine the role of misinformation in generating violence

Geopolitics

: Capture the external global and regional power dimensions

Hosts

: Examine the role of Bangladesh and other destination countries

Human Trafficking

: Identify illicit networks and their exploitative practices

Identity

:  Sketch the competing ethnic and religious political positions

Prejudice

: Explain the inflexible attitudes against the Rohingyas

Rakhine Perspective

: Articulate the majority-minority dimensions

SGBV

: Analyse the different sexual and gender based violence
Project Coordination
As part of this project, a coordination meeting with selected authors is scheduled at Asia Centre, Bangkok, for 24 August 2018, marking the one year anniversary of the attacks by ARSA in Rakhine State. The meeting shall take stock of the latest developments and finalize the selected papers. Authors will thereafter revise their papers, which shall be submitted to the publisher on 1 October 2018. The event poster is available for download here.
Conference Fee
This is a self-funded project. Hence, each participant is requested to contribute US$ 300 net, which will cover the costs of the meeting, catering, communication as well as editorial costs. Authors shall secure their own funds for travel, daily subsistence and accommodation while in Bangkok.
Make a payment for Conference Fee
*Please be aware that all conference fees are not refundable.
**All costs regarding the transfer of the registration fee (Transfer fees) are to be covered by the applicant.
*** Please note that, in the event that confirmed participation is insufficient, the conference may be postponed indefinitely.
Submission Guidelines
Researchers wishing to present papers are invited to submit an abstract in English of 300-350 words along with a short biographical paragraph of 100 words to contact@asiacentre.org Full papers should be 5000 words.
Registration Form
All keynote speakers, presenters and participants are required to complete the Conference Registration Form and submit at the time of abstract submission and/or application to participate.
Important Dates
Abstract Submission: 16 August 2018
Abstract Acceptance: notification within three days of submission
Payment of conference fees: upon acceptance of abstract
Full paper submission: 16 August 2018
Please contact the Programme Coordinator at contact@asiacentre.org if you need an extension or are not able to produce a full paper in time for the conference
Conference Partnership
Asia Centre invites expressions of interests for partnerships to convene the The Rohingya Crisis: A Multidimensional Tragedy. Please email contact@asiacentre.org for more information.
Convener: Asia Centre
128/183 Phayathai Plaza Building (17th Floor), Phayathai Road, Thung-Phayathai, Rachatewi Bangkok 10400 Thailand.
Contact: Matt Yutthaworakool, Programme Coordinator