ASEAN – Japan Relations: The Impact of the COVID-19 Pandemic
18 November 2020 @ 2:00 pm

-

3:30 pm

BMT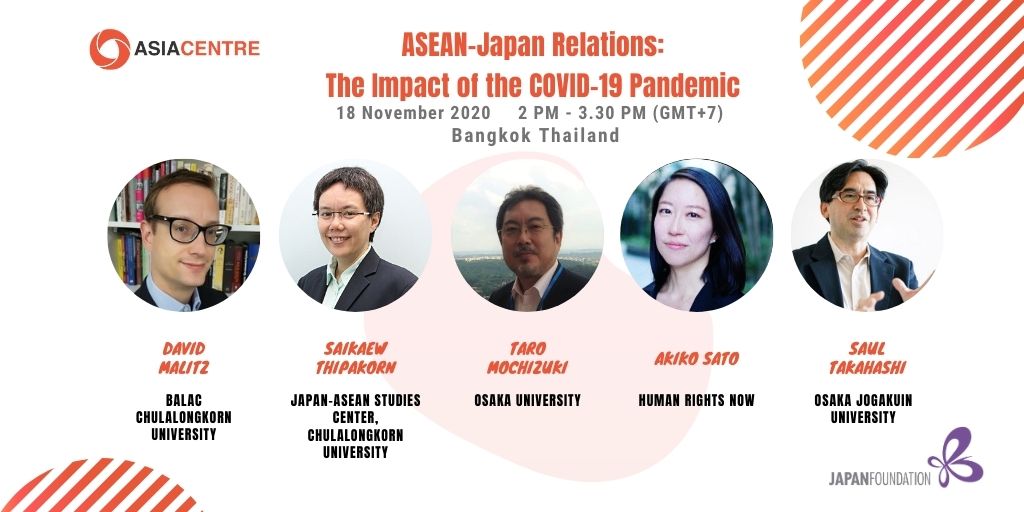 As ASEAN and Japan are economically, socially and politically inter-connected, this webinar will examine the shared implications of the COVID-19 pandemic for Japan and Southeast Asia. In particular, it will examine the challenges brought about the COVID-19 pandemic and explore the possible joint solutions to address the issue.
Key Questions: What have been the impact on the economy of Japan and ASEAN? How has it affected people-to-people relations and travel? Have geopolitical developments affected ASEAN-Japan relations. What are the shared learning points that have emerged from this health crisis? What can ASEAN and Japan do in the post-COVID-19 era?
Asia Centre will host this webinar discussion to facilitate an exchange of views between Japanese scholars and academics based in Thailand.
Speakers:
Saikaew Thipakorn, Japan – ASEAN Studies Center, Chulalongkorn University
Taro Mochizuki, Osaka University
David Malitz, BALAC, Chulalongkorn University
Saul Takahashi, Osaka Jogakuin University
Ms. Akiko Sato, Human Rights Now
Moderator: Robin Ramcharan, Executive Director, Asia Centre