Advocating for Human Rights in Cambodia: Is the UN's Universal Periodic Review Effective?
3 November 2018 @ 2:00 pm

-

5:00 pm

BMT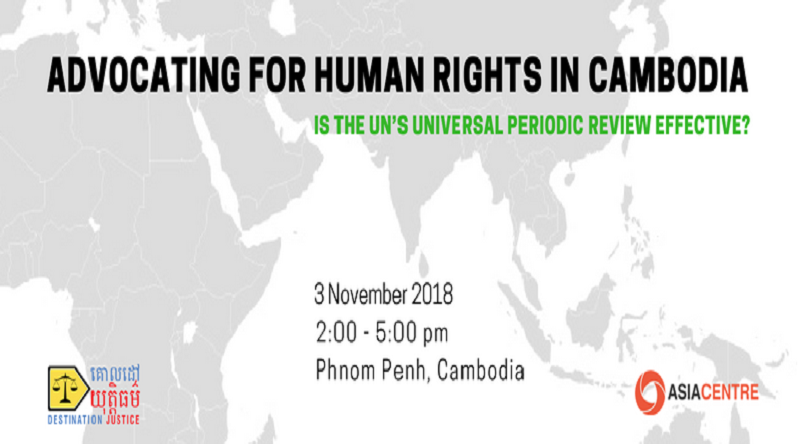 On the occasion to mark the Phnom Penh launch of Asia Centre's The Universal Periodic Review in Southeast Asia:  Civil Society Perspectives, an expert panel will discuss the challenges and opportunities for Cambodia to improve human rights through UN mechanisms. Cambodia's next human rights assessment at the UN Human Rights Council is on 30/01/2019. This will make it the country's third appearance at the Universal Periodic Review. Its second review was on 05/02/2014 and its first in late 2009. In spite of the numerous recommendations by members states, the number of recommendations and their ability to improve the quality of human rights adopted by Cambodia remains weak. In this context, what can Cambodia CSO effective seek to get out the Universal Periodic Review process and other human rights mechanisms?
About Destination Justice
Established since 2011, Destination Justice (DJ) is a social change organisation with entities in both France and Cambodia. We are changemakers who believe that justice is key to a peaceful society — particularly a society where people can resolve their issues by resorting to independent, fair and transparent justice; a society where laws are made by the people, for them, and freely accessible to them; and furthermore, a society where everybody is equal no matter who they are, what they think, or who they love.
To achieve this, we work according to the idea that from little things big things can grow: one mind changed; one piece of information put out there; one practice improved. We set ideas in motion, we provide tools, and we take action when necessary.
About Asia Centre
Asia Centre is a not-for-profit organisation that aims to create social impact in the region. It was first established in Bangkok, Thailand in 2015 and in 2018 a second Centre was established in Johor Bahru, Malaysia. Asia Centre serves as a think-tank, meeting space, project partner and social enterprise.