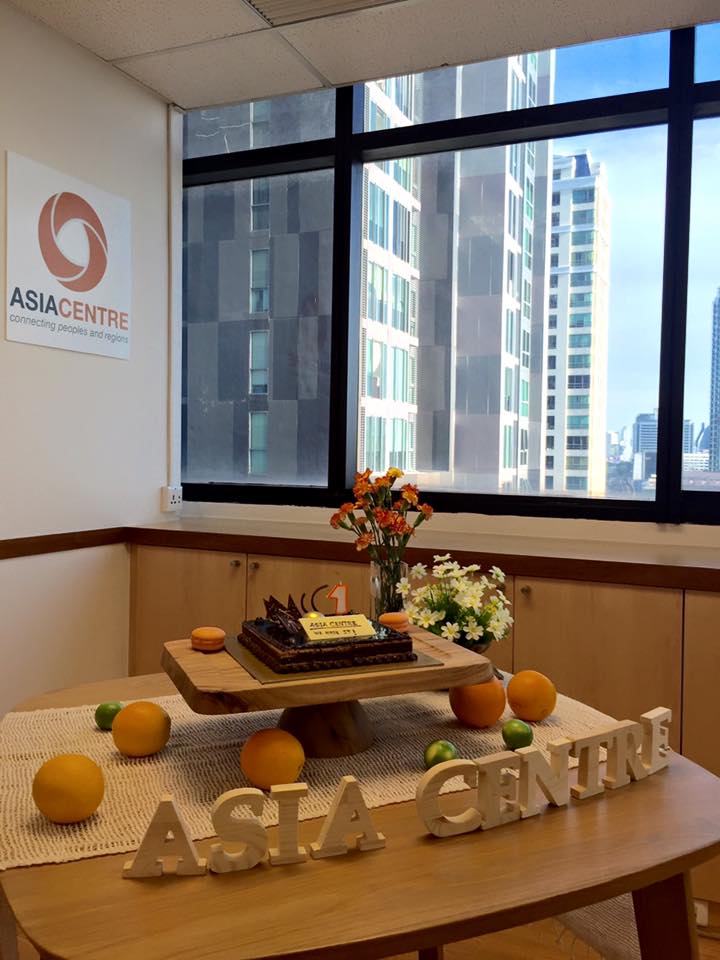 Having established a presence and network in Bangkok in its first year, in its second year Asia Centre turns to its programmatic focus. This will centre on human rights policy analysis covering key regional and international institutions.
These are  the national human rights institutions, the ASEAN Intergovernmental Commission on Human Rights (AICHR) and the Universal Periodic Review (UPR) of the United Nations Human Rights Council.
Asia Centre's focus on human rights policy was highlighted during its one year anniversary
commemorations with Bangkok based academics and civil society representatives. This provided an opportunity to catch up and thank all those associated with the Centre in the last one year.
Established in July 2015, Asia Centre spent July 2015 – Dec 2015 setting up its office at Phayathai Plaza. During that period, the Centre focused on its legal and financial registration in Thailand as well as the renovation and setting up of its physical premises. Various individuals were also identified to serve on the Advisory Board, as Centre Associates and to make up the Management Team.
In the next phase – January to June 2016 – the Centre promoted its presence in Bangkok through the Asia Centre Seminars that generated interest among academia, NGOs and students. During this period, the Centre also set up meetings and explored opportunities for collaboration with numerous NGOs, social enterprises, businesses as well as  university departments and faculties. These partnerships are currently helping to promote Asia Centre beyond its Bangkok base.
As the candle was blown out marking Asia Centre's first year in operation, the Centre is grateful for the support received thus far. It has been a strong start. We look forward with confidence to our second year.