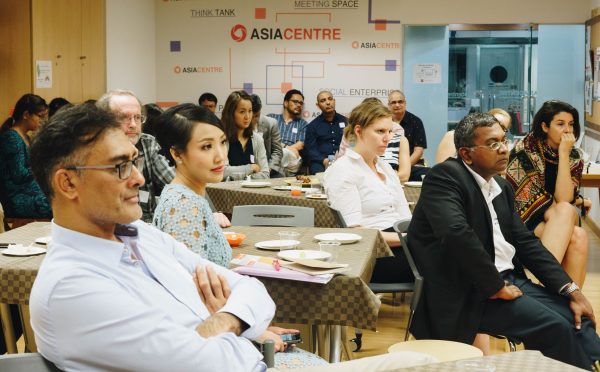 Since 2016, Asia Centre's has undertaken a series of Malaysia-related activities to build momentum for a new branch in Johor Bahru. To date the activities include discussions on Malaysia's political transition, co-convening events on fake news, engagement with Malaysian media and exploratory partnership meetings with institutions based in Malaysia. Collectively these efforts form the basis upon which Asia Centre Malaysia, first publicly announced in 2018, will build its programme of activities moving forward.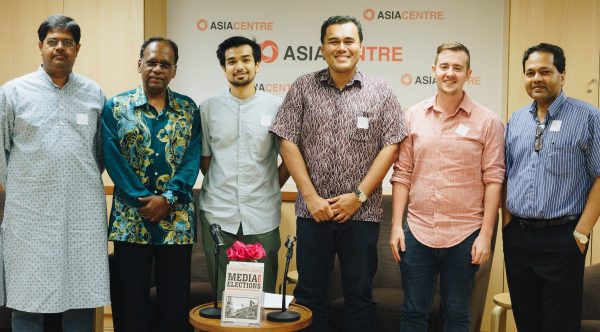 Asia Centre began discussing Malaysia's political transition as early as May 2016, when the Centre hosted Professor William Case, a well-known Malaysian studies scholar, who shared his analysis of the 1MDB scandal's impact on Malaysian politics. He argued that the stable authoritarianism practiced by Malaysia was resilient to democratic pressures. When Malaysia experienced a change in government in May 2018, the issue of political transition was revisited in June 2018, when the Centre hosted a post-election roundtable. Malaysian speakers, Dr. Mohd Azizuddin Mohd Sani (PhD), Professor of Politics and International Relations at the School of International Studies, Universiti Utara Malaysia (UUM); Lutfi Hakim, independent consultant and a former associate of IMAN Research; and Dr. Victor Karunen, former UN official with UNICEF observed that the challenge for the new government of Pakatan Harapan (PH) was its ability to usher out the politics of 'money, race and patronage' and to bring about a fundamental change in Malaysian politics.
The discussions continued in July 2018 when Asia Centre's co-hosted an event in Kuala Lumpur with IMAN Research and Gerakbudaya Bookshop entitled "Democratic Transition in Malaysia: Impacts on Southeast Asia". The Malaysian speakers included Masjaliza Hamza, a sub-editor for Malysiakini, Dr. Vilashini Somiah, Head of Research, IMAN Research, and Dr. Lee Hwok Aun, a senior fellow and co-coordinator of the Malaysia Studies Programme at the Yusof Ishak Institute of Southeast Asia Studies. At that event speakers highlighted the need for Malaysia to consolidate its democratic transition through institutional reforms that will ensure independent checks and balances.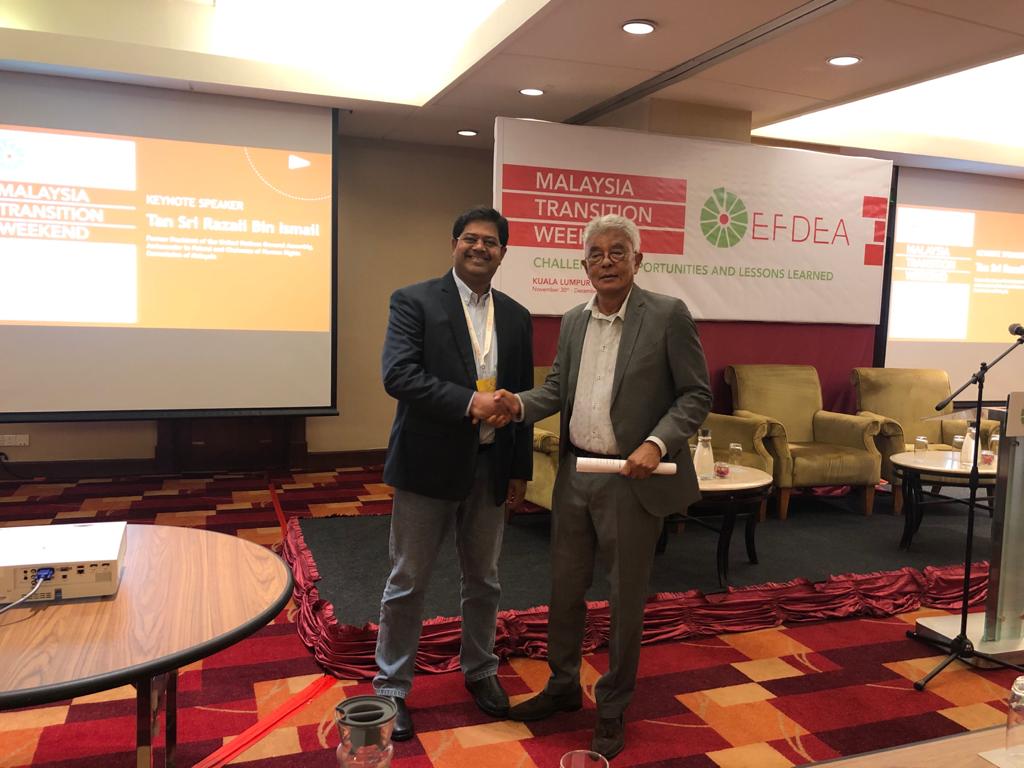 Asia Centre later added to this debate by penning an op-ed in August 2018 that discussed the establishment of a 'Malaysian Democracy Foundation" or MDF. The op-ed argued that the MDF presents a unique opportunity to further institutionalize democracy in Malaysia as well as act as a catalyst in Southeast Asia and beyond. If established, MDF would be the first such Foundation in Southeast Asia. The debate around Malaysia's political transition continues in Malaysia, and in November 2019, Asia Centre's Dr. James Gomez was invited to deliver the Opening Speech at "Malaysia Transition Weekend," organized by an NGO called Empowering Fundamental Freedom Defenders in Southeast and East Asia (EFDEA). In his speech, Dr. Gomez provided a regional overview of the challenges to democratic transitions in Asia which set the context for the discussion on Malaysia's transition. 
Apart from political transition, another topic that Asia Centre has contributed to is the issue of fake news in Malaysia. Given that Malaysia was the first Southeast Asian country to pass a fake news legislation in April 2018, Asia Centre initiated several activities around that issue. In April 2019, in partnership with University of Nottingham, Malaysia (NUM) and Gerakbudaya Bookshop, Asia Centre convened a seminar on Fake News Industry: Developments in SEA and Malaysia. Moderated by Professor Zaharom Nain of University of Nottingham, Malaysia, Kuala Lumpur-based panelists included, Jahabar Sadiq, Editor of Malaysian Insight; Dr Craig J Selby, Managing Director of public relations firm, Orchan Consulting; and Darshini Kandasamy, an Editor at Malaysiakini. At the seminar, participants reviewed media literacy and other non-legal measures put in place to tackle issues surrounding fake news in Malaysia and the wider region.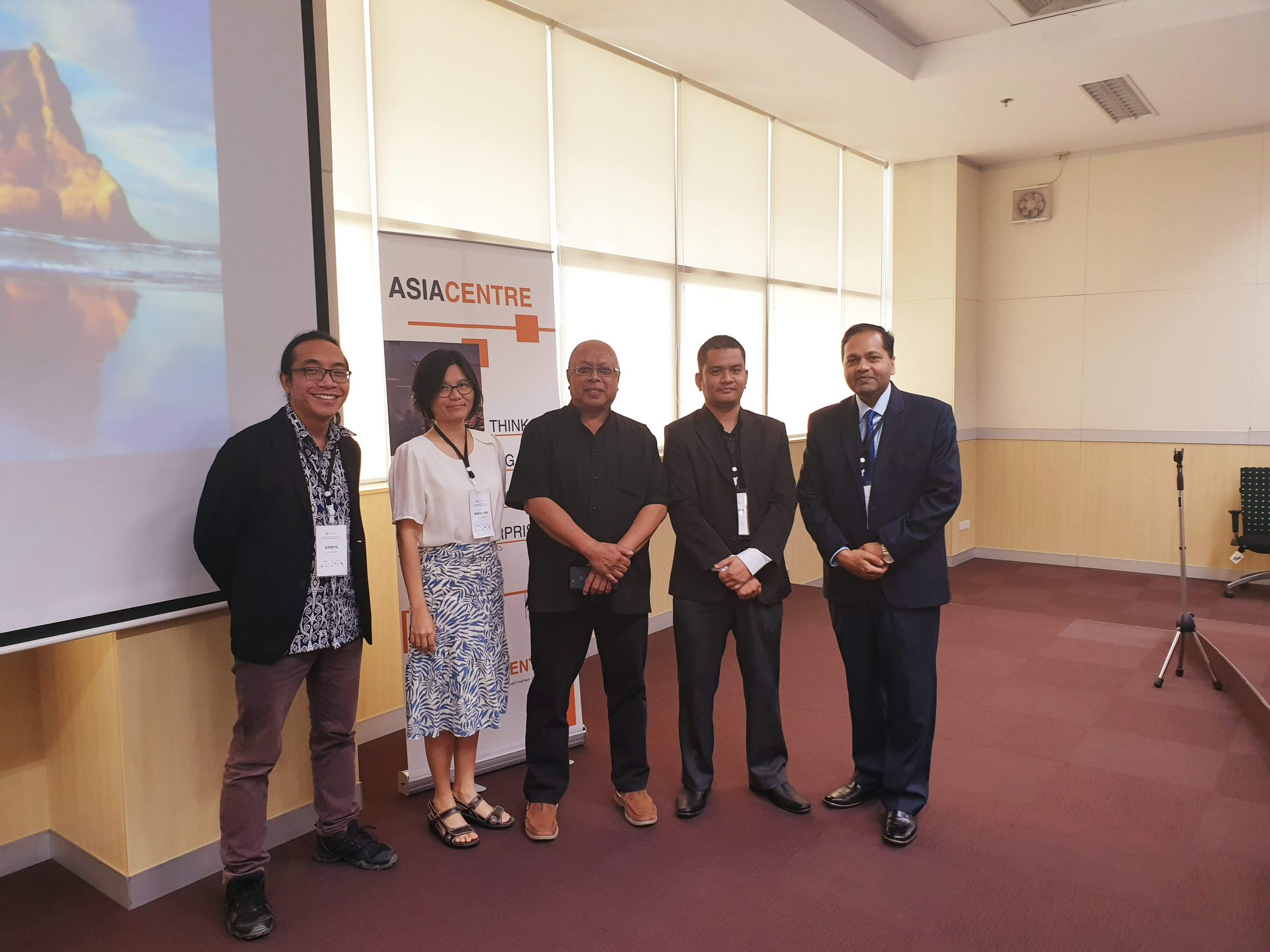 In July 2019, Nottingham University, Malaysia, School of Media, Languages and Cultures organised a panel on Fake News in Malaysia at Asia Centre's 4th International Conference on Fake News and Elections in Asia. Ngo Sheau Shi, Universiti Sains Malaysia; Azmyl Yusof, Sunway University; Zaharom Nain, Nottingham University; and Mahyuddin Daud, International Islamic University Malaysia discussed a range of issues related to law, media literacy, politics, religion and women as its related to fake news in Malaysia and exchanged views with other presenters from the region. 
When Malaysia announced that it was going to abolish its Fake News bill following the change in government, Asia Centre weighed in on the debate through an op-ed. When the repeal was initially rejected by the Senate, the Centre highlighted, even with the delay around the repeal of Malaysia Fake News Bill, it offered Malaysia an opportunity to manage racial disinformation that can lead to social tensions. However, the op-ed pointed out that existing laws or new laws if enacted should not impinge on the quality of debate on this issue.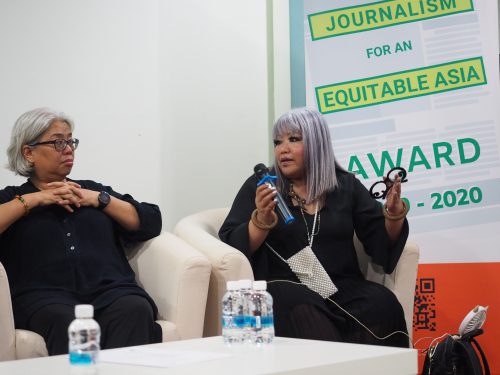 In undertaking activities related to political transitions and fakes Asia Centre has often been approached by Malaysia's BFM radio to comment on current developments in the region. Centre representatives on various times have commented on fake news issues and legislation in Southeast Asia and Singapore. Time to time the Centre was also asked to comment on elections and political transitions in Thailand. In December 2019, Asia Centre co-convened with Oxfam in Asia the Malaysia launch event of the Journalism for an Equitable Asia Award. The award is aimed at journalists to encourage them to report on issues of inequality. The aim of the Award is  to promote strong journalism and acknowledge the hard work of journalists who have persisted in reporting on inequality in spite of the challenges the media industry faces. The event was held at the Gerakbudaya Bookshop and the speakers and media was coordinated by Orchan Consulting Asia. The event was covered and reported in Malaysia's Chinese language Sin Chew and China Press and in English in The Star. 
Given the engagement with Malaysia, Asia Centre staff and interns have been making regular trips to Kuala Lumpur for events coordination and meetings as well as receiving visitors in Bangkok. As a result,  Asia Centre has been able to establish working relationships with Kuala Lumpur based academics, civil society representatives, diplomatic missions, government officials, international NGOs and others. In terms of diplomatic missions, in December 2019, Asia Dr. Gomez and Yawee Butkrawee met with the Taipei Economic and Cultural Office (TECO), Malaysia's Head of Mission Anne Hung, and Director of General Affairs Division Chichia to introduce the Asia Centre Malaysia and its planned programme of activities in Johor Bahru.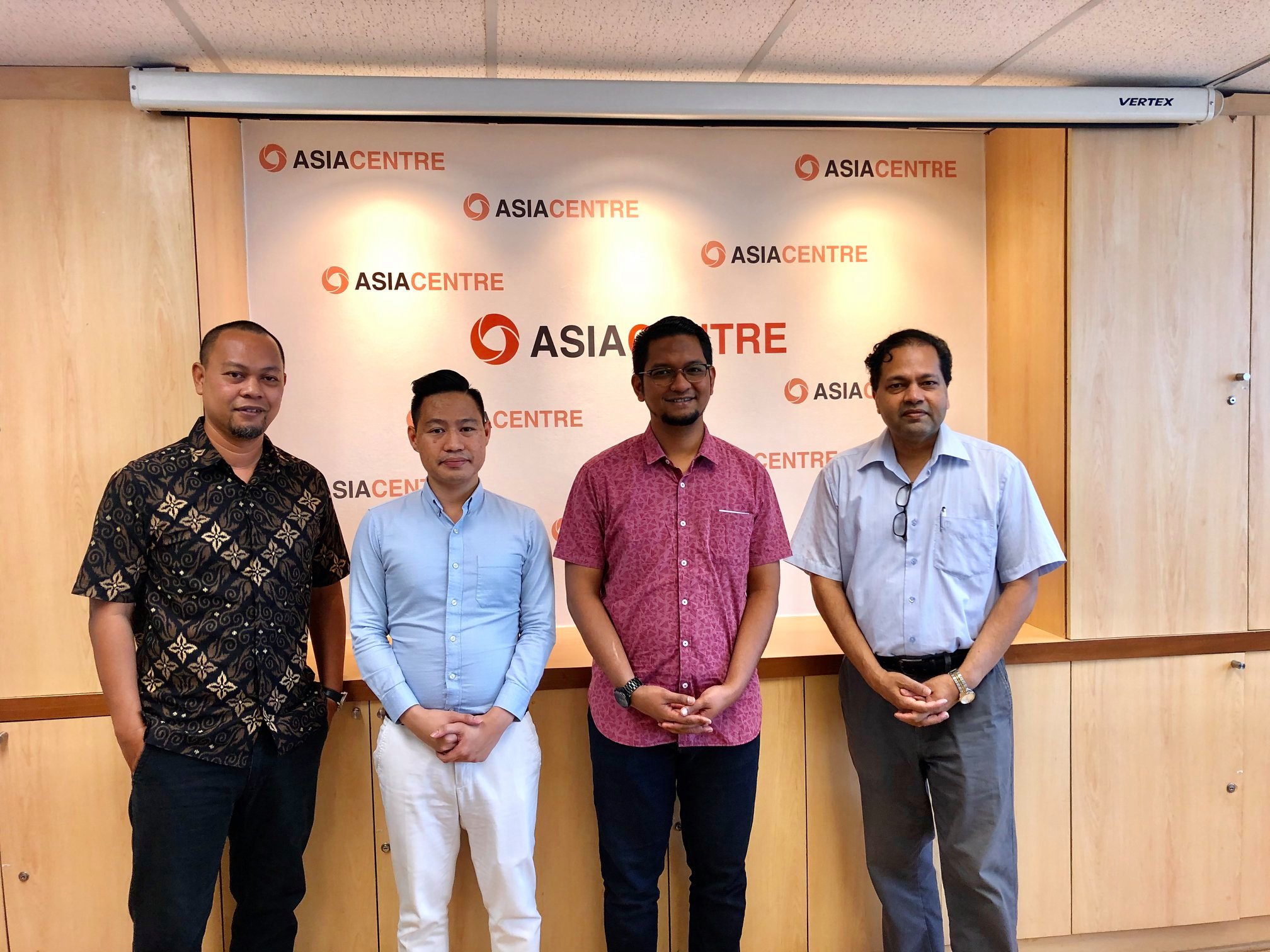 In Johor Bahru, Asia Centre has been receiving visitors to the site of the new office. In November 2019, representatives from the Institute of Human Rights and Business and Rafto Foundation for Human Rights to discuss collaboration for Asia Centre Malaysia. Earlier in 2019, M Ravi a lawyer and Andrew Loh a freelance writer from Singapore and representatives from Gerakbudaya bookshop also visited the site in Johor Bahru. While in Bangkok, on December 9 2019, Asia Centre's Dr. Robin Ramcharan received guests Sheikh Umar and Mahadzir Bin Ibrahim from the Johor State Council. During the meeting the delegates from the Johor State Executive Council discussed potential collaborations around youth development activities with Asia Centre Malaysia.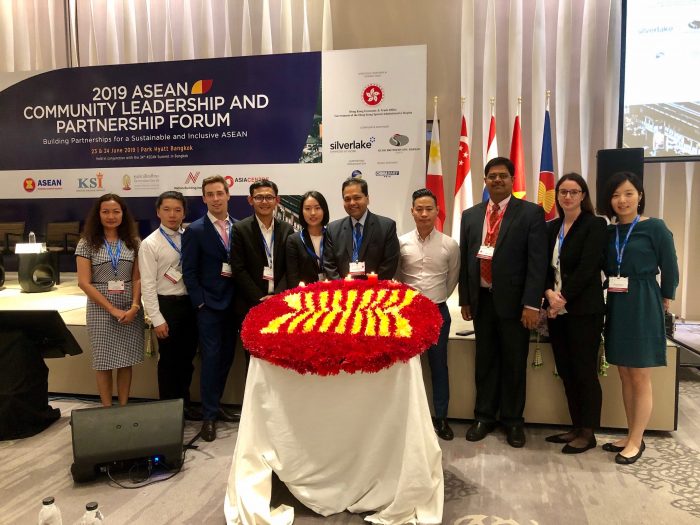 Asia Centre has also worked with Malaysia based institutions to co-convene events in Bangkok, Thailand. For instance, from 23th to 24th of June 2019 at Park Hyatt Bangkok, Asia Centre co-hosted The ASEAN Community Leadership & Partnership Forum. The event was held in conjunction with the 34th ASEAN Summit in Bangkok and was co-convened by Malaysia based Kingsley Strategic Institute together with other co-hosts Nation Building Institute, Thailand, the Federation of Thai Industries, and the ASEAN Studies Centre. Asia Centre's role in this event was to assist Malaysia-based Kingsley Strategic Institute to extend its reach into Thailand and with the Centre's help  invite 50 Thai-based participants from civil society, NGOs and academia to broaden the nature of interventions and networking opportunities during the event.  In the run up to the meeting, Asia Centre served as a coordinator and liaised with hotel staff to ensure a smooth and problem free conference. In addition, the Asia Centre team also assisted in managing the event providing pre-event support, manning the registration desk, taking notes and writing summaries of the panel, photo documentation and other organisational needs.
Asia Centre, from 2016, has worked in partnership with Malaysian civil society, think-tanks and universities to co-convene activities and events. This range of activities, collaborations and engagements with civil society, think-tanks, universities and individuals will continue as Asia Centre builds momentum towards establishing its a Malaysia branch.