Asia Centre has initiated plans to establish a second branch in Johor Bahru, Malaysia. The new branch will complement and extend the reach of programmes currently organized by Asia Centre Thailand in Bangkok.
The announcement of Asia Centre Malaysia was made by Dr. James Gomez, Chairman, Board of Directors of Asia Centre, on the occasion of the Centre's third anniversary in Bangkok. He noted that the timing for a second Centre in Malaysia is ripe, as the political developments in the country point to opportunities for more robust conversations.
Johor Bahru was selected as the preferred location for the Centre's second branch because of its strategic location, 330 kilometers from Kuala Lumpur and 18 kilometers from Singapore's Second Link Bridge.
Within Johor Bahru, the new branch will be situated less than two kilometres from EduCity at Iskandar Puteri, four kilometers from Puteri Harbour, and 25 kilometres from the old city centre and the Woodlands Causeway to Singapore.
By locating in Johor Bahru, Asia Centre Malaysia aims to be part of the ecosystem of higher education institutions in EduCity, Kuala Lumpur, and Singapore, as well as the not-for-profit sector in both Malaysia and Singapore.
Asia Centre Malaysia will be housed in a new shop lot complex in the Medini township of Iskandar Puteri in Johor Bahru. The three-storey building has a total floor area of 300sqm, and sports a contemporary design and large balcony on the third floor.
Prospective plans for Asia Centre Malaysia include a café, bookshop, co-working spaces, a meeting room and an administrative hub to support the organising of conferences, seminars, workshops, exhibitions and film screenings.
Dr Gomez noted that the hard infrastructural developments in Johor Bahru were insufficient for establishing a truly international city, and that a social dimension with robust intellectual conversations is needed. He said that Asia Centre intends to contribute to the intellectual and cultural life of the city through regionally-themed activities and working with local, regional and international partners.
Asia Centre Malaysia will be established over the next two years. From July to December 2018, work will involve registration and associated legal compliance.
In 2019, outreach in Malaysia will be undertaken, a concept note will be developed, some advisers will be appointed and an interior design firm will be contracted to begin work.
Renovation work is expected to continue through into 2020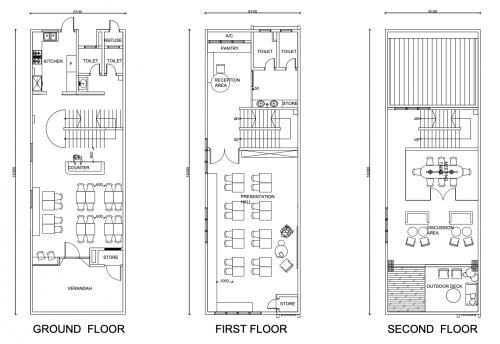 with the start of some activities to roll out the Centre. This will lead to the appointment of a coordinator and a regular activities at the Centre in Malaysia.
While independent, with its own programme of work and governance structure, Asia Centre Malaysia will work with Asia Centre Thailand for economies of scale to further the organisation's long-term goals of serving as a Think-Tank, Meeting Space, Project Partner and Social Enterprise in the region.
The establishment of a second branch in Malaysia signals strong, steady growth for the Asia Centre social enterprise brand first established in 2015. We welcome expressions of interest for collaboration and partnership for activities in Malaysia, Thailand and elsewhere in the region.
To explore avenues for potential collaboration, do reach out to us at info@asiacentre.org