A total of seven speakers, one facilitator, three project coaches, and two field visits made up the programme activity for Induction Meeting for eight Oxfam Fellows from 10 to 14 July 2023 in Bangkok, co-convened by Asia Centre and Oxfam. 
The Induction Meeting was part of the Oxfam Young Leaders Fellowship Programme 2023, which aims to provide tools to empower young people with hands-on training and close mentorship to strengthen their capacity to make social change happen.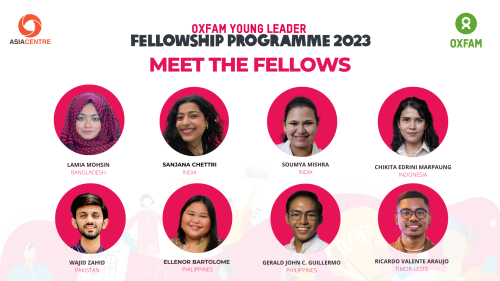 The eight fellows, constituting the inaugural cohort of the fellowship programme, who participated in the event are Lamia Mohsin from Bangladesh, Sanjana Chettri and Soumya Mishra from India, Chikita Edrini Marpaung from Indonesia, Wajid Zahid from Pakistan, Ellenor Bartolome and Gerald John C. Guillermo from the Philippines, and Ricardo Valente Araujo from Timor-Leste.
Fellows were selected from a diverse pool of over 400 candidates from Asia by the judginging panel consisting of Oxfam, Asia Centre, and external judges. Together, they represent a group of individuals with a strong determination to bring about positive change within their respective societies. They have devised innovative ideas aimed at improving their communities and have taken steps towards implementing them. Their projects are focused on addressing pressing global issues, such as climate justice, women's rights, and the preservation of civic space. 
The induction meeting consisted of five leadership modules: "Development Challenges of Our Era," "The Role of CSOs," "Global Development Actors and their Legitimacy," "Gender Justice in Today's World," and "Youth Leadership and Advocacy and Campaigning Tools." These modules were specifically designed to equip the fellows with the essential skills required for their project implementation. Both the Asia Centre and Oxfam had their staff participate as lecturers for these modules. Representing the Asia Centre were Dr James Gomez, the Regional Director, and Dr Marc Pinol Rovira, the Centre's Research Manager. Joining them from Oxfam in Asia were John Samuel, Regional Director, and Mustafa Talpur, Head of Advocacy and Campaigns.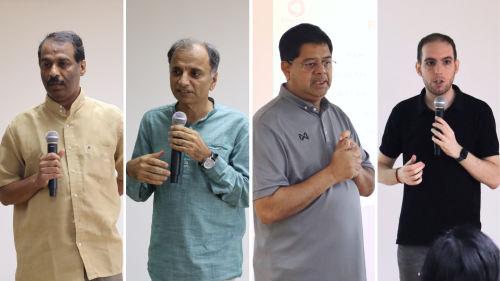 Eight speakers who work on a wide range of global issues were invited to share their knowledge and experiences with the fellows: 
Minh Tran, from Stockholm Environment Institute.

Wilfried Herrmann, from Human Development Forum Foundation

Hnin Wut Yee, form Corporate Accountability Myanmar

Poramet Tangsathaporn, from Bangkok Post

Wipaphan Wongsawang, from Thaiconsent

Kewalin Sa-ngapet, from Friedrich Naumann Foundation for Freedom

Saijai Liangpunsakul, from Myanmar Witness

And Matt Yutthaworakool, from ASEAN Youth Advisory Group.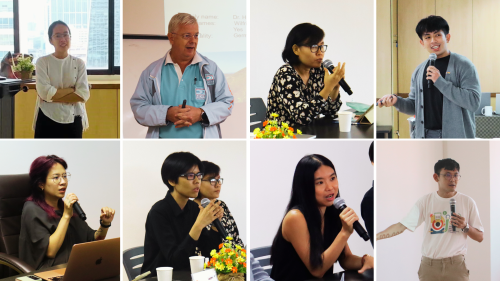 The Fellows made two site visits, one to the Foreign Correspondents' Club of Thailand (FCCT) and another to Google Thailand. At FCCT, they interacted with renowned journalists such as Fransesca Regalado, Bangkok correspondent of Nikkei Asia, Rebecca Ratcliffe, Southeast Asia correspondent of Guardian News and Media, and Jonathan Head, Southeast Asia correspondent of BBC News. This encounter shed light on how media can play a crucial role in implementing the fellows' projects under the fellowship programme. At Google Thailand, the Fellows participated in a workshop on Digital Verification, learning about information disorders and tools to verify online information.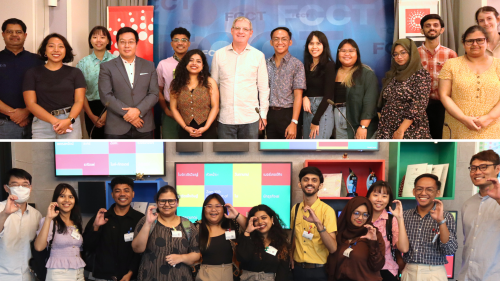 Throughout the sessions that were organised during the induction meeting, the fellows had the opportunity to present their project to other fellows as well as to Asia Centre and Oxfam. Chettri's initiative is to build political consciousness among first-generation learners in India's northeast region. Zahid's project aims to train journalists and online content creators on fair and inclusive representation of marginalised groups. Mishra's podcast will chronicle the stories of queer-disabled individuals in India. Mohsin's presentation focused on training young people living in disaster-prone areas of Bangladesh. Valente Araujo proposed a virtual community platform for Gen Z to express their views on social issues. Marpaung planned to provide legal education to young people about their fundamental human rights. Guillermo aimed at creating opportunities for Filipino youth to participate in formal political and governance processes. Bartolome's presentation was on training aspiring young public servants and youth leaders through five different modules.  The presentations were followed by constructive Q&A sessions involving the fellows and members of Asia Centre and Oxfam. The fellows also received valuable feedback from Asia Centre and Oxfam to enhance their project planning.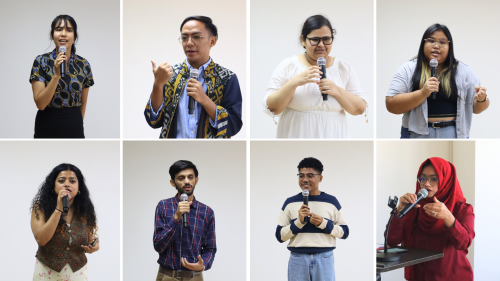 Towards the end of the meeting, the fellows shared their impressions and reflections. 67 percent of the fellows think the meeting has significantly increased their knowledge on the implementation of their project, according to the survey. One fellow noted that "the feedback received from coaches, particularly regarding innovation and social entrepreneurship models for sustainability, will undoubtedly assist me in making my initiatives more effective and sustainable". One conclusion shared by the fellows is that the fellowship programme has not only taught them how to become leaders but will also inspire others to become leaders and make social changes.
Over the course of the next nine months, under the guidance and mentorship of Asia Centre and Oxfam, these fellows will carry out their transformative initiatives in their home countries.