Under Attack: Academic Freedoms in Asia
21 April 2021 @ 3:00 pm

-

4:30 pm

BMT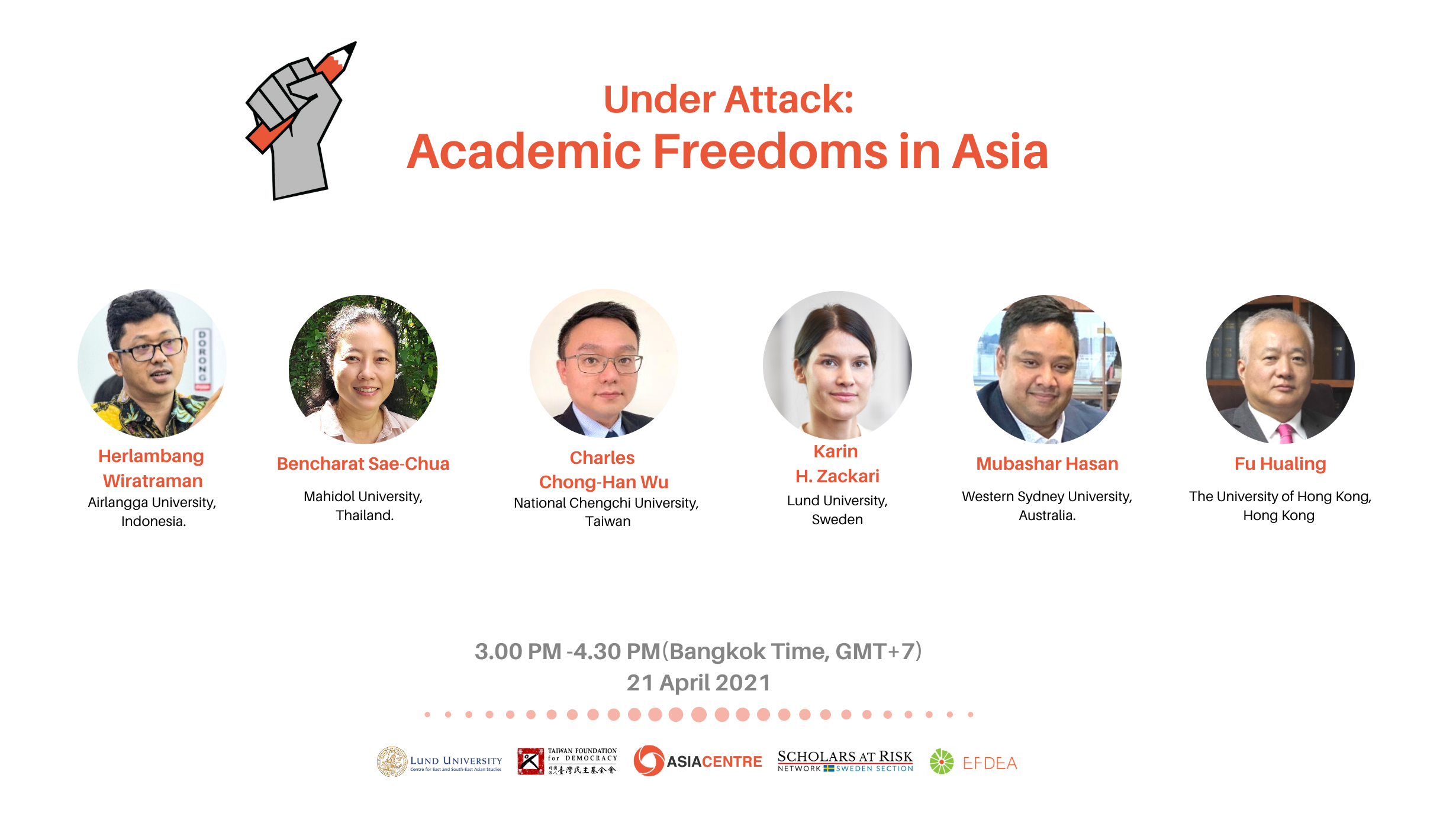 Around the world academic freedom is increasingly coming under attack. The core value of academic freedom and what it means for society at large is also gaining more attention. For scholars and students, it means not only the freedom to research and teach but freedom of academic exchange. The Academic Freedom Index (2020) lists also institutional autonomy, campus integrity, and freedom of academic and cultural expression as key elements to the realization of academic freedom. In the index that covers 175 countries, the Asian region fares relatively badly with Thailand, China and Laos ending up in the lowest level (E). Countries that are higher ranked, like Indonesia (level B), however also experiences real threats such as censorship and bans on controversial topics at universities. This webinar looks closer at infringements on academic freedom in East, South and South-East Asia. It tackles questions on what can be done to better protect and promote academic freedom for scholars and students.
Moderator: James Gomez, Regional Director, Asia Centre
Speakers:
Herlambang Wiratraman, Senior Lecturer, Department of Constitutional Law, Faculty of Law, Airlangga University, Indonesia.
Bencharat Sae Chua, Lecturer, Institute of Human Rights and Peace Studies, Mahidol University, Thailand.
Fu Hualing, Professor of Law and holder of Warren Chan Professorship in Human Rights and Responsibilities, Faculty of Law, The University of Hong Kong, Hong Kong.
Mubashar Hasan, Adjunct Fellow, Humanitarian and Development Research Initiative, Western Sydney University, Australia.
Charles Chong-Han Wu, Associate Professor, the Department of Diplomacy, National Chengchi University, Taiwan
Discussant:
Karin Zackari, Centre for East and Southeast Asian Studies and Scholars at Risk, Sweden, Lund University, Sweden.
The webinar is co-convened by Asia Centre, the Centre for East and South-East Asian Studies at Lund University and Scholars at Risk Sweden at Lund University.
Sign up here: https://bit.ly/3rFgJcW