Hackathon on the ASEAN-EU Relations
23 July @ 12:30 pm

-

6:00 pm

BMT
#ReshapeEurope: Hackathon on the ASEAN- EU Relations
23 July 2023
Bangkok, Thailand
At latest since the start of the COVID-19 pandemic, the international community has increasingly seen, on the one hand, a rise of authoritarianism and, on the other hand, a backslide of democratic principles and practices – especially in Southeast Asia. The 45 years of partnership between the EU and the Association of Southeast Asian Nations (ASEAN) has been challenged by these developments. The negotiation for deeper strategic and economic engagement between ASEAN and EU has been halted due to technical disagreements and diverging understandings of human rights and democratic values. Initiatives and mechanisms have to be developed in order to bridge these gaps, reinvigorate democratic norms and enable gains for both sides.
FNF, in partnership with Asia Centre, is organising a hackathon to allow young leaders to pitch initiatives to improve the relationship between the two blocs.
10 teams of 2 from Indonesia, Malaysia, Myanmar, the Philippines, South Korea, Thailand, Taiwan and Vietnam have been chosen to develop their innovative ideas with mentors and present them to the panel judges and the public.
Come and Join us at the Hackathon event on Sunday 23 July 2023 as the selected groups present their ideas to the panel of judges:
Dr.James Gomez – Regional Director at Asia Centre
Dr. Natthanan Kunnamas – Associate Professor at the Faculty of Political Sciences, Chulalongkorn University
Khun Ed Legaspi – Former Executive Director of SEAPA
Our panel of judges will carefully evaluate the participants' innovative ideas, ultimately selecting the team that will be awarded an exciting opportunity to present their projects in Germany!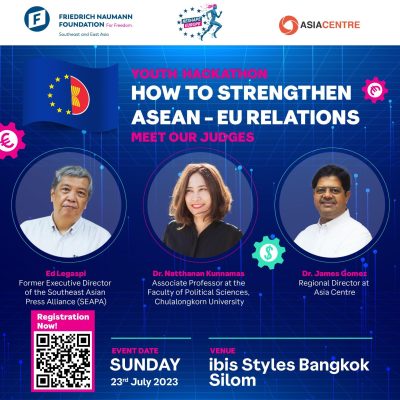 Join us on Sunday, 23 July 2023, to give your support to the selected teams for their project presentation!
This event is open for the public to attend.
This event will be public starting at 1 PM on Sunday, 23 July 2023. See the Event Programme below: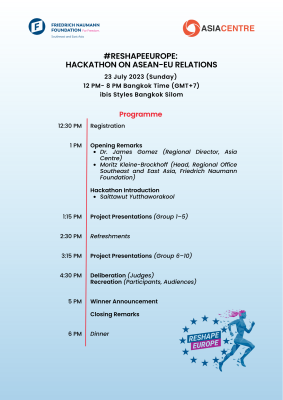 To register your attendance, scan the QR code or register here: https://forms.gle/A4vamUmMjZaupdeb7
If you have any questions, please contact contact@asiacentre.org
For more information on the Hackathon, please refer to this FAQ page.