Hackathon on the ASEAN- EU Relations
21 July @ 8:00 am

-

23 July @ 5:00 pm

BMT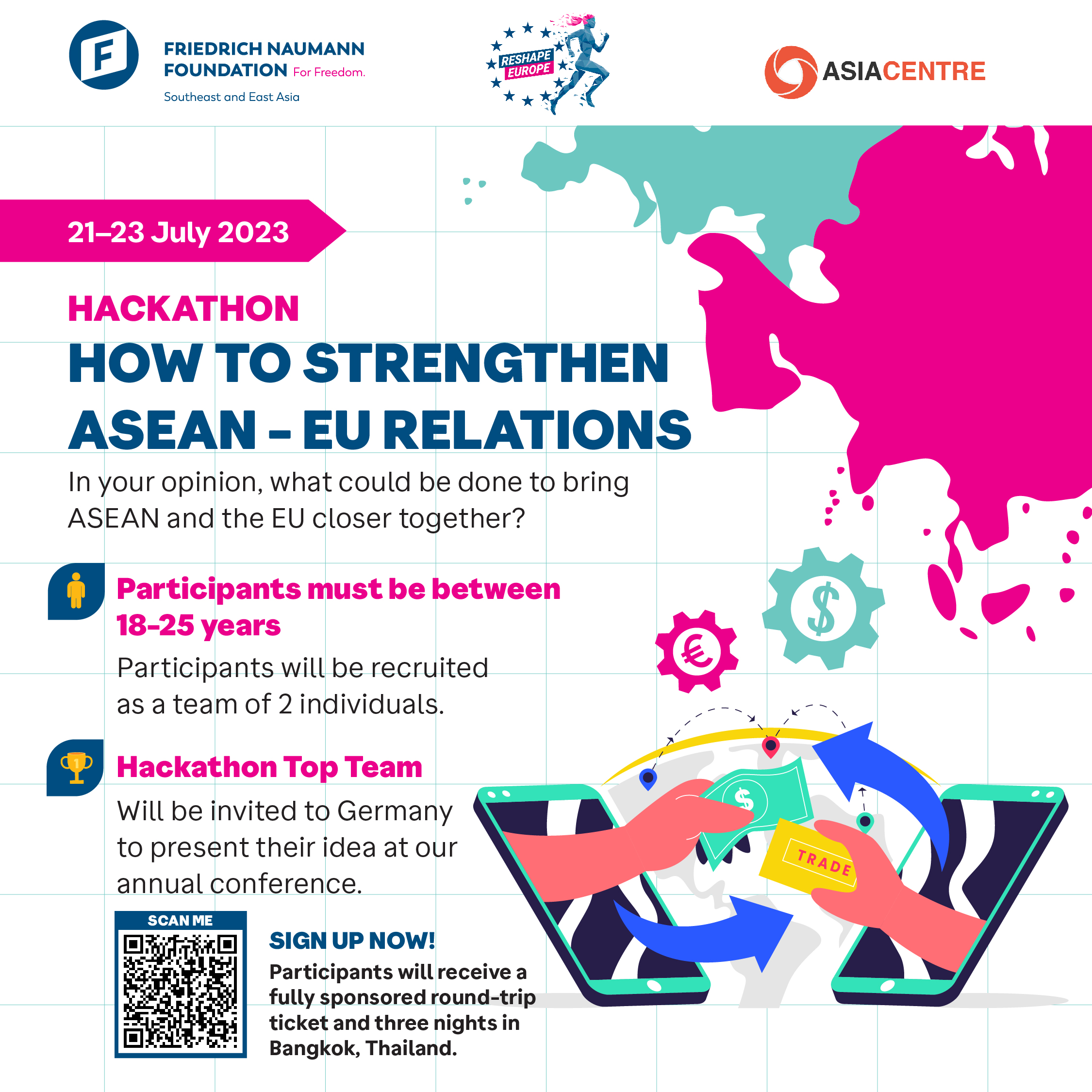 Call for Application:
#ReshapeEurope: 
Hackathon on the ASEAN- EU Relations 
21–23 July 2023
Bangkok, Thailand
At latest since the start of the COVID-19 pandemic, the international community has increasingly seen, on the one hand, a rise of authoritarianism and, on the other hand, a backslide of democratic principles and practices – especially in Southeast Asia. The 45 years of partnership between the EU and the Association of Southeast Asian Nations (ASEAN) has been challenged by these developments. The negotiation for deeper strategic and economic engagement between ASEAN and EU has been halted due to technical disagreements and diverging understandings of human rights and democratic values. Initiatives and mechanisms have to be developed in order to bridge these gaps, reinvigorate democratic norms and enable gains for both sides.
FNF, in partnership with Asia Centre, is organising a hackathon to allow young leaders to pitch initiatives to improve the relationship between the two blocs. 16 teams of 2 each from Southeast and East Asia will develop and present their project ideas to audiences. The winners of this regional hackathon will be invited to attend the FNF Annual Conference in Berlin, Germany to present their initiatives and discuss them with German policymakers.
Central Questions: 
How to strengthen ASEAN – EU relations? What are your ideas on what could be done to bring ASEAN and the EU closer together?
Criteria for Participants
Aged 18-25 years old.
Good command of written and spoken English.
Apply in pairs.
At least one team member must have the nationality of and reside in either Thailand, Myanmar, Indonesia, Malaysia, Vietnam, Philippines, Korea or Taiwan. The other team member can have any nationality, but must reside in one of aforementioned countries.
Have interest in EU-ASEAN relation, regionalism, liberal democracies and economics.
Have motivation to initiate projects or outputs to deepen the relation between EU and ASEAN.
Able to work in a multicultural team setting.
Expectation
Participants must attend the three day hackathon event

Work on their ideas to create a presentation to answer the central question of the hackathon

Pitch their ideas to a selected panel of judges and the public. 
Application Process
Submit the following: CV and a motivation letter or video explaining their experiences in the past and their motivation to join the event. 

Short-listed candidates will be selected by the organising team with the criteria (see below). 

Note: 16 participants or 8 teams are to be recruited from the FNF project countries including Myanmar, Indonesia, Malaysia, Vietnam, Philippines, South Korea, Taiwan and Thailand)
Timeline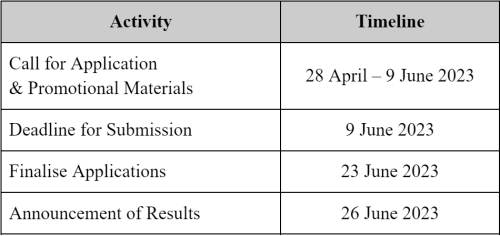 Selection Panel
Initial selection from the FNF country office and then Asia Center and FNF Regional for final selection.  
Selection Criteria

Apply to take part in the Hackathon here.
For more information on the Hackathon, please refer to this FAQ page.