Freedom of Expression and Democracy in Asia
20 May 2021 @ 2:00 pm

-

5:00 pm

BMT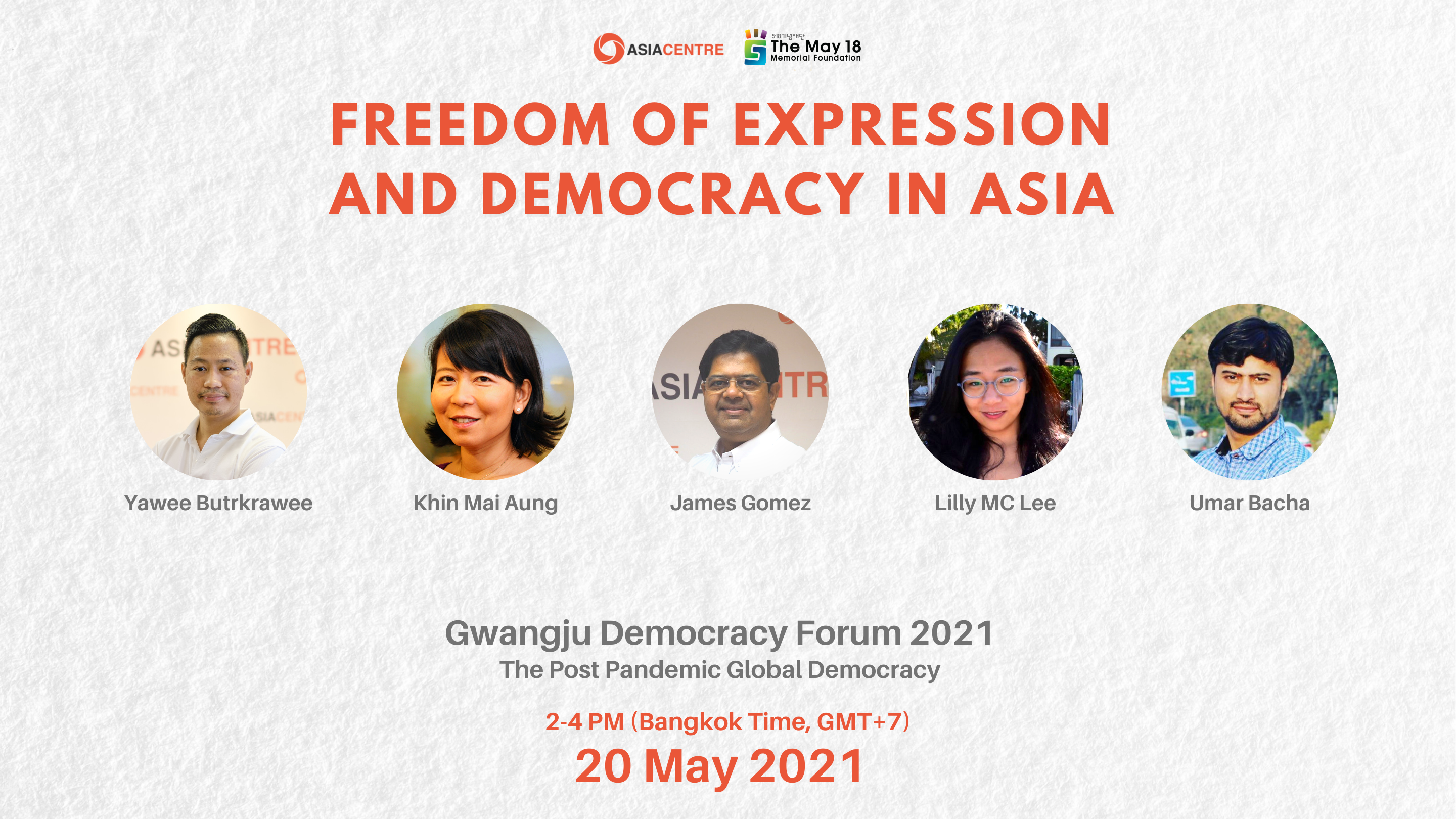 At the 2021 Gwangju Democracy Forum, the panel will highlight how freedom of expression has become important in the struggle to enlarge the democratic space in Southeast Asia.
Throughout 2020 and into early 2021, most countries in Southeast Asia have seen a steady decrease in their freedom of expression. Actions taken by governments and political regimes, during the pandemic, to silence criticism and control the national narrative in academia, media and over the internet has led to shrinking civic space in the region. In this panel presentation, Asia Centre's speakers will examine the impact of COVID-19 on freedom of expression in Southeast Asia.
The presentations will draw from Asia Centre's report, Defending Freedom of Expression: Fake News Laws in East and Southeast Asia
(Read here
) and as well as the Centre's briefing note, Myanmar Coup and Internet Shutdowns
(Read here)
as well as its media commentaries and interviews on the subject.
The panelists will recommend that to address this issue of shrinking space for freedom of expression, international organisations increase their cooperation with academics and universities, the media;; governments allow academic and journalists to critically research and report on policies; universities and media organizations ensure the protection of students and staff and journalists, respetively; and technology companies maintain independence from politics and government influence.
Date: 4 May 2021
Time: 2.00 PM (Bangkok, GMT+7)
Speakers
Dr. James Gomez, Regional Director, Asia Centre
Khin Mai Aung, Asia Centre Associate and Member of Free Rohingya Coalition
Yawee Butrkawee, Programme Coordinator, Asia Centre
Lilly MC Lee, Independent Researcher
Umar Bacha, Journalist, Dawn
Sign up here: