Fake News and Elections in Asia
July 10 @ 6:00 pm

-

July 12 @ 5:00 pm

ICT

USD$300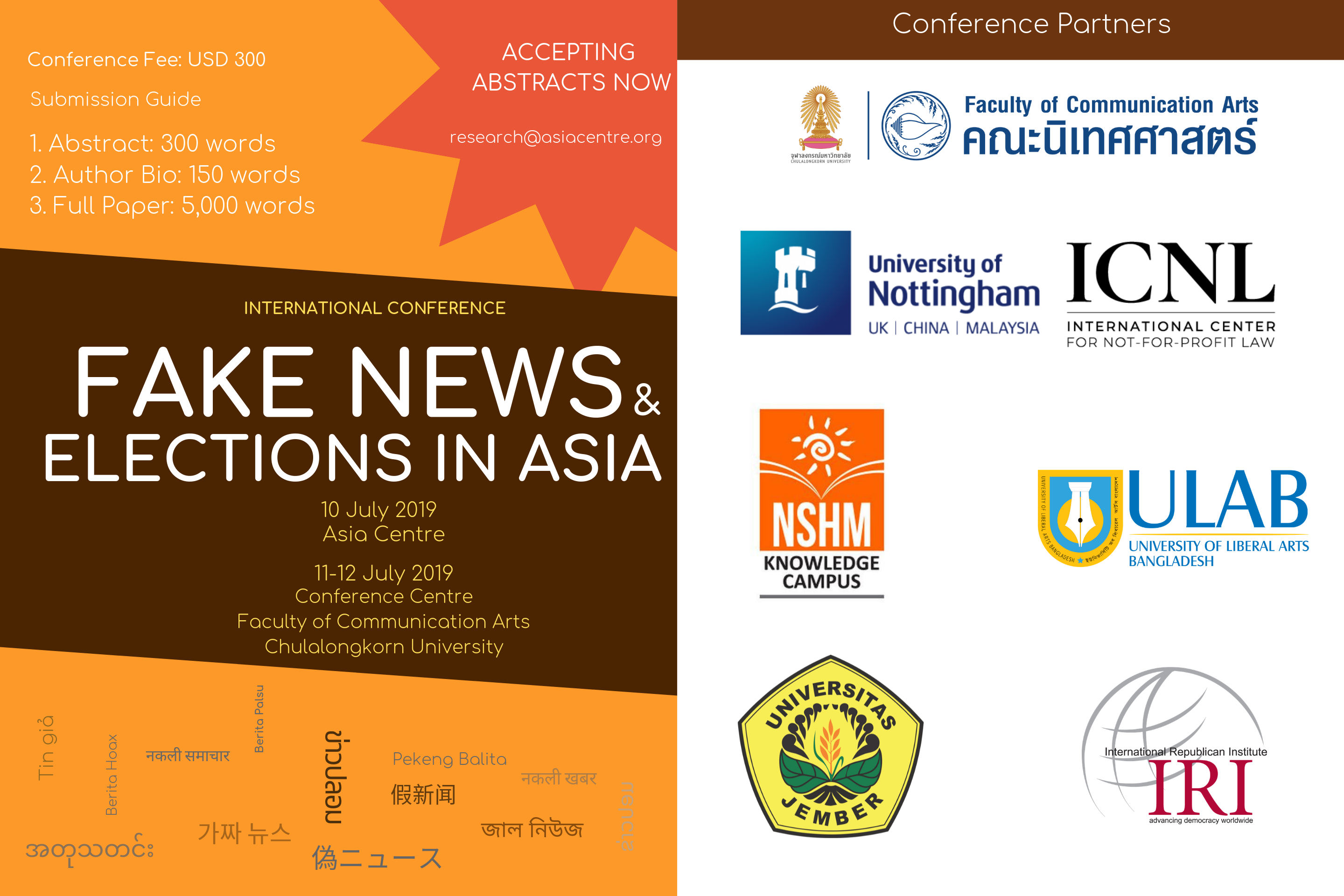 Overview
Stakeholders in Southeast Asia are increasingly expressing their concerns over the rise of information manipulation to influence public views and behavior, mislead, incite hatred and fear and even revise factual historical accounts. Behavioral manipulation has occurred at the grassroots level as charismatic leaders and groups take to social media to spread hate speech and fake news with the aim of gaining adherents to their cause in long running conflicts that threaten democratic values.
A range of governments in Asia have introduced or have announced their intention to enact legislation to cover fake news. Traditionally "fake news" or one-sided propaganda have been generated by authoritarian governments who controlled local media and later introduced a variety of legislation to mitigate the flow of alternative information from websites and social media. The introduction of fake news bills targeting individual actors and alternative news portals is an evolution in the slew of legislation authoritarian regimes have been passing over the years against alternative content generated by online communications. Attention has also shifted to technology companies and their role in combating fake news, misinformation and rumours. Here artificial intelligence and data science are beginning to provide an understanding of viral social media content movement and its impact on habit forming behaviours.
Overall, early analysis shows that democracy, the rule of law and freedom of expression are the likely victims of these emerging legislation to combat fake news. This conference will examine the phenomenon of fake news or disinformation and its use and abuse by governments, private entities and social media, the role of the citizen in the consumption of such 'news', the responsibility of media outlets, technology companies and the emerging legislation around it and its impact on human rights. It will also critically examine the role media literacy programme and the work of fact check centres.
Themes
The key issues that will be examined are as follows are:
History of misinformation by governments and media outlets

Emerging laws and legislation to curb disinformation

Fake news and its impact on voter behaviour and communal violence

Effectiveness of media literacy programmes and fact check endeavours

Role of artificial intelligence, data science, technology on habit forming behaviour

Impact on democracy, rule of law and freedom of expression

Any other relevant or related themes
Objectives
The conference aims to achieve the following objectives:
Convene interested individuals and organizations researching misinformation in Asia;

Exchange information and trends around legislation to curb fake news  in Asia;

Advance knowledge on role of technology and data on habit forming behavior in Asia; and

Examine the impact on democracy, human rights, freedom of expression and rule of law
Conference Structure
The conference will consist of thematic panels, country-specific discussions and a final plenary session which will be open to civil society groups, political parties, international organisations, government officials and the academic community to facilitate knowledge sharing and networking opportunities.
Venue
10 July 2019
6-9pm: Welcome Reception and Panel Discussion

Venue: Asia Centre/ The Sukosol Bangkok (To be Confirmed)
11 July 2019

9-5pm: Paper Presentations
Venue: 10/11th Floor, Bumroongsuk Siha-Umphai Conference Center,
Faculty of Communication Arts, Chulalongkorn University
254 Phayathai Road, Wangmai, Pathumwan
Bangkok 10330 Thailand.
12 July 2019

9-5pm: Paper Presentations
Venue: 10/11th Floor, Bumroongsuk Siha-Umphai Conference Center,
Faculty of Communication Arts, Chulalongkorn University
254 Phayathai Road, Wangmai, Pathumwan
Bangkok 10330 Thailand.
7-9pm (Partners Meeting and Dinner)
Venue: Asia Centre/ The Sukosol Bangkok (To be Confirmed)
Also see Programme Outline.
Conference Fee
This is a self-funded conference, hence a flat fee of USD$300 that will be charged to all keynote, paper and poster presenters and participants. This will go towards covering the cost of the venue, equipment and logistics, coffee breaks on all days, certificates for participants, and conference communications.
Conference Partners
Submission Guidelines
Researchers wishing to present papers are invited to submit a title, an abstract in English of 300-350 words along with a biographical paragraph of 100 words to contact@asiacentre.org. Full papers should be 5000 words.
Poster presentations
Limited space is available for 4 to 5 poster presentations. Your presentation may be submitted in word / pdf format to the Asia Centre for consideration. A 60×80 cm poster will be printed and displayed during the conference. Full conference fees apply.
Target Audience
The conference is open to participants from academic institutions, businesses, national and regional civil society organisations, political parties, international NGOs and intergovernmental organisations to facilitate knowledge sharing and networking opportunities. Due to stability of internet connection available, Asia Centre is not able to accommodate online presentations and participation.
Deadlines
Accepting abstracts now
Full papers and payment due by 31 May 2019
Programme Outline
Day 0 (10 July 2019): 5pm to 8pm- Partners Meeting, welcome reception and networking
Day 1 (11 July 2019): 9am to 5pm – Paper Presentations
Day 2 (12 July 2019): 9am to 5pm – Paper Presentations
Partnership Policy
The conference offers potential partners the opportunity to network and forge linkages with academia, businesses and civil society in the region and highlight their organisation's expertise on fake new legislation and its impact on human rights in the region.
Conference partners will enjoy
Logo on conference website, brochure, publicity materials and at the venue within the conference area
Social media promotion through Asia Centre's networks
Space to display brochures and pamphlets
Promo materials from partner organisation can be given out to conference participants
Develop expertise on the issues covered by the conference themes
To qualify as a conference partner, prospective partners have to guarantee the following:
Minimum of 4 full fee-paying presenters/participants (USD 300 x 4 = USD1,200)
Or provide corporate sponsorship (in-kind or financial grants)
Market the conference within their networks
Partners can also sponsor a keynote speaker provide feature presentation at the conference.
Convener: Asia Centre, 128/183 Phayathai Plaza Building (17th Floor), Phayathai Road, Thung-Phayathai, Rachatewi Bangkok 10400 Thailand.