ASEAN-EU Relations in light of the War in Ukraine
17 June 2022 @ 8:30 am

-

6:00 pm

BMT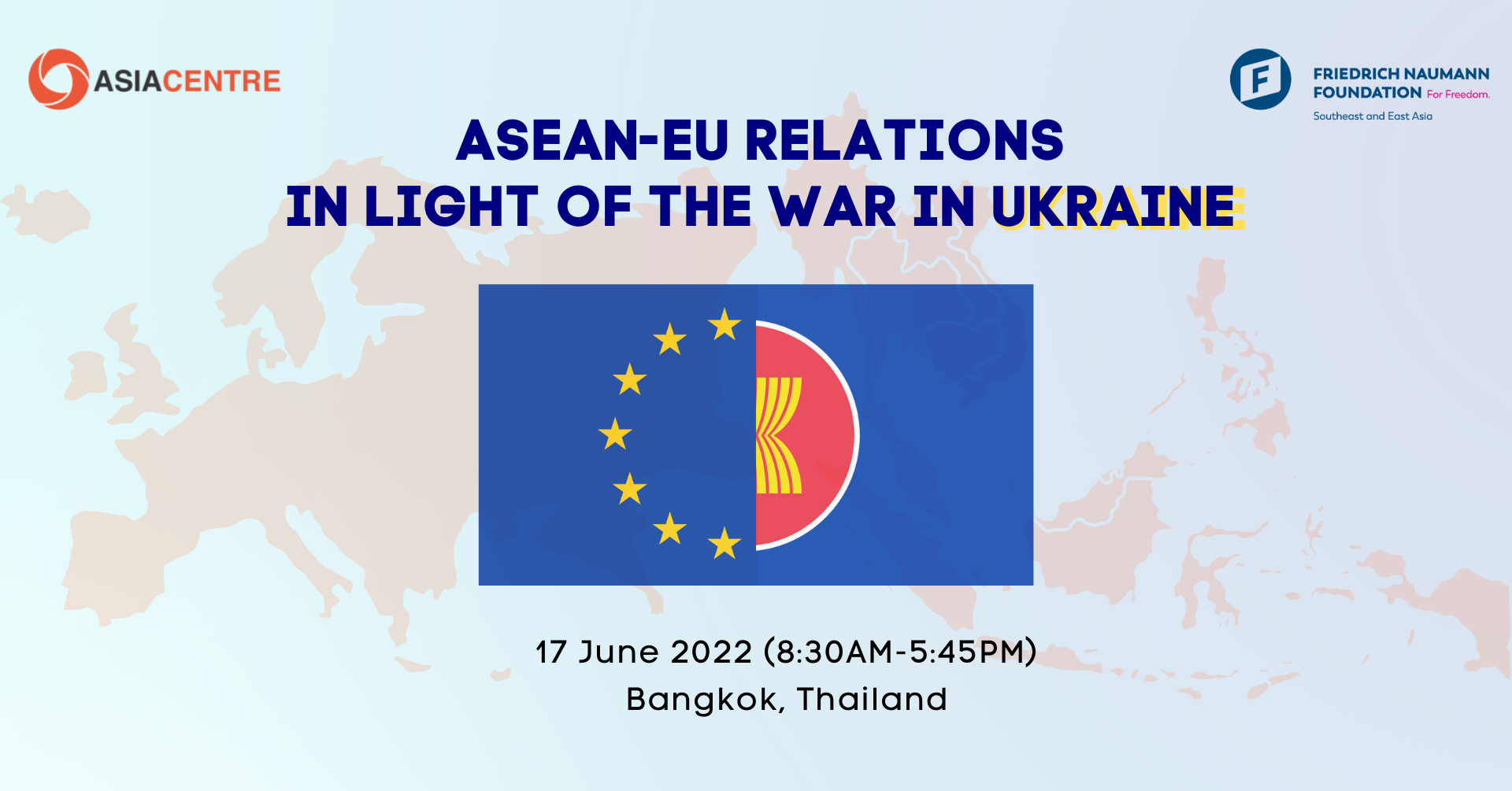 Date: 17 June 2022
Time: 8.30 AM – 5:45 PM (Bangkok, Thailand GMT+7)
Venue: Radisson Blu Plaza Bangkok
Sign up here: https://forms.gle/kYMA4JDs6e99TxrUA
Contact: contact@asiacentre.org
The Association of Southeast Asian Nations (ASEAN) and the European Union (EU) elevated their relationship to a "Strategic Partnership" in 2020. Since then, the Corona and other major challenges have arisen, most notably the war in Ukraine and Myanmar´s coup. Will ASEAN – EU relations maintain momentum? Or will both regions be preoccupied with their new, respective challenges? 
The elevation of the ASEAN – EU relationship to a 'strategic partnership' appeared to usher in a new era. Along with it, a debate was sparked on whether the EU might spur further regional integration in ASEAN, which has resisted pushes towards more integration and value-based governance. To provide a platform for discussion, Asia Centre, in partnership with the Friedrich Naumann Foundation for Freedom, will host an EU-ASEAN conference in Bangkok to unpack the challenges and opportunities.
Agenda:  
Session 1: Geo-Politics and Security
How does the war in Ukraine and everything that comes with it – from sanctions to energy-supply challenges – affect the EU, ASEAN, and their relations? Which other geo-political and security issues are lingering? Will the EU return to a tough sanctions-regime against Myanmar's junta? 
Session 2: Regional Integration
What are the factors that affect ASEAN and EU's economic and political relations? Is the EU model of integration desirable/suitable for ASEAN in the long-term?
Session 3: Trade
Reaching an EU-ASEAN Free Trade Agreement is still an ongoing lengthy journey. Why has it been so hard to reach an EU-ASEAN agreement? What could be done to overcome obstacles?
Session 4: The future
ASEAN and the EU will have to deal with similar key, and often global issues. To what extent will ASEAN and the EU cooperate in an increasingly polarised world?