ASEAN-EU Relations in light of the War in Ukraine
June 17 @ 8:30 am

-

6:00 pm

BMT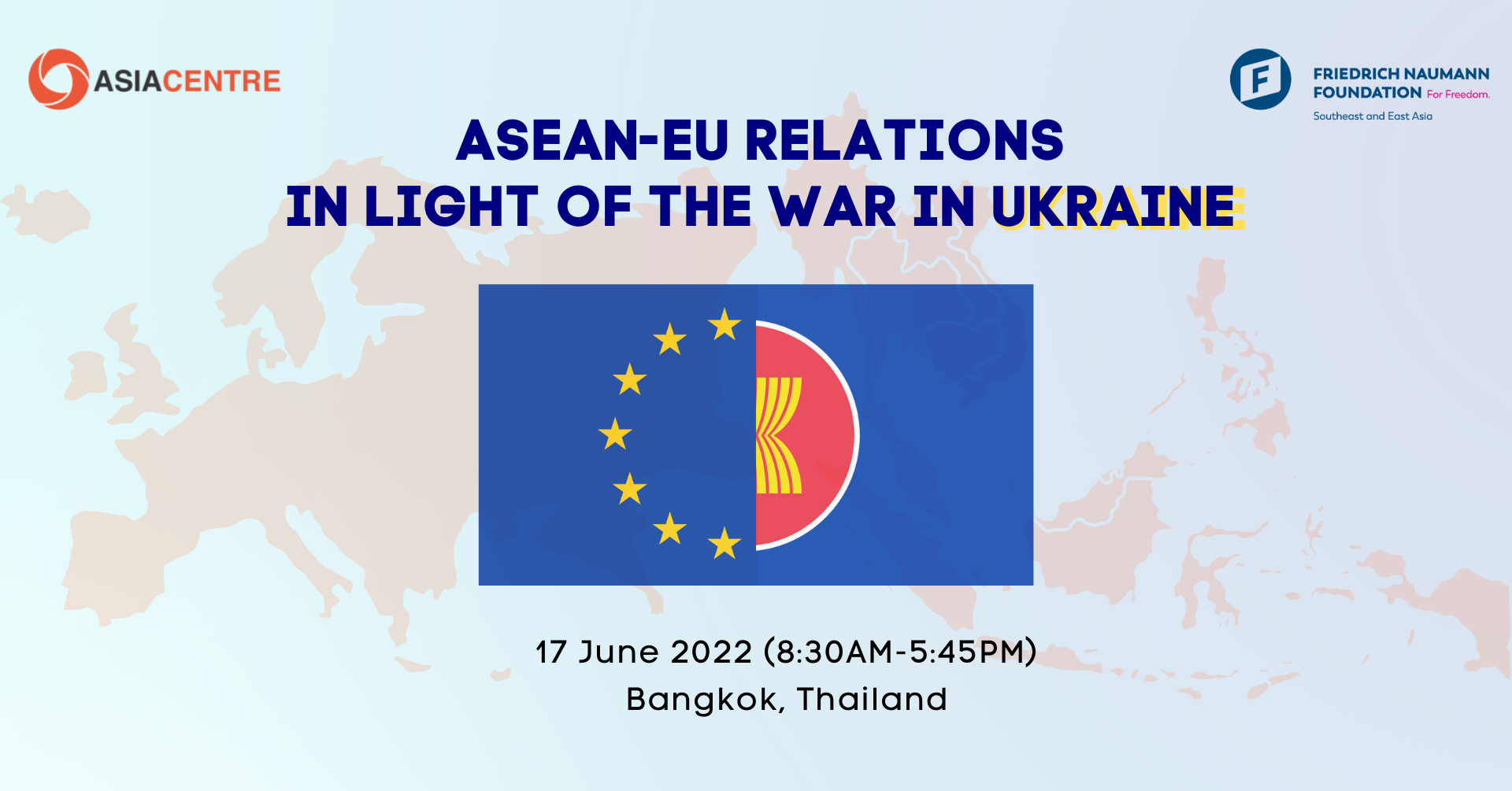 The Association of Southeast Asian Nations and the European Union elevated their relationship to a "Strategic Partnership" in 2020. Since then, the Corona and other major challenges have arisen, most notably the war in Ukraine and Myanmar´s coup. Will ASEAN – EU relations maintain momentum? Or will both regions be preoccupied with their new, respective challenges? 
The elevation of the ASEAN – EU relationship to a 'strategic partnership', talks of the two regions agreeing to a Free Trade Agreement and Europe´s "Indo-Pacific Strategies" appeared to usher in a new era. Along with it, a debate was sparked on whether the EU might spur further regional integration in ASEAN, which has resisted pushes towards more integration and value-based governance.
Now the war in Ukraine and the Coup in Myanmar have shifted attention to immediate, pressing issues closer to home. That said, both regions still have to deal with similar key, and often global, issues: Industry 4.0, energy, gender equity, human rights, food safety, climate change, security, education, and, of course, dealing with China´s assertiveness, which some call aggression. Where does ASEAN, which wants to avoid having to choose between China and the West, stand? Will the EU be able to continue its focus on Asia amid the necessity to deal with security challenges in Europe?
To provide a platform for discussion, Asia Centre, in partnership with the Friedrich Naumann Foundation for Freedom, will host an EU-ASEAN conference in Bangkok to unpack challenges and opportunities.
Session Abstracts 
Session 1- Geo-Politics and Security
While the EU is united in its support for Ukraine, ASEAN member states took different stances when the United Nations General Assembly voted on a resolution condemning Russia's invasion of Ukraine in March. How does the war in Ukraine and everything that comes with it – from sanctions to energy-supply challenges – affect the EU, ASEAN, and their relations? Which other geo-political and security issues are lingering? Will the EU return to a tough sanctions-regime against Myanmar´s junta? How significant are the Indo-Pacific strategies, which Germany, France, the Netherlands and the EU have come up with? How does ASEAN does ASEAN view them?
Session 2- Regional Integration
The EU is a supranational body with a rather contentious style of politics. ASEAN´s traditional approach is much more consensual. Another concern is the "distance" between the two regions and challenges closer to home. Are thesedifferences a hindrance to closer economic and political relations between the two regions? Is the EU model of integration desirable and suitable for the ASEAN in the long term? To what extend is deeper integration possible in ASEAN?
Session 3 – Trade
Reaching an EU-ASEAN Free Trade Agreement is a long journey. The EU and ASEAN started negotiations in 2007 and suspended them in 2009. In the meantime, Singapore and Vietnam have signed bilateral Free Trade Agreements with the EU. Negotiations with Indonesia are on-going. Why is it so hard to reach an EU-ASEAN agreement? What could be done to overcome obstacles? How would a FTA complement Doha Round negotiations at the WTO?
Session 4 – The future
Industry 4.0, energy, gender equity, human rights, food safety, climate change, security, education, dealing with China: Going forward, both ASEAN and the EU have to deal with similar key, and often global, issues. Considering that both regions have more important partners and pressing challenges close to home, to what extend will ASEAN and the EU cooperate in an increasingly polarized world?
Date: 17 June 2022
Time: 8.30 AM – 5:45 PM (Bangkok, Thailand GMT+7)
Venue: To be announced
Programme and Speakers: To be announced
Sign up here: https://forms.gle/kYMA4JDs6e99TxrUA
Contact: contact@asiacentre.org
Facebook event page: https://fb.me/e/1RDwrGPBD