2019-20 Journalism for an Equitable Asia Award Ceremony
2 December 2020 @ 2:00 pm
BMT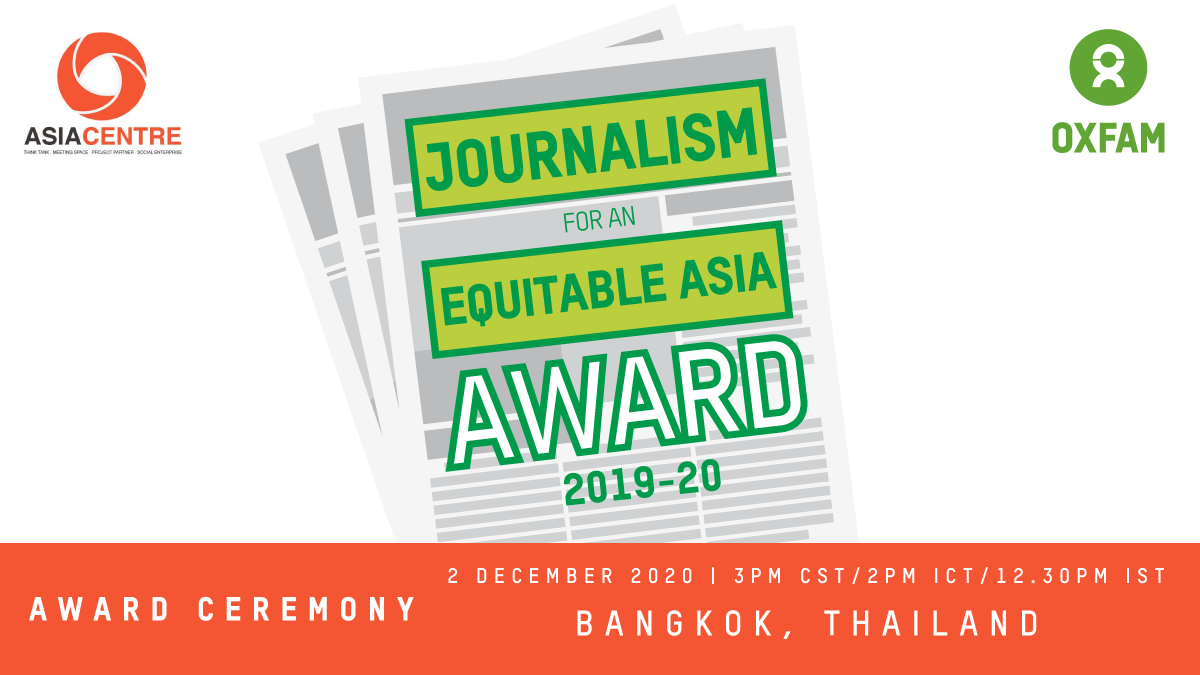 Earlier this year, Asia Centre and Oxfam in Asia, announced the finalists for the Journalism for an Equitable Asia Award Ceremony. Due to the persisting pandemic, we will hold an online awarding event instead.
We, at the Asia Centre and Oxfam in Asia, welcome journalists, media scholars and students, those actively working for an equal society, and all interested people for the 2019-20 Journalism for an Equitable Asia Award Ceremony on 2 December 2020 at 3 pm CST/ 2 pm ICT/ 12.30 pm IST via webinar. Hear the outcome of the selection from 35 Shortlisted entries from the region, to 10 top journalists and 3 prize winners.
Females lead the field of the top ten journalists. The writers delivered high-quality articles on the issues of poverty and inequality in Asia. Out of the twelve journalists, who wrote the top ten articles at the award, eleven were women and only one man. The writers faced fierce competitions from over 100 submissions from Bangladesh, Malaysia, Myanmar, Pakistan, Philippines, Thailand and Vietnam.
All of these articles covered how inequality affects people from across Asia and/or their country from lenses such as economic inequality, women's rights, public services, taxation, climate justice, etc. They also discussed practices and policies that contribute to building a fairer Asia. During the awarding ceremony we will hear directly from these journalists.
Sign up NOW to join the event through this link: https://bit.ly/3kNdb4W