The role of journalists in reporting on the scale of inequality came to the fore during the panel discussion convened on 8 November 2019 for the Thailand launch event of the Journalism for an Equitable Asia Award, organised by Asia Centre and Oxfam in Asia. The event brought together 35 participants from the media, academia and civil society to discuss the challenges of reporting on inequality. The objective of Asia Centre and Oxfam in Asia's partnership in organising the Journalism for an Equitable Asia Award is to promote strong journalism and acknowledge the hard work of journalists who have persisted in such a role despite the travails.
In the face of authoritarianism, populism and extremism in Asia, where civic freedoms are encroached on and voices against injustice are silenced, journalism's role in promoting a healthy public discourse around human rights is vital. However, journalism faces the challenge of technological disruption. This has led to a shift in media consumption to user generated content, leading to a flood of information from numerous media sources. With shifting media and news consumption habits, strong journalism on critical issues of equality, rights and sustainability are often drowned out in favour of sensationalist, populist and politically-driven media narratives. Against this backdrop, journalism needs to be more innovative in their reporting on issues, especially that of inequality.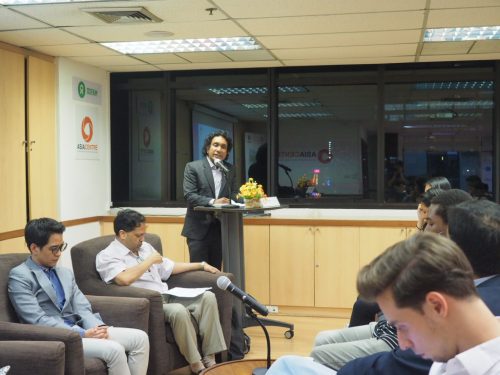 Key points made by the experts are as follows. First, inequality in Asia is rising despite having the fastest growing economic region. In addition, the lack of attention to key issues of climate change and gender inequality in this region was observed in the welcome remarks by Nipuna Kumbalathara, Media and Communications Lead – Asia at Oxfam International. The capacity of journalists to be enablers and thought leaders in the goal of making a better world where people have equal opportunities for a better tomorrow was also reaffirmed. 
Second, the development of journalism with a social conscience was noted by Dr. Robin Ramcharan of Asia Centre, who moderated the panel. He issued a timely reminder of  journalism's role in holding governments accountable and speaking truth to power. He also implored journalists to hold good ethical practices and be good researchers for fact-based journalism.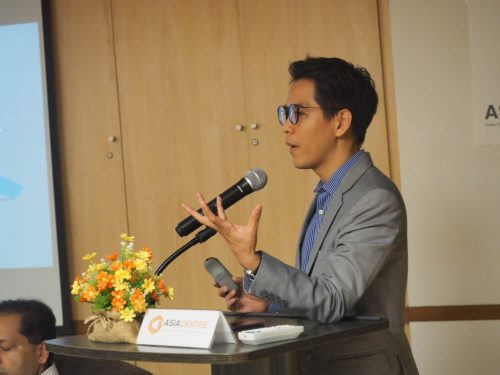 Third, journalism should serve as a counterweight to inequality and should capture its complexities through reporting on the effects of climate change. This point was made by Dr. Jessada Salathong, a communication arts lecturer at Chulalongkorn University and a television and radio host. He argued that the current reporting on climate change only unveils the tip of the iceberg to the problem and thus called for a more critical investigation of the issue through the adoption of an intersectional lens of class and gender. With such considerations, journalism can more effectively counterbalance the disproportionate effects of climate change experienced by women and the poor — exposing more of the iceberg.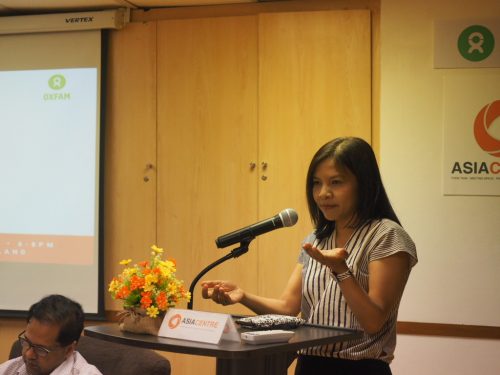 Fourth, the empowering nature of journalism as a source of education and as an amplifier of the marginalised voice was further affirmed by Supinya Klangnarong, a Thai media rights advocate and former vice-chair of the Campaign for Popular Media Reform (CPMR). However, she also recognised the challenge journalists face with the digital disruption of media consumption. Moreover, declining trust in the news industry as a result of disinformation and fake news has made it tougher for journalists to effectively deliver news to the public.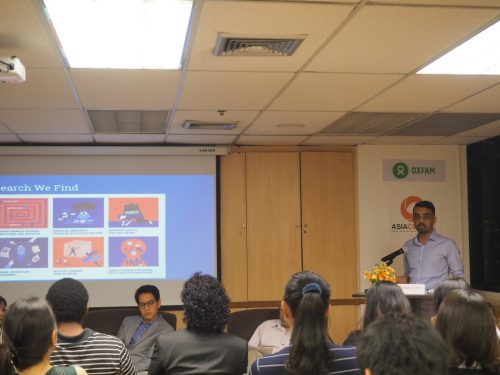 Fifth, the importance of robust and concrete data to tell a fuller picture of poverty was emphasised by Journalist Shaikh Ashfaque Zaman. In contextualizing the individual narratives of poverty in larger systemic structures, it shifts the onus of poverty away from these purportedly passive individuals. In search of more extensive databases, he called for collaboration with research institutes and the possibility of forming collectives.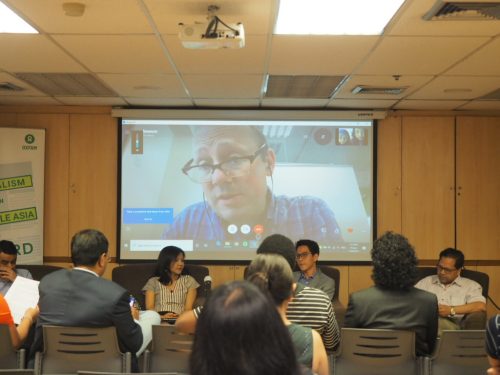 Sixth, inequality is a political choice and is not inevitable. Furthering the discussion on the issue of poverty, Max Lawson, Head of Inequality Policy at Oxfam International called for journalists to shift the spotlight from this erroneous belief by calling for an investigation into wealth, rather than the preponderant instinct to only report on the poor. Equipped with a better understanding of inequality and the possibility of change, the public can demand for more progressive policies and a more equitable world.
The speakers and the audience deliberated about the need for ethical journalism moving forward and consequently, how honest reporting of poverty would look like in the age of digital disruption. Shaikh Ashfaque Zaman recognised the need to move beyond a tendency of telling individual narratives and reverting to incomplete individual depictions of poverty and social mobility and reiterated the role of data driven journalism in revealing the larger movement such stories are located within. The practice of ethical storytelling was also mentioned and its contribution to empowering the subject to narrate his or her story rather than have it be shaped on the editing floor. 
In this vein, a reinvention of honest reporting is also required in the era of digital disruption. Supinya Klangnarong called for journalism to negotiate with the major media companies to effect change together. Max Lawson highlighted Oxfam's strategy of cutting through the noise by appropriating the echo chamber and reactionary forces prevalent today. In particular, Oxfam uses 'killer facts', which are simple enough to evoke the readership's emotions when reporting on poverty. To better prepare journalists, Dr. Jessada Salathong acknowledged the need for academia to recalibrate its teaching methodologies in order to deal with the new landscape, but that the same core value be imparted to students — responsibility to the public.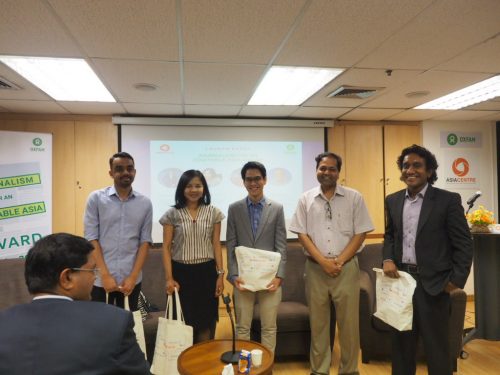 This panel discussion is part of the launch event for the Journalism for an Equitable Asia Award co-hosted by Asia Centre and Oxfam in Asia. The award serves to acknowledge the efforts and thought leadership of journalists in shedding light on the issue of inequality and its many facets. This event is one in a series of on-site and online launch events in South and Southeast Asia: Bangladesh, Myanmar, Pakistan, Philippines, Thailand and Malaysia to create awareness of this Award and to announce the call for nominations, which opens on 15 November 2019. The nomination criteria can be accessed here. 
The next on-site launch will be co-convened by Asia Centre on 18 December 2019 in Kuala Lumpur, Malaysia and any further queries can be directed to contact@asiacentre.org.