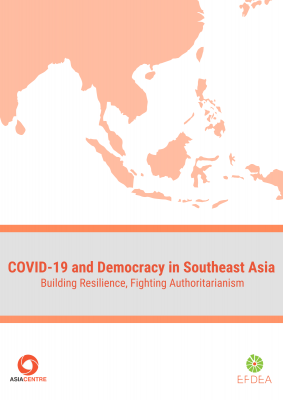 ABSTRACT
COVID-19 and Democracy in Southeast Asia: Building Resilience, Fighting Authoritarianism examines trends under which Southeast Asian governments have used crises as opportunities for their political advantage. This report, centred around the Coronavirus Disease 2019 (COVID-19), highlights the routine response from governments with the announcement of emergency decrees and laws, suspension of civil freedoms, corruption of electoral democracy, censorship, digital surveillance measures, and framing human rights activists as national security threats. Post- crises, governments then enact long term laws and policies that effectively shrink civic space. Their methods also include limiting media and journalists' watchdog activities through fake news and defamation labels, whilst substantially contributing to the dwindling civil society funding. A set of recommendations are also prescribed for the United Nations, Governments, Donors and Civil Society Organizations.
CONTENTS PAGE
Executive Summary
Introduction
Background
Laws and Policies
Curbing Protests
Eroding Electoral Democracy
Stifling Political Criticism
Attacking the Media
Increasing Surveillance
Funding Shifts
Recommendations
Conclusion
Bibliography
SUPPORT ASIA CENTRE
Help Asia Centre speak up for human rights. Your donation can help highlight human rights violations, bring people together for action and support advocacy for human rights protection.