In October 2019, Dr. James Gomez, Regional Director, Asia Centre visited institutions in Washington, D.C. and New York to introduce the work of the Centre and broaden its network in the United States (US). Apart from institution-to-institution level cooperation, Dr. Gomez also invited collaborations with the Centre on its 4 year project on Freedom of Expressions in Southeast Asia (SEA). During the US visit, Dr.Gomez presented findings from its International Conference on Fake News and Elections in Asia and promoted the 2020 conference on Hate Speech in Asia: Challenges and Solutions. This trip saw Asia Centre engaging with universities, policy institutes, state department officials, non-governmental organizations (NGOs) and United Nations agencies in the US.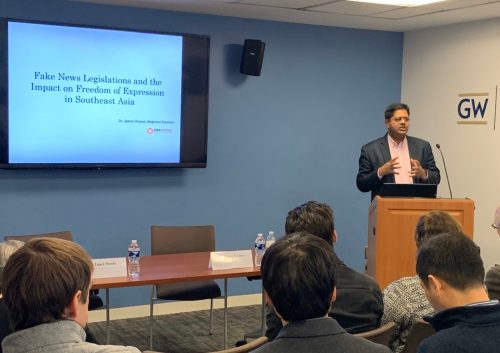 During the trip, Dr. Gomez gave 2 public talks at universities and had academic side meetings to share and extend invitations to co-convene the 2020 conference on Hate Speech in Asia: Challenges and Solutions. In Washington D.C. on 17 October 2019, Dr. Gomez spoke at George Washington University at a seminar jointly organised by the Sigur Centre for Asia Studies and the Institute for Public Diplomacy and Global Communication. He also spoke at a talk jointly organised by the Centre for Global Free Expression, School of International and Public Affairs and the Institute for the Study of Human Rights at Columbia University on 24 October 2019 in New York. At both events, he addressed the issue of "Fake News Legislation in Southeast Asia and the Impact on the Freedom of Expression". He argued that fake news legislations run contrary to international norms on freedom of expression and are instead being used as a tool of repression by political incumbents. Dr. Gomez also had academic meetings with Executive Director of the Dangerous Speech Project, American University, Susan Benech on 17 October 2019, Professor James Robson, Harvard University's Asia Centre on 22 October 2019 and Dr. Hawley Johnson of the Global Freedom of Expression, Columbia University on 24 October 2019 discussing possible collaboration for the Centre's International Conference on Hate Speech in Asia: Challenges and Solutions.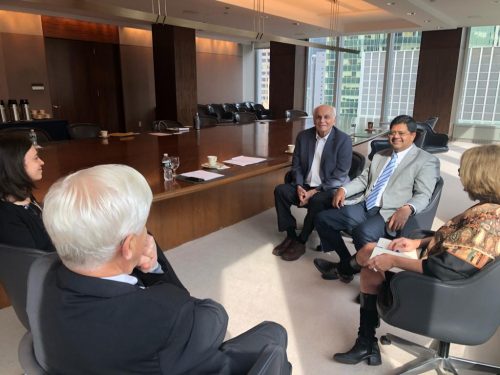 Dr. Gomez held closed door briefing sessions at 2 policy institutes during the trip. The first session was in Washington DC on 18 October 2019 with the Council on Foreign Relations and the second in New York on 25 October 2019 with the National Committee on American Foreign Policy. At both meetings, Dr. Gomez updated participants from academia, diplomatic missions, private foundations, various state departments and technology companies on fake news legislations' impact on human rights in Southeast Asia.

A range of NGOs also attended a briefing on the Centre's projects and discussed possibilities for collaboration. In Washington, D.C., Dr. Gomez participated in a roundtable organised by the International Republican Institute that was attended by its staff and other INGOs representatives. During which, he briefed participants on the authoritarian practices of governments and other detractors to label INGOs' collaborations with local NGOs as "foreign interference". Following which, participants should be mindful of this new type of hate speech against INGOs.
During the trip, Dr. Gomez met with representatives from a wide range of organisations such as the National Endowment for Democracy, Freedom House, Global Witness, International Center on Nonviolent Conflict, National Democratic Institute (NDI), PeaceTech Lab, Holocaust Museum and the American Jewish World Service to brief them on the Centre's work. 
Dr. Gomez also participated in some public events. He attended the launch of 'Exploring New Approaches for Atrocity Prevention' hosted at the United States Institute of Peace in Washington, D.C and later on in New York, he attended the Oslo Freedom Forum on 23 October 2019 organized by the Human Rights Foundation. During both these events, Dr. Gomez was able to network with other representatives of organisations attending the events.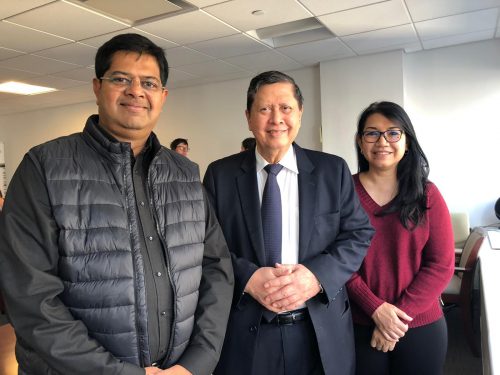 In line with Asia Centre's work on hate speech and its impact on the Rohingya community in Myanmar, the trip included meetings with United Nations agencies and officials alongside organizations that advocate for an effective solution to the Rohingya refugee crisis. On 21 October 2019, Dr. Gomez met with the United Nations Office of the Special Advisor on the Prevention of Genocide to discuss collaboration on the 2020 conference on Hate Speech in Asia: Challenges and Solutions. He also attended a briefing for INGOs by Dr. Marzuki Darulsman (former Fact Finding Mission) and Khin Omar, (Progressive Voice) convened by CARE International. Dr. Gomez had separate meetings with Yanghee Lee (Special Rapporteur Myanmar), representatives of Burma Task Force and the Free Rohingya Coalition. 
To discuss the Centre's work on Freedom of Religion or Belief, Dr. Gomez met with the United States Commission on International Religious Freedom earlier on in Washington D.C., on 16 October 2019.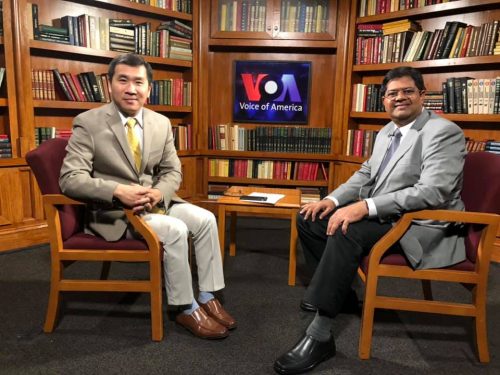 Dr. Gomez had an opportunity to engage with the media when he was interviewed on 18 October 2019 by Men Kimseng of the Khmer Service on Voice of America. During the on camera interview, Dr. Gomez spoke on a wide range of issues including fake news in Cambodian politics and commented on Sam Rainsy's announcement to return to Cambodia on 9 November 2019.
Overall, the visits to Washington DC and New York from 14 October 2019 to 25 October 2019 enabled Asia Centre to introduce its work and initiate conversations to explore collaborations with US-based institutions. This trip furthers the Centre's external engagement beyond Asia and broadens its network into the US.