Report Launch – State-Sponsored Online Disinformation: Impact On Electoral Integrity In Thailand
28 April @ 3:00 pm

-

5:00 pm

BMT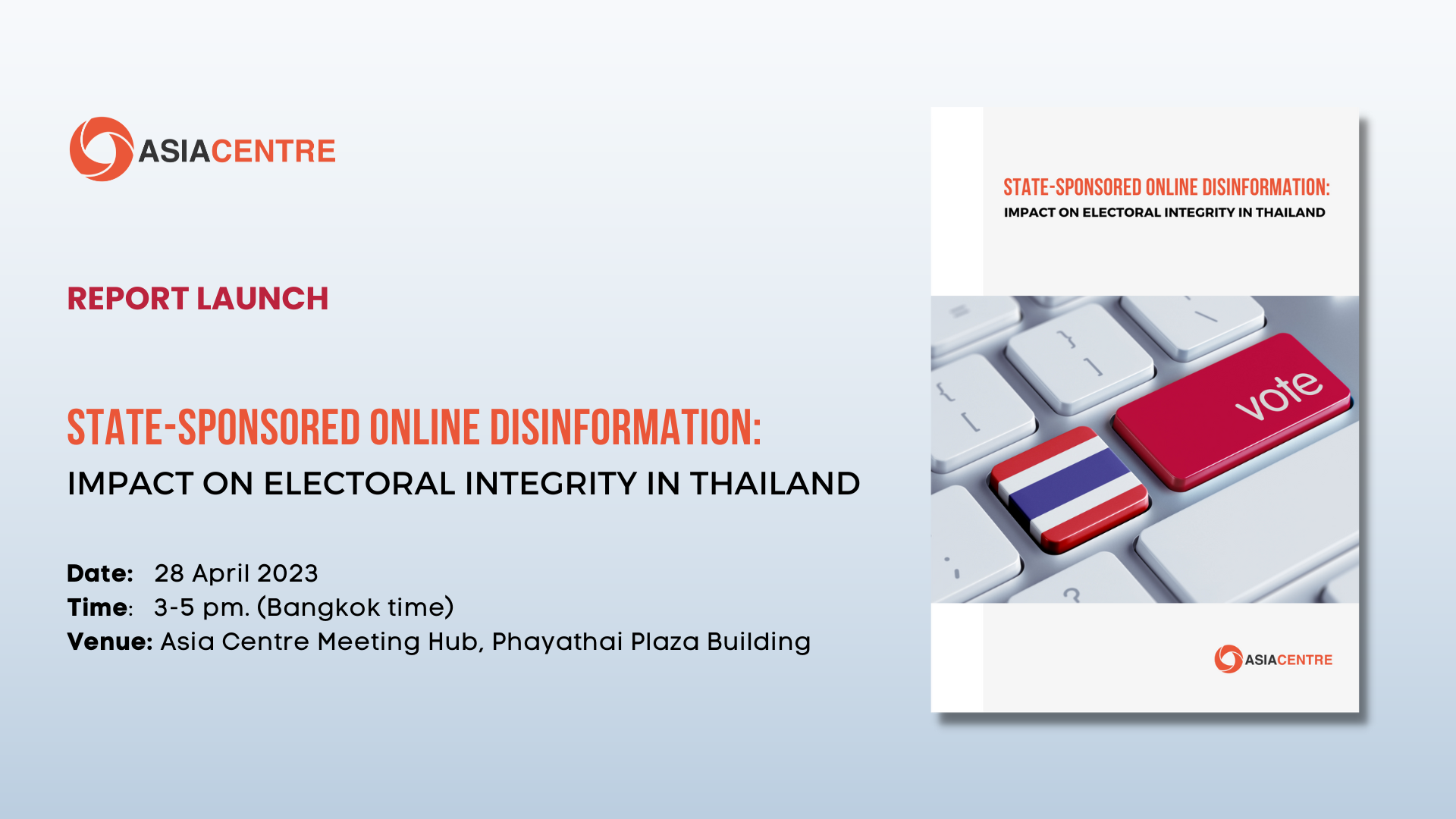 State-Sponsored Online Disinformation: Impact On Electoral Integrity In Thailand examines information operations by government agencies and their impact on the integrity of elections in Thailand.
The 2023 General Election has been scheduled for 14 May amid uncertainties and challenges in the electoral process. To that mix, state-sponsored information operations, both domestic and foreign, are expected to feature among electoral campaign messaging, affecting the quality of elections.
In the context of the upcoming general election, Asia Centre has identified four disinformation strategies that are expected to impact Thailand's electoral integrity.
First, the creation of pro-establishment content that promotes the ruling establishment at the expense of free and fair elections.
Second, the weaponisation of disinformation to harass politicians and activists to discourage them from engaging in the electoral processes.
Third, the distortion of electoral information, thus preventing the electorate from accessing alternative information to make informed choices.
Fourth, the polarising effect of disinformation on the Thai electorate resulting in a divided society unwilling to accept the outcome of the elections.
To find out more, attend the report launch and discussion. Learn how to spot and mitigate electoral disinformation.
Date: 28 April 2023
Time: 15:00 – 15:00 (Bangkok time)
Venue: Asia Centre Meeting Hub, Phayathai Plaza Building
Language: English
Registration Form: https://forms.gle/BXzVZDUrq2ezyYUe6
Contact: research@asiacentre.org
Facebook: https://www.facebook.com/asiacentre.org/