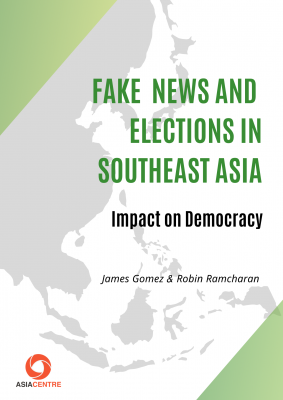 Call for Chapter Proposals
Fake News and Elections in Southeast Asia: Impact on Democracy
BOOK PROJECT
Submission to publisher: Palgrave Macmillan
Asia Centre invites high quality proposals for chapters of a forthcoming book on Fake News and Elections in Southeast Asia. Interested authors may submit an abstract of 300 words (max) for consideration.
The central theme that chapters must focus on is fake news and disinformation immediately prior to and during elections that have taken place in the years 2018, 2019 and 2020 in Southeast Asia.
The chapters must analyse the situation in each country as follows:
an overview of the internet, legal and political landscape

an outline of specific disinformation campaigns against politicians or groups

dissect the strategies and tools used to do so

assess the electoral/political impact of such disinformation or fake news,

ensure the research is guided by a relevant theoretical framework and research methodology
Submit your abstracts to Mr. Yawee Butrkrawee at research@asiacentre.org
Submission deadline: 29 February 2020
Editors: James Gomez & Robin Ramcharan
Selected chapter proposals will be invited to submit a full chapter of 6000-8000 words and each chapter submission will incur a fee of USD$300. Click here for more details.
For examples of Asia Centre recent publications see links below:
National Human Rights Institutions in Southeast Asia: Selected Case Studies
https://www.palgrave.com/gp/book/9789811510731
The Universal Periodic Review of Southeast Asia: Civil Society Perspectives