About the role
The Communications Associate (CA) is responsible for supporting Asia Centre's outreach to its different target audiences (both internal and external). To execute this function, the CA creates a range of content to promote the work of the Centre through its and third-party media assets, networks, influencers and the mass media. The aim is to create an audience and consumers for Asia Centre's activities, events and services.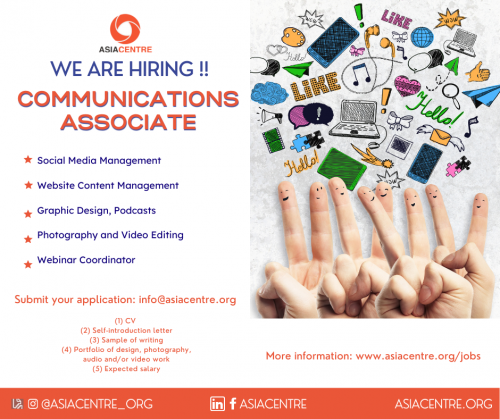 Key responsibilities
Social Media Management: create and oversee the publication of content across Asia Centre's social media platforms such as Facebook, Twitter, Linkedin, and Instagram.
Website Content Management (WordPress): draft and upload content about Asia Centre and its activities, maintain a mailing list (MadMiMi) and send out e-announcements.
Graphic Design: design social media tiles, infographics, report layout and event materials.
Photography and Video Editing: take/edit photographs, draft storyboards/scripts, record/edit videos and audio, place graphic overlays on videos, create thumbnails, and upload to Asia Centre's TikTok and YouTube channels.
Podcasts: Record audio files, edit them, upload them on podcast streaming platforms, and manage Asia Centre's podcast platforms such as Spotify.
Video Conferencing Coordination: support Asia Centre's meetings and webinars through Google, Teams, Webex and Zoom platforms, manage event promotion, coordinate speakers and participants, record and live-stream events and implement satisfaction surveys (Survey Monkey).
Marketing Activities: undertake content writing and article uploading, strategic events, PR, marketing campaigns, digital development, and brand development.
Minimum Qualifications
Bachelor's or Master's degree in advertising, communications, journalism, marketing, media, public relations or related degree completed in English.
A minimum experience of 1-3 year of communications work experience; (Those with work experience in the non-profit sector and an interest in democracy and human rights are preferred)
Good command of English (Speaking and Writing)
Proficiency in Microsoft Office, WordPress and Social Media Platforms
Familiarity with Google Suites, Teams, Zoom, Webex, Survey Monkey, MadMimi
Interest in Podcast, Jingle, Clubhouse, Soundcloud Production 
Knowledge of design and publishing software (Adobe Photoshop/InDesign/Canva)
Skilled in photography, audio and video editing 
Ability to multitask and manage competing deadlines
Well-organized and detailed
Application Procedure
This position is only open to Thai nationals. Interested applicants are requested to send (1) their CV together with (2) a self-introduction letter and a (3) sample of writing (4) a portfolio of their design, photography, audio and/or video work (5) expected salary to info@asiacentre.org 
Applicants are also require to fill the Communications Questionnaire here
Shortlisted candidates will be invited for an interview. Following the interview, a timed assessment will be issued as part of a proficiency test. A final selection will be made thereafter. Candidates without 1 year work experience, have the option of a 3 month internship before starting the job full-time.